UTC media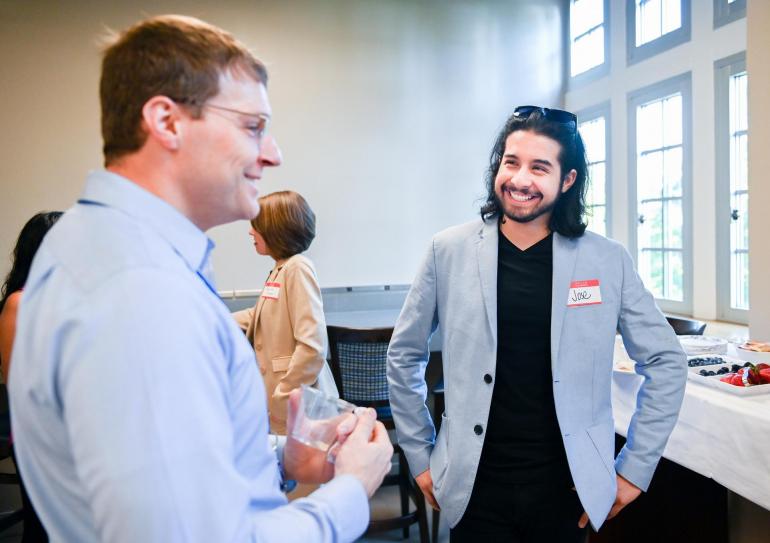 Partnering with local business professionals to graduate business world ready students.
At the Joseph F. Decosimo Success Center in the Gary W. Rollins College of Business, we are providing resources for our students to become "Business World Ready" as they launch their careers. One of those resources is the Business Mentor Program available to sophomore, junior, and senior students. Undergraduates engage in the program for academic credit through BUS2900.
The mentors who make up the Business Mentor Program are experienced professionals who are willing to share their knowledge with upper level students to help develop life skills for success. The mentor acts as a coach and role model to support a student with his/her personal and professional growth. The program provides a great opportunity for professionals to counsel and influence the next generation of business leaders. Being a mentor provides personal satisfaction as well as the ability to increase the workforce readiness of future recruits. Mentors rotate every semester.
The objectives of the mentor/

mentee

relationship are to help students:
Bring career goals into focus
Become ready for the workforce
Increase business connections and network strategically
Enhance professional development
Open doors of opportunity for future internships, jobs and career success
---
Enrolling in the Business Mentor Program:
Self-motivated business majors in their Sophomore, Junior, or Senior years who are ready to network and be challenged should enroll in BUS2900 to take part in this unique academic course. Complete and submit the registration form below to the instructor to register into the next semester's cohort of mentees! Need more information? Call 423-425-5111.
---
Business Mentor Bench
Melissa Crane
Tennessee Valley Authority (TVA) - Senior Manager, Technology Solutions, Information Technology
Melissa Crane is the Senior Manager of Technology Solutions for Planning and Business Support within the Information Technology organization at Tennessee Valley Authority (TVA). In her role, she is responsible for providing strategic planning support and technology solutions for business partners within the corporate areas of the agency. Melissa and her team regularly interact with all levels of the business to develop transformational roadmaps for digital strategies.
Melissa has worked for TVA for 17 years, starting in their intern program. Melissa has served in multiple leadership roles for the agency, leading successful cross organizational teams. Most recently, Melissa served as a Senior Service Manager where she and her team were responsible for providing real-time support of applications for Transmission Power Supply. As Senior Manager of Enterprise Services, she was responsible for services supporting the enterprise including enterprise information management and solutions, software architecture and data integration, enterprise content management, and enterprise collaboration solutions. As Senior Program Manager for the Office of the CIO, she provided expert advice and strategic direction to the CIO and IT senior leadership on a wide variety of business, technical, and organizational effectiveness matters. Melissa has also served as Manager of Business Analysis where she built a team of IT business analysts to support development and documentation of business requirements for IT projects, and established consistent management approaches for the entire TVA business applications portfolio. Under Melissa's leadership, increased demand from business partners led to the team growing ten-fold.
Melissa was raised in Chattanooga and graduated from the University of Tennessee Chattanooga with a BS in Marketing and MBA. She enjoys spending her free time traveling to Disney with her two children and husband. A perfect Saturday morning for her includes an early morning un, coffee, a soccer game for her son, and a stop at the climbing gym to watch her daughter scale walls.
Work Philosophy: Don't spend all your time worrying about that next step in your career or your next big opportunity, and lose focus on your current role. Of course have thought around your future plans, but do your best in your current role. Give your current role focus, time, and energy and the opportunities will come.
Best Advice for Students: Don't allow your degree to confine you. You're not limited to a specific profession just because you may have a major in a certain business area. Think creatively and be open to new opportunities as you start your career.
Type of student I hope to mentor: Looking for a student who is eager to ask questions and learn!
---
Mohammed Ali
ACA Compliance Group - Principal Consultant
As a Performance & Compliance Principal Consultant for investment advisors, Mo focuses on performance data analytics and the distribution process. This involves possessing a refined understanding of the regulatory framework around advertising, digging deep into investment portfolio analytics, and having the ability to problem solve on the fly. Mo spent the better part of 2017, 2019, and 2020 with some of ACA's largest institutional clients in a project management Secondee role. Through working with over 50 investment managers across the globe, he has been introduced to a wide breadth of investment strategies and management styles.
Throughout his 8-year career, Mo's exposure and experience includes a variety of front, middle, and back office operational projects, primarily focusing on procedural controls, governance, risk management, and compliance, in addition to people development and mentorship. Mo's international work portfolio includes leading operational optimization projects in Saudi Arabia, Oman, and the U.K.
Though having an international background and being bilingual, Mo spent most of his early years in Chattanooga, Tennessee. His educational merit consists of a Master's in Business Administration, with a Certificate in Data Analytics, as well as a Bachelor's in Finance and Economics, both from the University of Tennessee at Chattanooga. When away from work, if not traveling, Mo values quality time spent with family and friends in addition to providing mentorship to "Year Up" mentees.
Work Philosophy: Be curious, adaptable, patient, and, most of all, compassionate. When something at work starts to lower your confidence, let your philosophy remind you of what's important to you, and why you do what you do. Silence the noise of others' opinions and focus on the things that truly matter.
Best Advice for Students: Let your passion and curiosity be your internal guiding compass to your fulfillment. Understand that when it comes to work, do not be a professional friend, but be a friendly professional.
Type of student I hope to mentor: Someone who has a genuine interest in personal development; one who is coachable and willing to step outside of their comfort zone to accelerate personal and professional trajectory. Also, someone with a passion for giving back to the community, with an interest in Consulting and/or Finance.
---
Melody Peace
Tennessee Valley Authority (TVA) - Senior Manager, Regulatory Assurance
Melody Peace provides unique solutions to complex problems by leveraging diverse teams and encouraging collaboration between experts and stakeholders. Her passion is helping people discover and maximize their strengths in order to reach their full potential. She is a TN licensed CPA with a career spanning audit, tax, forensic investigations, risk, treasury, accounting, system implementations, and change management.
After joining TVA in 2009, Melody led teams providing accounting, budgeting, and reporting support across multiple generating and shared services business units. In her current role as Senior Manager of Regulatory Assurance and Compliance, she has the opportunity to fulfill TVA's mission to serve the people of the Tennessee Valley and achieve the tenets of the TVA ACT by influencing TVA's customers to keep rates as low as feasible and to treat all ratepayers fairly.
Melody holds a Bachelor's degree in Accounting from Tennessee Technological University. She currently lives in Georgia, and works in Chattanooga, but her favorite place to be is camping with her husband and three adult-sized kids in the mountains of Northeast TN.
Work Philosophy: Maintain a strategic focus to ensure you are working on the issues that make the greatest positive impact to your customers and the people you serve. Always seek ways to make your product, your team, and the world around you better. Never stop improving. Leaders should serve those people who follow them by finding ways to remove barriers to getting the work done. The greatest leaders do not give people what they want. They give them what they need.
Best Advice for Students and Pending Graduates: Put your focus on building your foundation, not on climbing a ladder. The broader the foundation, the stronger the foundation. Ladders fall easily. Picture your career as a lattice with moves up, sideways and down, allowing you to focus on learning about all aspects of the business. You will become a more valuable resource for any employer.
Type of student I hope to mentor: Enthusiastic learner who seeks answers by asking great questions and recognizes they don't know everything. Diligent worker with a continuous improvement mindset. I can best serve an accounting or finance major.
---
Jim Ledbetter
Hanover Properties - Owner and Operator
Jim Ledbetter is a small business entrepreneur, who founded Barcom, Inc in 1991. Barcom is a Chattanooga-based technology company focused on data collection, factory automation and supply chain automation. As President of Barcom, Jim lead a 20-person team of sales, programmers, technicians and support staff. Jim sold the company in 2007. Currently Jim owns and operates Hanover Properties, a property management company.
Jim attended UTC, graduating in 1980 with a BS in Business and a concentration in Marketing. After graduation, Jim went to work for Burroughs (now Unisys) as a Sales Account Representative, selling mainframe computers and software in the Healthcare industry. In 1986, he went to work for Wang Labs in an Account Representative role, selling Mini-Computers and Applications to select large accounts. At both Burroughs and Wang, Jim was consistently a top performer and achieved President Club (or equivalent) on numerous occasions.
Work Philosophy: A quote attributed to Confucius and many others drives Jim's thinking about work. "If you love what you do, you'll never work a day in your life". Though it would be far-reaching to say he enjoys every single day, the days he loved far outweigh any 'work' days. Doing something that you enjoy is the difference between wondering where the day went and looking forward to the next day versus watching a clock and waiting for Friday to arrive. It's the difference between feeling proud of your accomplishments and collecting a paycheck.
Type of student I hope to mentor: Jim's ideal mentee is someone who has a general idea of their direction and goals but who has not fully formulated their approach on getting there. Because of his background and experiences, a mentee with aspirations toward Entrepreneurship, Sales or Management would be ideal.
Best advice for students and pending graduates: Test the waters as much as possible and as early as possible. Jim firmly believes that students should enter their selected careers with a thorough understanding of what they should expect when they enter the work force. Before graduating (the earlier the better) the student should do as many career-based activities as possible. Activities such as: Internships, Meeting and Networking, Researching, attending career related events, talking with recent graduates, and joining career related organizations.
---
Ja Vonna Wilson
Tennessee Valley Authority (TVA) - Regulatory Analyst
Ja Vonna attended and graduated from Dillard University (an HBCU), in 1998 with a Bachelor's Degree in Accounting. During college, Ja Vonna worked as an accountant at a Photography Studio. While a freshman, she also worked for the Lieutenant Governor, which created an accounting internship opportunity in her sophomore year, at the largest grocery store chain in New Orleans.
After graduating college, Ja Vonna worked for United Way in the Marketing Department, where she continued to network, learn about project management, and became more involved in her community. Ja Vonna started her accounting career in March 2000 in the public accounting sector as an auditor. She audited many clients in different industries ranging from non-profit, government, for profit, and others. She also earned her MBA from the University of Phoenix, New Orleans Campus, in 2004.
Ja Vonna remained in the public accounting sector in New Orleans until she evacuated to Memphis, Tennessee in August 2005 due to Hurricane Katrina. Due to the devastation, she made a decision to make Memphis her home. Ja Vonna started working in public accounting again in November 2005 until she started her career at Tennessee Valley Authority (TVA) in January 2012. She is currently a Regulatory Analyst with TVA, working in an accounting and compliance capacity.
Ja Vonna was born and raised in New Orleans, LA. She has three sisters, one of which is her fraternal twin sister.
Work Philosophy: Always be professional and respectful. Be willing to be flexible and adaptable. Stay abreast of changes occurring within your profession, because you will have to change with it.
Best Advice for Students: Networking is important throughout your career. It is important to have a personal and professional network. Take advantage of opportunities to get to know people of all walks-of-life, with varied experiences. You will learn and grow from one another.
Type of Student I hope to mentor: I would like to mentor a student who is open to receiving advice and feedback, and who is preferably an accounting, finance, or business major.
---
Ken Jones
EPB - Manager, Fiber Design and GIS
Ken was born and raised in Chattanooga, TN and always enjoyed tinkering with things growing up. He would take things apart to see how they worked and, for the most part, put them back together. In high school, Ken studied electronics and learned how to repair PCB (printed circuit board), however he never finished high school, obtaining a GED instead. As an electronics technician, Ken was very proficient and was introduced to the telecommunications field in the 1990s. This is where Ken really found his passion. Working in infrastructure cabling for computer networks, phone systems, cable TV systems, and fiber optics networks provides him with a great sense of purpose.
Ken started working for EPB in 2000, starting as a network technician and quickly promoted to senior network technician, and then again to supervisor, and once more to Project Consultant where he managed projects for EPB's fiber optics network. In 2005, Ken realized how important it was to pursue a college education. He attended Chattanooga State Community College where he obtained as Associate's Degree in Electrical Electronics Engineering in 2007. He later pursued an undergraduate degree in Entrepreneurship. He enrolled in UTC's College of Business in 2014 and completed the degree in 2017. In 2015, in the midst of pursuing his undergraduate degree, he was promoted again to manager of EPB's Fiber Optics department. Ken is a proud alum of UTC and is currently pursuing an MBA in business analytics. In September 2017, EPB created a GIS department under Ken's leadership.
Work Philosophy: Find something you are passionate about! We have enough things in life to think about so let's make sure when we are spending our time at the office, it's something we are drawn to and enjoy!
Best Advice for Students: Make your contacts count. Do not judge people based on any bias you have. You never know who you are talking to when you meet someone. Furthermore, you never know who you will help with just something as simple as a smile. Get to know people and their story. Don't look at where they are and think they woke up at that point in their life. There's a story behind it.
Type of student I hope to mentor: I enjoy mentoring anyone who has a desire to make a difference. It doesn't matter where they come from, where they have been, or the challenges they have faced. If they are willing to give even 1%, then the options are limitless.
---
Alex Espinoza
ABS Tag and Title - Accounting Manager
Alex Espinoza is seen as utility player in his role of Accounting Manager at ABS. He has brought in a variety of skills from his diverse career and is helping ABS create new accounting processes to make its next step as it is quickly gaining market share. Alex is experienced in Tax, Audit, Financial Reporting, and Process Improvement.
Alex is originally from Los Angeles, California but found home in Chattanooga, Tennessee in the latter part of his life while completing his Bachelor's in Accounting at UTC. After working for some of the top companies in Chattanooga, Alex is now living in Knoxville with his wife and newborn son.
Alex enjoys outdoor labor and exercise to offset the time spent working but his true passion is personal development. Time is not abundant being a new father but when the opportunity arises he does not hesitate to watch a lecture or practice a skill to help keep the mind exercised.
Work Philosophy: I am not afraid to make mistakes because it gives me the opportunity to grow and learn.
Best advice for students: Use the time available in college to explore as many things that interest you.
Type of student I hope to mentor: The ideal mentee is someone who wants to do better in life and is willing to accept the hard work that comes with it.
---
Kathryn (Kat) Brown
Full Media - Director of Internet Marketing
Kathryn has worked in digital marketing for 8 years. She works at Full Media, a healthcare digital marketing agency located in Chattanooga, Atlanta, and Gainesville. She is the Director of Internet Marketing where she spends her time managing client accounts, assisting in sales, leading the digital marketing team, hiring, and more. She graduated from the University of Georgia with a Bachelor of Arts degree in Public Relations.
While she's often referred to as Kathryn professionally, she mostly goes by Kat and invites those she meets to do so as well! She lives in Chattanooga with her husband, their two dogs, and their two cats (fondly known as "the boys"). She loves traveling, golfing, watching football, completing jigsaw and crossword puzzles, and spending time with friends. Despite sounding like an old man, she's actually pretty fun.
Work Philosophy: When it comes to work, Kathryn is passionate about uncovering an individual's strengths and helping them utilize those to strengthen a team. She believes this allows people to be more productive and happier in their job roles, while building more efficient teams.
Advice for students: Looking back on being a recent grad, she wishes she had understood more about her personal strengths and her ideal work environment. So, she advises students to consider these things when job searching and recommends the Gallup Strengths Finder test as a starting point. Secondly, she urges students to remember that they aren't just being interviewed, they are also interviewing the companies they will work for.
Student I hope to mentor: Kathryn enjoys working with students who have an interest in digital marketing but feels she can also add value to students with other degrees or interests. To students feeling overwhelmed by the job search process or simply wanting someone to help them along the way, she'd love to be a resource and help ease the burden.
---
Jeana Lee
Unum - Corporate Social Responsibility
Originally from Chattanooga, Jeana Lee rejoined Unum, a Fortune 500 financial protection benefits provider, as Corporate Social Responsibility Program Manager at the beginning of 2020. For the last two years, and prior to her return to Unum, she served as VP of Marketing and Corporate Engagement at United Way of Greater Chattanooga. Prior to joining United Way, she began her career at Unum working in community relations, where she managed community partnerships, developed CSR communication strategies, and led various corporate citizenship engagements across the enterprise. She's passionate about the work she does and is an avid believer in supporting youth and social justice initiatives. Jeana lends her expertise in community engagement efforts to both civic and community organizations in Chattanooga. She currently serves on boards for Y-CAP, Leadership Chattanooga Alumni Association and is the Past-President for the Downtown Council. She is also a proud graduate of Leadership Chattanooga and Leadership Tennessee NXT.
When she's not serving in the community, you can find her outdoors enjoying the Scenic City with her husband Zach, children Aiden and Sophia, and Millie, their 8-year old lab.
Work Philosophy: Choose a career that aligns with your personal passions and strengths, remain honest and ethical in all that you do, always remain humble, be your own personal best - each and every day, and never be afraid to admit you were wrong.
Advice for Students: Always be flexible. The business landscape is continuously evolving, and so might your career - be ready to adapt! Always be positive. Employers appreciate positive employees. View every negative circumstance as an opportunity to make a positive impact on your organization. Always have a mentor. It doesn't matter how far your career progresses, there are always things to be learned from others. Get involved in your community. Being involved in the community helps you to network with people outside your department or organization, provides personal and professional development, and helps you to connect to the place you live and work. Have a prepared elevator speech. You never know when you could be talking to a potential employer!
Type of student I hope to mentor: Any student who is interested in leadership development, community/civic organizations, marketing, or public relations.