W. Max Finley Chair for Excellence in Business, Free Enterprise and Capitalism Seminar Series
The W. Max Finley Chair Speaker Series brings world-class academics to the University of Tennessee Chattanooga to share their research and insights with faculty, staff, students and members of the Chattanooga business community.
Recent Events
Does Encounter History Influence Future Hospital Readmissions?
Presented by Dr. Atish Sinha, Lubar School of Business, University of Wisconsin-Milwaukee
About the Seminar: Hospital readmission refers to a patient being admitted to a hospital within a certain period of time after being discharged from a hospital stay. If a high proportion of patients are readmitted to a hospital within a short time after their previous stay, it may indicate inadequate quality of care or post-discharge care. One of the missing links in the extant research on readmissions is the patient's hospital encounter history. While identifying the factors that influence readmission, prior studies have considered the details of the patient's most recent encounter with the hospital - the one just before that particular readmission. The findings of the study conducted by Dr. Sinha show that past history - especially as it relates to inter-visit times - has a major influence on future readmission risk. The findings of the study have important implications for hospitals as they strive to fine tune their strategies for reducing Hospital Readmissions Reduction Program penalties.
About the Speaker: Dr. Atish Sinha is a Professor of Information Technology and the Director of the Center for Technology Innovation at the Lubar School of Business, University of Wisconsin-Milwaukee. He received his Ph.D. in Business, with a concentration in Artificial Intelligence, from the University of Pittsburgh. His current research interests are in big data, business analytics, healthcare informatics, and industrial IoT. He is a core member of the Connected Systems Institute, which is a new, multi-disciplinary institute where faculty and industry partners conduct advanced research in industrial IoT.
UTC media

Designing a Health Coach-Augmented Health System for the Secondary Prevention of Coronary Heart Disease among Women
Presented by Dr. Kaushik Dutta, Muma College of Business, University of South Florida
About the seminar:Coronary heart disease (CHD) afflicts 7 million American women annually and is one of the most prominent causes of death and disability. While the female population of patients requiring cardiac rehabilitation continues to expand, a lack of access and other barriers to center based cardiac rehabilitation presents a huge challenge. A mobile phone-based technological system can offer a home-based secondary prevention of CHD. It can help patients self-manage their chronic conditions through changing unhealthy behaviors. We designed a gender-specific digital health intervention system for use in a home-based cardiac rehabilitation program that incorporated multiple theory-based behavior change interventions. With the design and development of three unique artifacts, the proposed system combines human-expert intelligence with machine intelligence in a manner, which enhances the decision making capability of a health coach. We evaluated our high fidelity prototype of the system with six women participants with CHD through a field test over a time period spanning 12 weeks. Attend this event to learn more...
About the speaker: Dr. Kaushik Dutta is an Associate Professor, Associate Chair and Muma Fellow at the Information Systems Department, Muma College of Business, University of South Florida. He is also the Academic Director for the MS in Business Analytics and Information Systems and Weekend Executive MS in Business Analytics and Information Systems program. Kaushik Dutta has 22 years of professional and research experience in the field of enterprise IT infrastructure, data analytics and big data systems. Dutta's current research interest is data analytics in the area of mobile advertisement and healthcare. Before joining USF, Dutta was a tenured associate professor at the National University of Singapore and Florida International University. Before starting his academic path, he pursued a career in engineering, most recently as the chief technology officer and vice president of engineering of Mobilewalla, an NUS-incubated and Madrona-funded company that developed big data based mobile advertisement platforms.
Manufacturing as a Service: Prosperity in Harmony with the People and the Planet
Presented by Dr. Alok R. Chaturvedi, Prof. of Management & Computer Science, Purdue University, West Lafayette, IN
Dr. Alok R. Chaturvedi presented the first W. Max Finley Chair for Excellence Seminar Series of the 2018-19 academic year.
View Dr. Chaturvedi's Presentation
About the Seminar
Manufacturing world-class products requires large investments in world-class facilities, state-of-the-art logistical systems, advanced ICT infrastructure, and a well-trained labor force. In order to overcome the need for big investments in the manufacturing sector, we introduce the concept of Manufacturing-as-a-Service consisting of Factories on Wheels (FOW) and a Manufacturing Cloud. A FOW is an advanced, self-contained factory configured on a truck to bring work to independently owned businesses. FOWs are coordinated through a Manufacturing Cloud. A Manufacturing Cloud is integrated with warehouses to store equipment, raw material, and finished good inventory. Orders from customers are received, sorted, aggregated and distributed to production units in "Uber-like" manner. Once all orders are allocated, the Cloud schedules FOWs to companies for production. Blockchain is used to ensure tamper-resistance, transparency, and security of the payment system. The Solow-Swan model is applied to evaluate the extent of wealth dispersion in the economy before and after adopting the FOW framework.
About the Speaker
Dr. Alok R. Chaturvedi is a Professor in Purdue University's Krannert School of Management and the Department of Computer Sciences (by courtesy). He serves as the Director of the Institute for Social Empowerment through Entrepreneurship and Knowledge (ISEEK).
He is also the founding Director of Purdue Homeland Security Institute and has served as an Adjunct Research Staff Member at the Institute for Defense Analyses (IDA), Alexandria, Virginia - a leading think tank on national and homeland securities matters. Dr. Chaturvedi received his Ph.D. in Management and Computer Science from the University of Wisconsin-Milwaukee. He was named in the list of 100 most influential professionals by Federal Computer Weekly in 2007 and was awarded the "Sagamore of the Wabash" by the Governor of Indiana, the highest civilian award, for his service to the state.
Realizing Value From Business Analytics Platforms: The Effects of Agility of the Resource Allocation Process
Presented by Dr. Rajeev Sharma, Prof. and Assoc. Dean of Strategic Projects, Univ. of Waikato, New Zealand
Dr. Sharma presented the second W. Max Finley Chair for Excellence Seminar Series of the 2017-18 academic year.
View Dr. Sharma's Presentation
About the Seminar
Organizations often struggle to realize value from their investments in business analytics, perhaps due to an inadequate understanding of the pattern of investments required to realize value from business analytics. Specifically, we propose that business analytics requires an upfront investment of infrastructure capital to build a mature platform, followed by multiple investments of innovation capital to create value through competitive actions informed by analytics-enabled insights. Drawing on dynamic capabilities and digital options literature, we develop a model in which the effect of investments in maturity of the business analytics platform on organizational value is moderated by the agility of the process allocating resources for innovation, and by the efforts expended by line managers to search for insights. Implications for organizations relying on innovation to improve performance will be discussed.
About the Speaker
Dr. Rajeev Sharma is a Professor and Associate Dean of Strategic Projects at the Waikato Management School at the University of Waikato in New Zealand. He has published extensively in top research journals in the areas of IT management, project management and business analytics. He currently serves or has served on the Editorial Boards of top international journals, including MIS Quarterly, Journal of Information Technology, and Journal of Strategic Information Systems. Rajeev has held faculty positions at the University of New South Wales, University of Oklahoma, University of Melbourne, University of Wollongong, and University of Technology Sydney. He is an alumnus of the University of Delhi, Indian Institute of Management Bangalore. He earned his Ph.D. from the University of New South Wales.
Readmission Analytics:
Care Transformation Through Innovation and Analytics
Presented by Mohan Tanniru, Ph.D., Prof of MIS, Oakland University, Rochester, MI
Dr. Mohan Tanniru presented the first W. Max Finley Chair for Excellence Seminar Series of the 2017-18 academic year.
View Dr. Tanniru's presentations:
About the Seminar
Health care providers face multiple challenges such as improving patient satisfaction, operating with reduced reimbursements, and reducing frequent readmissions. Care providers who address these challenges independently often miss opportunities to look at patient care holistically. Influenced by clinical environment within the hospital and social environment of patients outside the hospital, care coordination requires collaboration across several care coordinators and use of IT/analytics. By viewing the system of patient care through the readmission lens and applying some of the templates discussed under Systematic Inventive Thinking: SIT (Inside the Box), this presentation looks at several innovative approaches used to address patient care both inside and outside the hospital walls. A number of case studies are used to highlight the role of information technology and analytics.
About the Speaker
Dr. Mohan Tanniru is the Professor of MIS in the DIS Department of the School of Business Administration at Oakland University, and a senior investigator at Henry Ford Health System in Detroit, MI. He has published extensively in areas related to knowledge base/expert and decision systems, process modeling, health care operation and leadership as well as patient engagement and satisfaction. His work appeared in journals such as ISR, MIS Quarterly, Decision Sciences, DSS, JMIS, IEEE Transactions in Eng. Management, CACM, health care management and administration, and health care policy and technology. He coordinated numerous student and research projects with companies and health care organizations.
Designing Citizen-Centric Services: The Case for Values in Smart Cities
Presented by Dr. Sandeep Purao, Trustee Professor, Bentley University
Dr. Purao's work is aimed at effective design of citizen-centric services in smart cities. It addresses a significant problem: the gap between expectations of the city as collective of millions and the experience of the citizen as an individual. Public administration scholars have recognized and attempted to tackle the problem across multiple generations of research. "We apply concepts from software engineering, management, and social sciences to re-conceptualize the problem as appropriate design of citizen-centric services.
Our work responds to the challenges and opportunities outlined in Whitehouse memos about Smart Cities: 'with nearly two-thirds of Americans living in urban settings, many of our fundamental challenges … will require our cities to be laboratories for innovation' (2016); however, 'every community is different … communities that are making the most progress … don't look for a single silver bullet; instead they bring together local government and nonprofits and businesses … around a shared goal' (2015).
"The context of our work is the design of health-related services for the elderly community in the City of Waltham in Greater Boston, leveraging partnerships with the Council on Aging, and the City and State Government officials."
The presentation described the work so far, including the development of a meta-model and a method for the design of citizen-centric services, along with preliminary results for extracting values from the elderly – as was followed by a discussion of values and their interplay with design decisions for citizen-centric services.
UTC media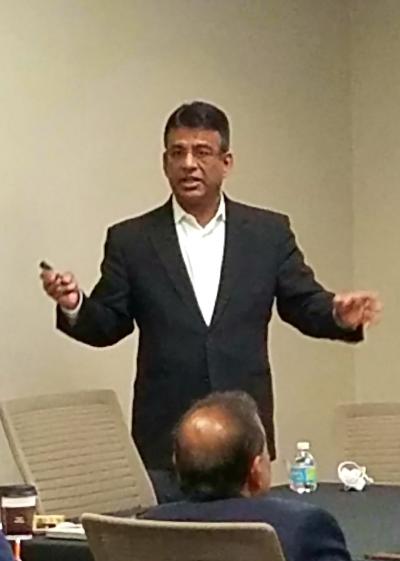 Dr. Sandeep Purao is Trustee Professor in the Information and Process Management Group at Bentley University. His research focuses on the design of complex techno-organizational systems, and the sciences of design. His work has been published in journals such as MISQ, ISR, ACM Computing Surveys, Communications of the ACM, multiple IEEE Transactions, CSCW, and JAMIA. He serves/has served on editorial boards of MISQ, ISR and JAIS. His research has been funded by National Science Foundation, Industry Consortia, private Foundations and private industry. He holds a PhD in Management Information Systems from the University of Wisconsin-Milwaukee. He is a member of AIS, ACM and IEEE.