Advisement for Current Students
UTC media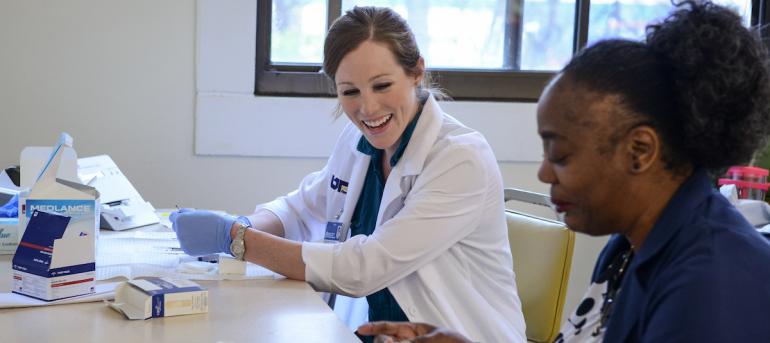 The School of Nursing, in accordance with UTC's recommendations, has put the following safety preventative measures in place to ensure the health of our staff and students during COVID-19 (https://blog.utc.edu/coronavirus/):
All advisement appointments will be handled virtually through email, phone or Zoom. If you have questions, please contact April Anderson.
Our goal remains to provide you with support and advisement during these unprecedented times. Please contact us if you have any questions or concerns.
 
BSN Students not yet Admitted 
Freshman nursing majors are advised in the Center for Academic Support and Advisement.
All sophomore and above nursing majors not admitted to the nursing program, as well as transfer students, will be advised in the School of Nursing Metropolitan building by April Anderson, Metropolitan 221, (423) 425-4670.
Current UTC students can schedule an advisement appointment through their MocsNet account on the Academics tab under "Academic Quicklinks."
See Also: BSN Advisement Syllabus.
 
---

Students Admitted to the Nursing Program
Students in the nursing major admitted to the nursing program will be assigned to a nursing faculty mentor.  Students will be assigned to the same faculty mentor throughout the nursing program, meeting at least once each semester.  Students can find out who their faculty mentor is by looking at the "Academics" tab in their MocsNet account.
See Also: BSN Advisement Syllabus.
---

RN-BSN Gateway Students
Students who have already completed an Associate of Science in Nursing and need to be advised for the Gateway RN-BSN program should contact Emily Martin, Metropolitan 225, (423) 425-5626.
---

MSN and DNP Students
MSN and DNP students are advised by Lindsey Pearse Greiner, Nursing Programs and Business Operations Coordinator, Metropolitan 339, (423) 425-1741.
---

Resources for Veterans
Please visit our Veterans Resource page for more information. 
---

Overrides for NURS 2260, Pathophysiology
Students enrolled at another school taking Anatomy & Physiology 2 will not receive a pre-requisite override to register for the Nursing Pathophysiology course until Anatomy & Physiology 2 are completed. Students must email April Anderson with documentation of their grade in Anatomy & Physiology 2 to receive a pre-requisite override.
---

General questions about advisement?
Email April Anderson or phone 423-425-4670.