Gerontology: Courses and Programs
UTC media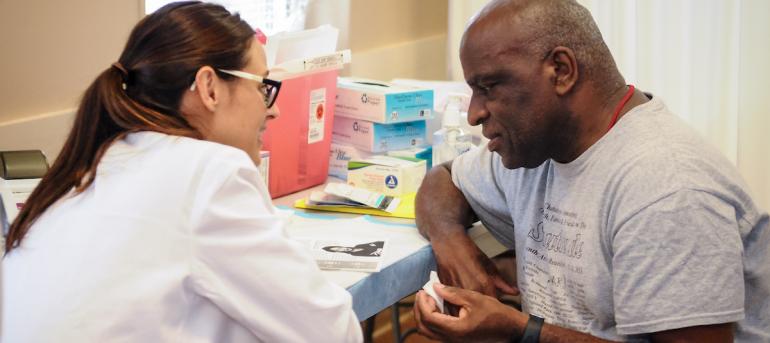 Undergraduate courses focused on aging
HHP4520 Problems in Health: Aging and Death Education
HHP4410 Exercise and the Older Adult
INTD4220 Aging in the Built Environment
NURS3500 The (Physical) Process of Aging
NUTR4240 Nutrition for the Older Adult (coming soon!)
PSY2230 Psychology of Aging
PSY3130 Cognitive Processes
SOC3570 Social and Cultural Studies of Aging OR ANTH3380 Sociocultural Studies of Aging
SOCW4600 Social Work Practice with Aging Families
USTU4000 Service Learning with the Elderly
---
Programs offered with geriatric-focus
Non-Credit Online Certificate
UTC now offers a non-credit online certificate designed for healthcare professionals across the disciplines along with lay people who have an interest in the field of gerontology. Please contact John Freeze, director of UTC's Center for Professional Education department, at [email protected] with questions or interest.
Adult Gerontology Acute Care Nurse Practitioner
The School of Nursing offers a master of science in nursing (MSN) and post-master's (MSN) certificate for Acute Care Nurse Practitioner Adult Gerontology (ACNP-AG). Upon completing the post-master's requirements, the graduate will be eligible to sit for one of the national certification exams offered by the American Nurses Credentialing Center (ANCC). The 49 semester-hour Adult Gerontology Acute Care Nurse Practitioner MSN program of study includes core courses in nursing, support courses in the sciences, and specialty courses in adult gerontology acute care nursing. An intensive clinical practicum (total 630 clock hours) parallels the didactic courses, thus providing ongoing opportunity for application of theory to clinical practice. The 24 semester-hour Adult Gerontology Acute Care Nurse Practitioner post-MSN concentration consists of specialty courses in adult gerontology acute care nursing and support courses in the sciences.
MSW Program with a Focus on Serving Older Adults
UTC begins offering a new Master's of Social Work (MSW) program in the fall of 2016. The program prepares students for advanced social work practice with special emphasis on serving older adults and their families throughout the Chattanooga region. Students entering the two-year MSW program complete 60 credit hours over two years of study. Professionals with an undergraduate degree in social work may be eligible for the Advanced Standing MSW program. Students in the Advanced Standing program complete 39 credit hours over 12 months of study.
The MSW curriculum is designed to meet the needs of adult students. All required courses will be offered through personalized, face-to-face evening courses paired with online and hybrid delivery as appropriate for the course material. Students complete 900 hours of field education under the supervision of the Director of Field Education and assigned agency MSW field instructors. Students develop learning contracts at the beginning of their internships that outline how they will demonstrate mastery of the social work competences and practice behaviors learned in the classroom. Graduates will be prepared for employment as social workers in numerous fields and agencies, and are able to obtain licensure as clinical social workers.
Admission into the program is granted on a rolling basis with courses beginning in the fall semester of each academic year. Prospective students are encouraged to apply or learn more about the program by visiting www.utc.edu/social-work.
Bachelor of Science in Integrated Studies with a concentration in Gerontology
Integrated Studies is a unique program that serves both traditional students and adult students with prior learning. Students design a course plan to fit their educational and career goals. Coursework from disciplines in all colleges on campus, including gerontology, can be integrated to form the degree. Prior learning can be assessed and applied to the degree. Additionally, students may select coursework that is entirely online. The gerontology concentration is comprised of interprofessional courses from departments such as nursing, psychology, health & human performance, nutrition, sociology, social work, and interior design.
More information can be obtained from http://www.utc.edu/integrated-studies.
Interdisciplinary minor in gerontology
The interdisciplinary minor in gerontology will help undergraduate students to cultivate an understanding of the many facets of the aging process, including the biological, psychological, and sociocultural aspects of adult development and aging. As the United States elderly population is only projected to increase, this minor will help prepare students to work with not only geriatric clients within the community but also with staff of varying disciplines. Being cognizant that there are other facets of gerontology aside from the biological, psychological, and sociocultural aspects, we will offer elective courses from areas including but not limited to interior design, nutrition, and social work as they apply to aging. The curriculum included within this minor covers the competency statements published in 2014 by the Association for Gerontology in Higher Education (AGHE). Forty-five service learning (clinical) hours in the community are required in the final practicum course, USTU4000.