Group Fitness Class Descriptions
UTC media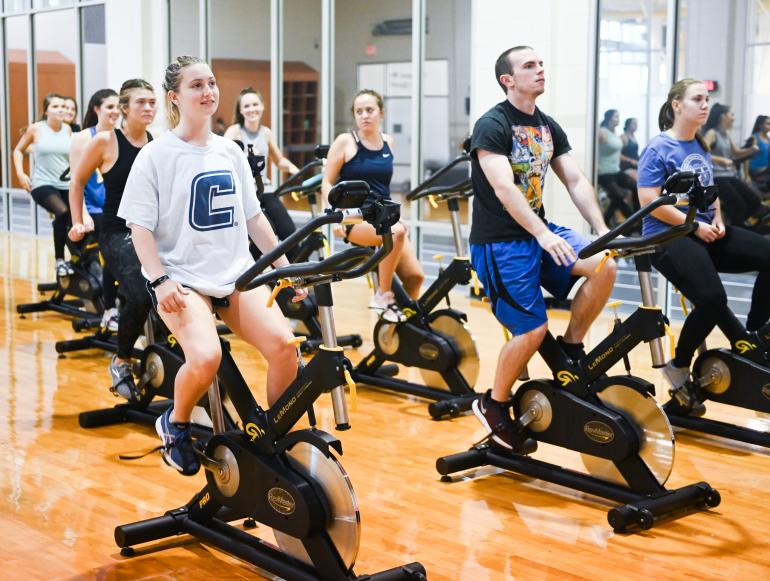 Cardio
Cycle

Come enjoy the ride. Whether you're training for a triathlon or riding for cardiovascular health, this class will get you there. Feel the energy from those that surround you as everyone endures the terrain.

Aquafit

A class for everyone, especially for those with joint ailments or injuries. Get fit with this challenging water workout. After a gentle warm-up, you'll ease into the exercises using your own body weight and water resistance dumbbells. These 60 minutes of water fun will have you splashing your way to improved strength.

F45 - Cardio

Welcome to the new standard in cardio, with specially curated workouts that focus on all aspects of the body and overall health. At F45, we use plyometric movements, combined with timing and tempo to blast both your aerobic and anaerobic systems, delivering you the results you're looking for.
Dance
Dance Fusion

Dance Fusion aims to improve cardiovascular health through high and low intensity choreographed moves involving balance, strength, and endurance. We encourage participants to step outside of the box by bringing their own individual style and personality to the movements!

Line Dancing

Line dancing is a group fitness class that also allows you to engage in a social activity. It is a form of dance in which memory and execution come together. You will learn basic steps, rhythms, and routines choreographed to music, thereby improving memory and balance. Line dancing also helps to increase muscle tone, coordination, keeps you mentally fit, and helps you manage your weight.

Zumba®

Take the "work" out of workout, by mixing low-intensity and high intensity moves for an interval-style, calorie-burning dance fitness party. Once the Latin and World rhythms take over, you'll see why Zumba® Fitness classes are often called exercise in disguise.
Strength
Power Hour

Power Hour is a full-body workout. The class includes an interval training sequence with various exercises. It builds cardiovascular fitness while improving muscular strength and endurance. This class combines resistance training with plyometric moves to improve your strength and power.

F45 - Resistance

Push back on average and get elite, full-body resistance training that will leave you feeling your absolute best. Our F45 strength training classes use functional movement patterns to help our members to increase their muscle mass, and in turn, burn more calories long after your workout ends.

F45 - Hybrid

Experience the best of every workout with our fan-favorite hybrid workouts, designed to increase your endurance, fire up your metabolism, and give you the best strength training exercises of your life. In our F45 hybrid workouts, you'll get cardio, resistance, agility, and core movements all in one efficient workout.
Mind/Body
Pilates

Flow through a series of dynamic movements that restore balanced core muscles of the lower back and abdominals.

Yoga

Experience yoga bliss as you gently strengthen and stretch your mind and body. Allow yourself to relax into the moment with breathing and posture exercises.

Barre

Barre is a hybrid workout class - combining ballet-inspired moves with elements of pilates, dance, yoga and strength training.
---
If you have any questions about our fitness programs,
please contact the Coordinator of Fitness:
Scarlett Vineyard
Phone: (423) 425-5673
Email: [email protected]