Group Fitness Class Descriptions
UTC media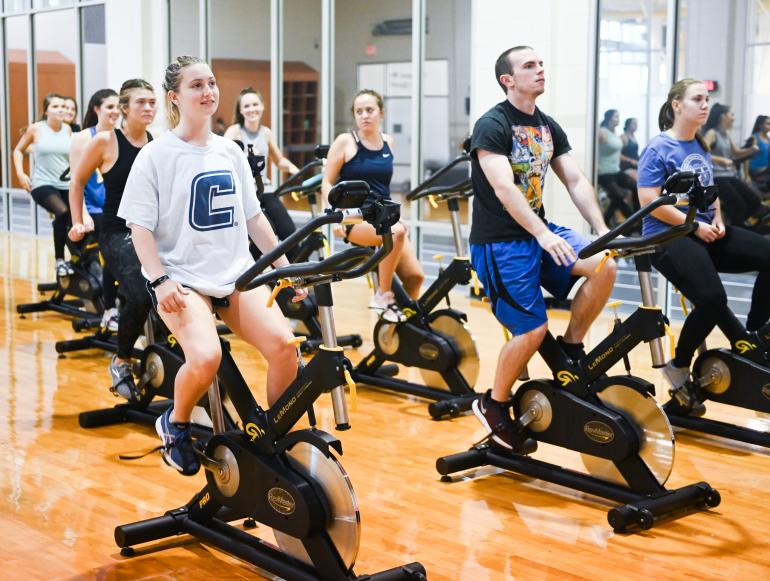 Cardio
BODYSTEP

™

BODYSTEP™ uses basic stepping, just like walking up and down stairs. This is a full-body cardio workout to really tone your butt and thighs. In a BODYSTEP™ workout, you can expect a mixture of upbeat, rhythmic stepping, with squat and lunge patterns to work the legs.

Cycle

Come enjoy the ride. Whether you're training for a triathlon or riding for cardiovascular health, this class will get you there. Feel the energy from those that surround you as everyone endures the terrain.

SwimX

SwimX is a free group fitness program for members who want to take their swim workouts to the next level. An experienced coach will lead each practice and will help you refine and improve your stroke technique.

Aquafit

A class for everyone, especially for those with joint ailments or injuries. Get fit with this challenging water workout. After a gentle warm-up, you'll ease into the exercises using your own body weight and water resistance dumbbells. These 60 minutes of water fun will have you splashing your way to improved strength.
Dance
Barre

A true cardio ballet workout where each movement is specifically choreographed to the beat of music.

Ballet

A ballet class consists of barre and center work. Ballet exercises and stretching will be included. The class offers an opportunity to improve coordination and fitness, and flexibility will be adapted for all levels. No previous experience is required.

Belly Dancing (Not Available in Session # 2)

Belly Dancing is a full-body workout. You'll be working your entire core, which includes your abs and hips. Your arms, shoulders, and chest will be engaged. As you learn more advanced moves, you'll work on balance as well.

Line Dancing

Line dancing is a group fitness class that also allows you to engage in a social activity. It is a form of dance in which memory and execution come together. You will learn basic steps, rhythms, and routines choreographed to music, thereby improving memory and balance. Line dancing also helps to increase muscle tone, coordination, keeps you mentally fit, and helps you manage your weight.

Zumba®

Take the "work" out of workout, by mixing low-intensity and high intensity moves for an interval-style, calorie-burning dance fitness party. Once the Latin and World rhythms take over, you'll see why Zumba® Fitness classes are often called exercise in disguise.
Strength
Circuit Training

Circuit Training is a full-body workout. The class includes an interval training sequence with various exercises. It builds cardiovascular fitness while improving muscular strength and endurance. This class combines resistance training with plyometric moves to improve your strength and power.

Strength & Stretch

Strength & Stretch is a group fitness class that allows you to better yourself both mentally and physically. Strength training is the fastest way to improve your muscles and physical endurance, while stretching helps to prevent and reduce back pain, to have better posture, to improve balance, and reduce joint pain.
Mind/Body
Pilates

Flow through a series of dynamic movements that restore balanced core muscles of the lower back and abdominals.

Yoga

Experience yoga bliss as you gently strengthen and stretch your mind and body. Allow yourself to relax into the moment with breathing and posture exercises.
---
If you have any questions about our fitness programs,
please contact the Coordinator of Fitness:
Scarlett Vineyard
Phone: (423) 425-5673
Email: [email protected]