Group Fitness Class Descriptions
UTC media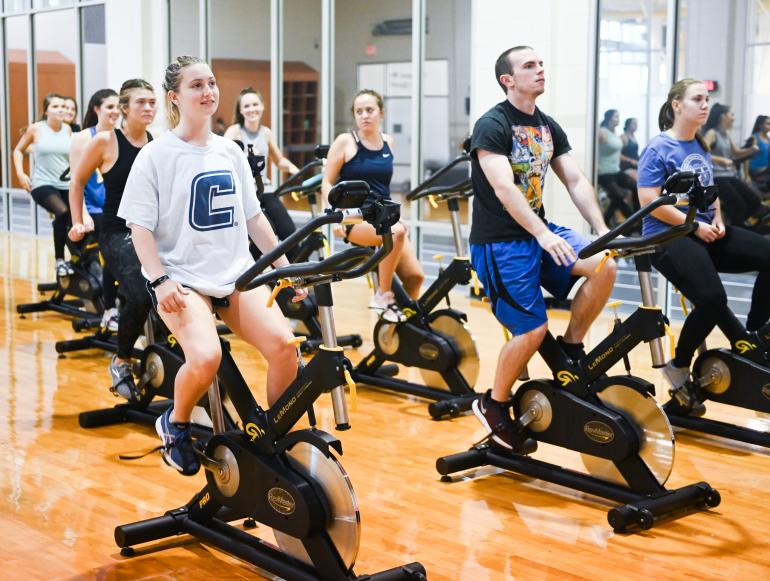 Cardio
BODYCOMBAT™

BODYCOMBAT works your legs, tones your arms, back and shoulders and provides phenomenal core training. You destroy calories, develop coordination, agility and speed, and feel empowered.

Cycle

Come enjoy the ride. Whether you're training for a triathlon or riding for cardiovascular health, this class will get you there. Feel the energy from those that surround you as everyone endures the terrain.

Fitness 50+

A class designed for participants 50 and over to tone your body while getting a cardio workout while staying low impact.

Rock 'n Row

First time rowers and experts alike are invited to join us for a fun and effective session utilizing the rowing machine and floor exercises to deliver a low-impact, full body workout.

Ride 'n Row

Utilize rowing machines, cycles, and body weight movements to target; aerobic conditioning, anaerobic threshold, functional mobility, and comprehensive strength.

SwimX

SwimX is a free group fitness program for members who want to take their swim workouts to the next level. An experienced coach will lead each practice and will help you refine and improve your stroke technique.

Water Aerobics

A class for everyone, especially for those with join ailments or injuries. Get fit with this challenging water workout. After a gentle warm-up, you'll ease into the exercises using your own body weight and water resistance dumbbells. These 60 minutes of water fun will have you splashing your way to improved strength.
Dance
Barre

A true cardio ballet workout where each movement is specifically choreographed to the beat of music.

Zumba®

Take the "work" out of workout, by mixing low-intensity and high intensity moves for an interval-style, calorie-burning dance fitness party. Once the Latin and World rhythms take over, you'll see why Zumba® Fitness classes are often called exercise in disguise.
Strength
BODYPUMP™

Use light weights with high reps to give yourself a total body workout that burns lots of calories. It'll also tone and shape your body, without adding bulky muscles.

Sweat It

This class will challenge your endurance, strength, and mental toughness to keep pushing even when you're tired. Each class incorporates plyometrics, weights, running, and core.
Mind/Body
Beginner Yoga

This class is designed as an introduction to the practice of yoga. Class is slower paced, and focused on developing clear and safe alignment in foundational poses. Come to learn, play and maybe even break a sweat.

Intermediate Yoga

Building off of the foundations of yoga, this class will spend less time focusing on basic poses and offer participants a chance to deepen their yoga practice. While this class is suitable for all levels, some previous experience in Beginner/Mindful yoga is recommended.

Mindful Yoga

Calm your mind, settle your body and find a softer focus to your day. Join us for a yoga class that focuses on breathing through a guided practice.

Pilates

Flow through a series of dynamic movements that restore balanced core muscles of the lower back and abdominals.

Strength Yoga

An energized hybrid core focused class incorporating yoga poses with strength exercises, utilizing light weights, BOSU balls, and stability balls. Always different and always a challenge.

Yoga

Experience yoga bliss as you gently strengthen and stretch your mind and body. Allow yourself to relax into the moment with breathing and posture exercises.
---
If you have any questions about our fitness programs,
please contact the Coordinator of Fitness:
Scarlett Vineyard
Phone: (423) 425-5673
Email: [email protected]