Belay Clinics:
Want to learn how to belay a fellow climber at the climbing wall? Join us and learn each month! All clinics are free. You can pre-register in the UTC Outdoors Center for any of the clinics. All equipment is included.
Location: ARC Climbing Wall
Time: 6:00pm - 8:00pm
Spring 2023 Dates:
Friday, January 13th
Friday, February 3rd
Friday, March 3rd
UTC media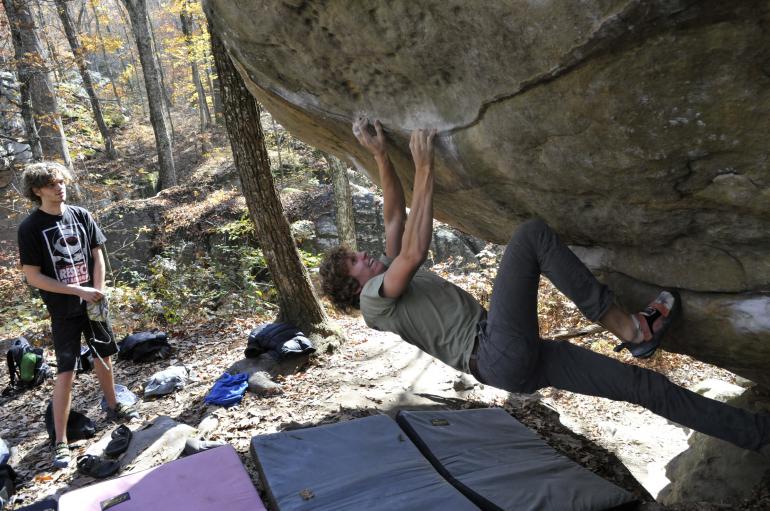 Registration Information:
To sign up for UTC Outdoor Micro Adventures, please visit the Aquatics & Recreation Center. Registration takes place in the Outdoors Center Office, located on the first floor of the Aquatics and Recreation Center (ARC). All of our Micro Adventures are free for UTC students and no prior experience is needed.
Cancellation Information:
Once payment for trips are received, partial refunds may be given if you cancel by the registration deadline, typically 7 days before the trip. Please see our trip descriptions for registration deadlines. Refunds consist of 50% of the trip cost for cancellations. Cancellations made after the registration deadline will not be considered for a refund. We reserve the right to cancel a program due to inclement weather, natural disasters, lack of participation, or extenuating circumstances. In the event we must cancel a program, you will be notified by the trip leader and a full trip refund will be provided. To apply for a refund, you will need to complete the 'Customer Refund Request' form.
---
Spring 2023 Micro Adventures
* All of our Micro Adventures are free for all UTC students and no prior experience is needed *
Belay Sessions

Description: Want to learn how to belay a fellow climber at the climbing wall? Join us and learn each month! All clinics are free. You can pre-register in the UTC Outdoors Center for any of the clinics. All equipment is included. Registration required.

Time: 6:00 p.m. - 8:00 p.m.

Dates:

Friday, January 13th
Friday, February 3rd
Friday, March 3rd

Lead Climbing Clinic

Description: Learn how to lead climb and lead belay at the UTC Climbing Wall. Each clinic will provide in-depth instruction and experiential learning to safely lead climb indoors. This clinic is free and requires pre-registration in the Outdoors Center. All equipment is included.

Time: 5:00 p.m. - 8:00 p.m.

Dates:

SUP (Stand Up Paddleboard) on the River

Description: Join us at UTC Outdoors and learn how to Stand-Up Paddle Board. Students will meet at the Outdoors Center to be fitted for a PFD and paddle. Next, we will walk down to the UTC rowing barge to enjoy some easy paddle boarding around McClellan Island and enjoy a beautiful day on the water. No experience is necessary. Registration required.

Time: 4:00 p.m. - 6:00 p.m.

Dates:

Rappelling

Description: Spend an afternoon on Lookout Mountain learning to rappel! The Eagle's Nest is the perfect location for first-time rappelers and experienced climbers alike. The view of Chattanooga from the top is also worth the trip.

Time: 4:00 p.m. - 7:00 p.m.

Dates:

Women's Climbing Night

Description: This clinic is an introduction to basic body movement and techniques involved in climbing. We will cover handholds, footwork, and other techniques to help you take your climbing to the next level. This clinic is designed specifically for self-identified women in an inclusive and low-stress environment. This is perfect if you are new to climbing or want to improve. No experience is necessary. Registration required.

Time: 8:00 p.m. - 10:00 p.m.

Dates:

Riverwalk Bike Ride

Description: Join us on the Chattanooga Riverwalk for an afternoon bike ride. We will start on campus and ride along the TN river as we take in the fall colors and brisk air.

Time: 4:00 p.m. - 6:00 p.m.

Dates:

Fly Casting

Description: Have you ever wanted to learn how to fly fish or want to refine your fly fishing skills? Join us for this clinic to learn the art of fly fishing!

Time: 4:00 p.m. - 6:00 p.m.

Dates:
---
If you have any questions about our outdoor adventures,
please contact the Coordinator of Outdoors:
Lisa Hancock
Phone: (423) 425-5671
Email: [email protected]