UTC media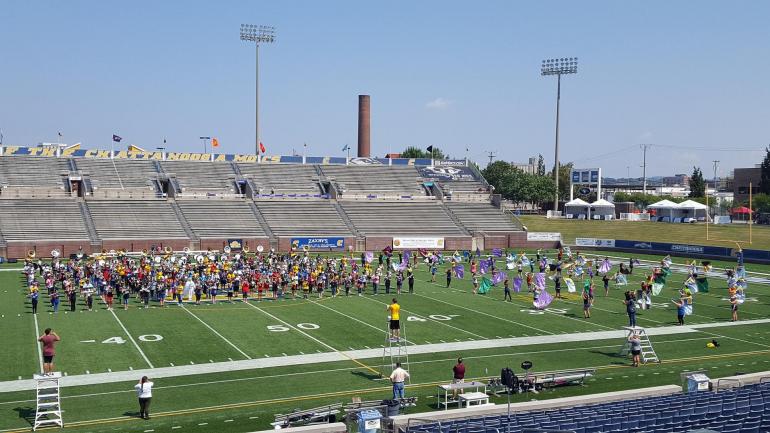 UTC Band Day is an annual event that invites area high school band students to be VIP guests of the Marching Mocs for a day!
Students participate in game day activities including a morning rehearsal, pregame and halftime performances, and playing in the stands during the game. Students get the feeling of what it is like to be in a university marching band and are mentored by our very own Marching Mocs. Typically, we have anywhere from 300-400 students join us!
This year, we will be hosting our thirteenth annual Band Day on Saturday, November 2, 2019 during our home game against Furman. Lunch and some UTC swag will be provided for everyone. We hope you can join us!
The registration deadline is Friday, October 18. Registration must be completed by band directors for their students. We ask that band directors accompany their students on Band Day. Music will be provided to band directors for their students prior to Band Day. Band directors are responsible for distributing the music to their students before they arrive at UTC and are also responsible for ensuring that their students have flip folders and lyres.
Students and band directors get into the game for free. Two band boosters are admitted to the game for free as well, if their names are listed in the registration. All other guests (other boosters, parents, children accompanying boosters and parents) must pay the admission fee.
We are encouraging full band participation, but will welcome as many students as can come from each school. Drum majors, color guard members, and majorettes are invited as well. Color guard members should bring their own flag or baton.
We will not have a front ensemble. We suggest that those who play in a front ensemble bring cymbals to play for the day.
Each school must supply their own ponchos in case of inclement weather. Water will be provided, but bands must supply their own jugs or bottles for their students!
For more information about the game, including ticket information and directions to the stadium, see GO MOCS!
If you have questions about Band Day, please do not hesitate to contact us:
Prof. Michael Griffith, Visiting Professor of Bands
Dr. Erika Schafer, Assistant Director of Bands