UTC media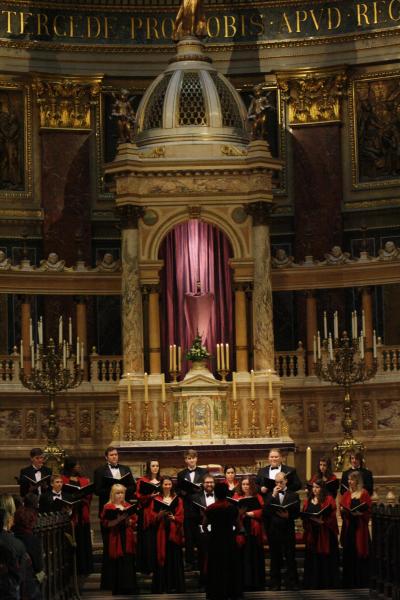 The UTC Chamber Singers is a small chorus of mixed voices that performs a wide variety of music. It is the main touring choir in the Music Division at the University of Tennessee at Chattanooga. Previous concerts have included formal chamber music, folk songs, spirituals and vocal jazz. They have performed major works with orchestra including Bernstein's Chichester Psalms, Lauridsen's Lux Aeterna, Vaughan Williams' Five Mystical Songs with baritone Ron Ulen. They have combined with the Chattanooga Symphony for recent performances of Beethoven's Ninth Symphony, Mahler's Second Symphony, Mozart's Requiem and Brahm's German Requiem.
In addition to frequent U. S. tours, the Chamber Singers tour internationally and have recently completed a concert tours of Prague in the Czech Republic, Budapest, Hungary and in Austria where they performed in Melk, Saltzburg and in Vienna on two separate tours.
The Chamber Singers have been fortunate perform the world premier of several works over the last few years including For the Beauty of the Earth by Texas composer Harry Bulow, Requiem Brevis By Boston composer Jonathan Bailey Holland, A Christmas Hymn (Nov. 2009) by Dave Brubeck, and an extended version of To Us is Given also by Dave Brubeck. They performed the U. S. premier of the Requiem by Swedish composer Steve Dobrobosz in combination with the UTC Symphony, Chattanooga Singers, Women's Chorale and Men's Chorus.
---
In 2009 they released a CD featuring the spiritual arrangements of UTC Holmberg Professor Roland M. Carter entitled In Bright Mansions Above, which is available through amazon.com or at CDBaby.com. They are currently recording the second and final volume of works by Dr. Carter and are looking forward to a January 2016 release date.
Dr. Kevin Ford is the director and the membership is open to students of all majors* through competitive audition. Auditions take roughly 5 minutes and can be arranged by contacting the director and making an appointment.
Auditions will be held at preregistration and at the beginning of the fall semester. There is nothing to prepare. You will be asked to sing "My Country 'tis of Thee" (music provided) and your range and musicianship will be checked. Click this to email to set up an audition.
UTC media