UTC Tri-States Honor Band
January 19-21, 2023
Registration is closed.
UTC media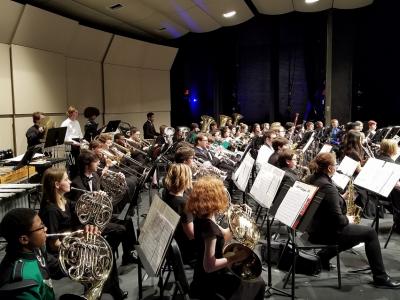 The UTC Tri-States Honor Band Festival will be held at the University of Tennessee-Chattanooga, January 19-21, 2023. The Tri-States Honor Band Festival is an event developed for the purpose of recognizing the achievements of exceptional high school musicians. The festival weekend includes clinics presented by the faculty of the University of Tennessee-Chattanooga Division of Music and concerts presented by the UT-Chattanooga Wind Ensemble and the "PRISM" concert, which features several of our wind and percussion ensembles as well as the UTC Marching Mocs marching band. This year, we will present four outstanding high school ensembles in concert, along with the two festival honor bands.
THE HONOR BANDS
For the 2023 event, we will seat one Festival Clinic Band and one Festival Wind Ensemble at the festival. The Festival Wind Ensemble will be a smaller group made up of the top chair audition scores and the remainder of the participants will be places in chair order, in the Festival Clinic Band. We are excited to welcome two incredible conductors as our clinicians for the 2023 festival, Ms. Diane Koutsulis and Dr. Rebecca Phillips.
SELECTION OF PARTICIPANTS
Students will be selected by a committee of University of Tennessee-Chattanooga Division of Music faculty. Information included on the student application (resume) and the band director's recommendation will be the primary criteria used to select participants. In most cases, the committee will use the student resume and band director recommendation as sole sources of information about the students. Students and directors are encouraged to complete the resume and recommendation in detail and be sure that the required information is available to us prior to the close of registration. Each director who submits a nomination is guaranteed that at least one student from each school will be selected to participate in the festival. There is a registration fee of $10.00 per student to register for the festival. There will also be a participation fee for students selected to participate. Students selected to participate must attend all rehearsals, master classes, and performances during the Honor Band Festival. A list of students chosen to participate in the 2023 Tri-States Honor Band Festival will be posted on this website by mid-December. Please note: attendance at ALL concerts, classes, rehearsals, and events for the entire Honor Band Festival are REQUIRED for all student participants attending the festival! No one may leave early or arrive late.
AUDITION EXCERPTS
Flute Clarinet Bass Clarinet Oboe Bassoon Saxophones
Trumpet Horn Trombone Euphonium (BC/TC) Tuba Percussion
HOUSING/MEALS/FEES
The Tri-States Honor Band does not provide housing or meals. Arrangements for housing, supervision, transportation, and meals should be taken care of by the high school director. For the 2023 Tri-States Honor Band, students chosen to participate will be required to pay a participation fee of $65.00, which includes admission to all clinics, concerts and includes a Festival Participation t-shirt. This participation fee will be due AFTER students have been notified that they have been selected to participate in the Tri-States Honor Band. Much more detailed information will be available to those students selected to participate in the festival.
UTC media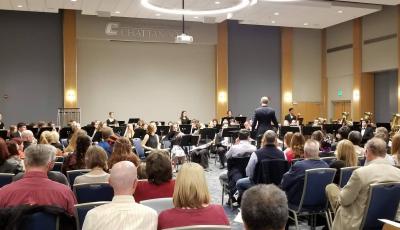 0cc186b8-cab6-48c1-92ae-f50dc843bbef
Diane Koutsulis, Guest Clinician
Diane Koutsulis is the recently retired Director of Bands and Arts Department Chair at Green Valley High School. Originally from Chicago, Diane taught in the Clark County School District for 35 years. She received a Bachelor of Arts Degree in Music from Western Illinois University, studying with Christopher Izzo. After teaching junior high band in Oswego, Illinois, for three years, she went on to complete the Masters of Music Education degree at Louisiana State University in Baton Rouge, Louisiana, where she studied with Frank Wickes.
During her tenure in Las Vegas, Diane has built fine band programs and music departments at both Las Vegas High School (1982-91) and Green Valley High School (1991-2017). Her groups have consistently garnered recognition for fine performances, and she has served as both guest clinician and conductor at various conferences and honor bands throughout the United States. Diane was named the 1999 Nevada Teacher of the Year and received the 1999 Milken Family Foundation National Educator Award. A member of the Clark County School District Teacher Hall of Fame, in March of 2003, she was inducted into the Nevada State Education Hall of Fame. In 2004, the Green Valley High School Symphonic Band performed at the Midwest Clinic in Chicago, IL. In 2005 and 2010, the Symphonic Band performed at Carnegie Hall in New York City. The Green Valley HS Marching Band performed in the 2010 Macy's Thanksgiving Day Parade in New York City, as well as the 2009 and 1993 Presidential Inaugural Parades. Diane is a member of the National Band Association (NBA) as well as holding memberships in the National Association for Music Education (NAfME), College Band Directors National Association (CBDNA) and Phi Beta Mu. Diane is very honored to be a member of the prestigious American Bandmasters Association (ABA) since 2015, and was recently awarded the John Philip Sousa Foundation Legion of Honor.
Rebecca Phillips, Guest Clinician
Dr. Rebecca Phillips is Professor of Music and Director of Bands at Colorado State University where she conducts the CSU Wind Symphony and guides all aspects of the band and graduate wind conducting programs. Prior to this appointment, she served as the Associate Director of Bands and Director of Athletic Bands at the University of South Carolina where she was responsible for directing the Symphonic Winds Concert Band, "The Mighty Sound of the Southeast" Carolina Marching Band, "Concocktion" Pep Bands, teaching undergraduate instrumental conducting, and directing the Carolina Summer Drum Major Clinic.
Dr. Phillips has served as a guest-conductor, clinician, and performer throughout North America, Europe, and Asia. She has conducted both professional and collegiate musicians in Prague (Czech Republic) for the "Prague Multicultural Music Project." In addition, she has conducted members of the Prague National Symphony at the inaugural "2017 American Spring Festival" (Prague, Czech Republic). In 2018, she conducted members of the Des Moines Symphony in a chamber concert for the Iowa Bandmasters Association annual conference. Dr. Phillips regularly conducts intercollegiate and collegiate honor bands, all-state bands, and festival bands across the United States, Canada, and Europe. She is the "conductor in residence" for the Blue Lake Fine Arts Camp Festival and Staff Bands (session I) and she has been a rehearsal clinician at the Midwest Clinic: An International Band and Orchestra Conference. Ensembles under her direction have been featured at the 2020 Colorado Music Educators Association Convention, the 2019 American Bandmasters Association National Convention, the 2012 College Band Director's National Association Southern Division Conference, the 2010 Society of Composers International Conference, and the 2008 North American Saxophone Alliance International Convention.
A native of the Washington, D.C. area, Dr. Phillips earned her Bachelor of Music Education degree from Florida State University, Master of Music degrees in conducting and trombone performance from the University of South Florida, and Doctor of Musical Arts in conducting at Louisiana State University. She served as a secondary school band director for seven years in Florida, including Director of Bands at Howard W. Blake Performing Arts High School in Tampa, Florida where she developed an award-winning concert band program. Currently, she is the Immediate Past President of the National Band Association, chair of the Music Education Committee for the College Band Directors National Association, co-chair of the American Bandmasters Association-University of Florida Commissioning Committee, and she serves on the college/university board for the Western International Band Clinic.
FEATURED PERFORMING ENSEMBLES
In addition to the Festival Honor Band performances, we are honored to welcome the following concert ensembles who will be performing as our Featured Performing Ensembles at the 2023 Tri-States Honor Band.
Chattahoochee High School Wind Ensemble, Johns Creek, GA, Nick Garofalo, conductor Gautier High School Wind Ensemble, Gautier, MS, Kristopher Chandler, conductor Hardin Valley Wind Ensemble, Knoxville, TN, Alex Rector, conductor Heritage High School Wind Ensemble, Ringgold, GA, Bill Wynn, conductor The Alabama Winds, Birmingham, AL, Randall Coleman and Susan Smith, conductors