UTC media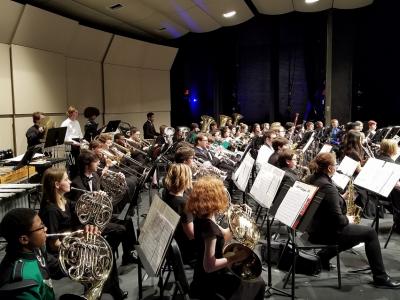 UTC media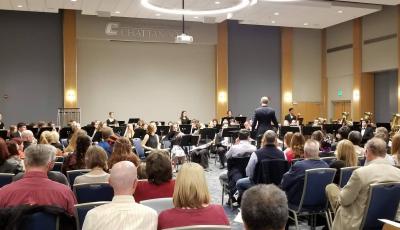 The UTC Honor Band will take place January 16-18, 2020.
The UTC Honor Band invites the most talented students from around the tri-state area to join us on campus for a few days of music making and a concert! Students are nominated by their directors and are selected upon their recommendation. Once on campus, students have the opportunity to rehearse, receive instruction from our applied faculty, experience UTC campus life, and perform for our community on the final day.
Registration will take place on Thursday, January 16, 2019 beginning at 5:00pm in the University Center. The warm-up room will be in the Chattanooga Room. (See campus map) This is on the second floor of the building, but be aware that there are entrances on the 1st and 2nd floors of the building.
Auditions will consist of two (2) major scales [chosen by the professor], chromatic scale (within the chosen range of the musician showing their abilities), and sight-reading excerpts (chosen by the professor). Once results are final, folders will be distributed and we will meet in the UC Chattanooga Room for a rehearsal.
Rehearsals will take place in the University Center.
Past Repertoire:
2019:
March Grandioso – Roland F. Seitz/Reed
Twittering Machine – Brian Balmages
Courtly Airs and Dances – Ron Nelson
2018:
You Are Cordially Invited – Markowski
Selections from 'The Danserye' – Susato/Dunnigan
Symphonic Dances – Shostakovich
2017:
Galop – Dmitri Shostakovich
First Suite in E-flat for Military Band – Gustav Holst
Chester – William Schuman
Meals are available from the UTC Student Center, or by going to some options near campus. Our food court in the Student Center has recently been renovated and now includes Chick-fil-A, Moe's, Steak-n-Shake, Panda Express and Which Wich. Items are also available from an adjacent convenience store, carrying protein shakes, snack bars, salads and sandwiches. This will be very convenient this year, as we will be rehearsing in the University Center.
Concert Attire is at the discretion of your director. Students not affiliated with a school program should look professional, either by wearing dress attire, or solid black. (including socks and shoes)