UTC media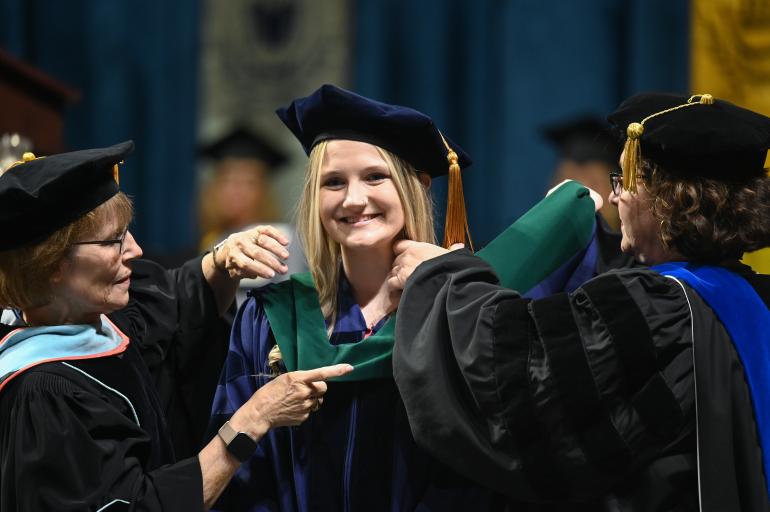 The fall 2024 application has closed.
The fall 2025 application cycle will open summer 2024.
The Department of Physical Therapy takes a holistic approach to admissions, considering both academic (GPA and GRE) and non-academic factors. Applicants should pay close attention to both PTCAS and program specific questions and answer these sections carefully and completely.
 
The program administers a mission-focused application assessment. Competitive applicants have excelled academically with strong GPAs (cumulative and science prerequisite) and GRE scores. Successful applicants are well-rounded individuals exhibiting characteristics such as excellent communication and leadership skills, a strong work ethic, and successful experience with working as a member of a team. We value unique life experiences that can enrich the graduate educational experience.
The Department of Physical Therapy is committed to The University of Tennessee at Chattanooga's Missions Statement to be "a driving force for achieving excellence by actively engaging students, faculty and staff, embracing diversity and inclusion, inspiring positive change and enriching and sustaining our community." Therefore, the program welcomes and encourages applicants from a variety of backgrounds including those who identify as underrepresented minorities. The UTC DPT program does not give preference to instate students or UTC graduates.
Affirmative Action Policy 
The University of Tennessee at Chattanooga is an EEO/AA/Title VI/Title IX/Section 504/ADA/ADEA. All qualified applicants will receive equal consideration for employment and admissions without regard to race, color, national origin, religion, sex, pregnancy, marital status, sexual orientation, gender identity, age, physical or mental disability, or covered veteran status. 
 
All applicants must apply through PTCAS.
Applicant Data (average GPAs and GRE scores)
How To Apply
Deposit Information
---
Applicant Data
The UTC DPT Program admissions review involves a holistic application assessment, considering both academic (GPA and GRE) and non-academic factors. This is a change from previous application cycles (prior to fall 2023 admissions). Applicants should pay close attention to both PTCAS and program-specific questions and answer all aspects of the application carefully and completely. 
Our program does not interview candidates. We enroll 36 students each fall.
There is no minimum verbal or quantitative GRE score required for applicants, but we require a minimum 3.0 analytical writing score. We require a minimum of a 3.2 for both GPAs. The following table provides data for entering classes over the last three years. This reflects students who matriculated into the program, including those who were initially wait-listed but received an offer at a later date due to an opening in the program. Students who declined an offer or chose to attend another program after accepting an offer from UTC are not included. 
Applicant Data for Entering DPT I Students:
(Graduating Classes of 2024-2026)
UTC Table
| | Cumulative GPA | Science Prerequisite GPA | Verbal GRE (2025 & 2026) | Quantitative GRE (2025 & 2026) | Combined GRE (2024) | Analytical Writing |
| --- | --- | --- | --- | --- | --- | --- |
| Average: | 3.86 | 3.82 | 153.5 | 152.8 | 305 | 4.25 |
| Median: | 3.90 | 3.89 | 153 | 153 | 305 | 4.0 |
| Maximum/Minimum: | 4.0-3.25 | 4.0-3.31 | 170-143 | 163-142 | 323-282 | 5.5-3.5 |
| | | | | | | |
Cumulative GPA
Science Prerequisite GPA
Verbal GRE (2025 & 2026)
Quantitative GRE (2025 & 2026)
Combined GRE (2024)
Analytical Writing
*beginning in fall 2022, the verbal and quantitative sections of the GRE are considered separately.
How To Apply
After reviewing this page and the related sections of our web page (many answers can be found in the FAQs section), please contact the program coordinator at [email protected] if you have questions regarding admissions.
Our program uses the Physical Therapy Centralized Application Service (PTCAS) for all entry-level applicants. "P-T-KAS" is a web-based centralized application service that will allow you to use one set of materials to apply to multiple PT programs. Before you begin your application, please review the application instructions in PTCAS and the Prerequisite Checklist. Should you have questions about this information after you have reviewed it, please contact us. In addition to the PTCAS Applicant Help Center webpage, you may also find the FAQ section of our website useful.
Application Deadline
In order to provide the opportunity to receive notification of program admission as early as possible we have established a deadline of September 1st. In order to be considered, you must apply by this date.
Prerequisite Coursework & Admission Eligibility Requirements may be found in the prerequisites section of our webpage.
Deposit
A $1,000.00 non-refundable deposit is required for accepted applicants. The deposit will be due within 10 business days of receiving an offer from the program. For students who enroll in the program, this $1,000.00 will be applied to the first semester's tuition. Applicants are strongly encouraged to visit the program in the spring or summer leading up to the application deadline. If an applicant waits until an offer is extended to schedule a visit, we will make every effort possible, but cannot guarantee that we will be able to accommodate that request before the deposit deadline.