Occupational Therapy Current Students
UTC media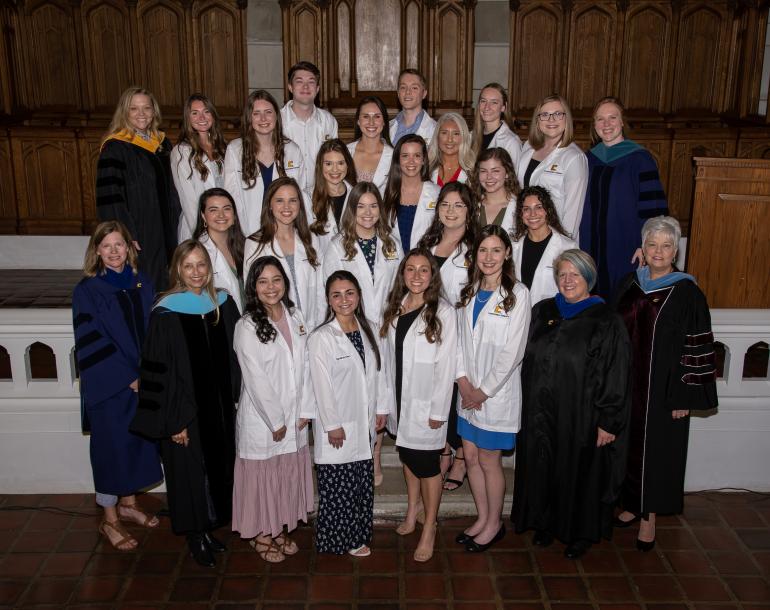 Useful Links
Here are some links that may be of use to you as you matriculate through the program.
Forms
UTC Certificate of Immunization (proof of measles vaccination)
Recognized exemptions from immunizations include being enrolled in a program that is exclusively online or at an off-campus site, medical contraindications, and religious objections. If you are enrolled in on-line only courses with no experiential component, or in a dual enrollment program exclusively offered on the site of a local education authority or secondary school, you and your academic advisor must sign the On-Line Only Immunization Exemption Waiver. To determine how to apply for exemptions, please review UTC University Health Services website under "Exemptions." Note that students enrolled in any allied health professions program such as nursing, physical therapy, occupational therapy or athletic training may not have the same exceptions to immunization requirements under certain circumstances.
Other Expenses: (costs vary depending on the provider)
CPR / First Aid (annual)

Health Exam (annual)

Vaccination Review (annual)

TB Test (annual)

Personal Health Insurance (continuous throughout the program)

Background Check (may be required multiple times due to individual fieldwork requirements)
---
Accreditation:
The University of Tennessee at Chattanooga's entry-level occupational therapy doctoral degree program is accredited by the Accreditation Council for Occupational Therapy Education (ACOTE) of the American Occupational Therapy Association (AOTA).
The AOTA office is located at 6116 Executive Boulevard, Suite 200, North Bethesda, MD 20852-4929.
ACOTE's telephone number c/o AOTA is (301) 652-AOTA and its Web address is https://acoteonline.org/ .
Graduates of the program will be eligible to sit for the national certification examination for the occupational therapist administered by the National Board for Certification in Occupational Therapy (NBCOT). After successful completion of this exam, the individual will be an Occupational Therapist, Registered (OTR). In addition, all states require licensure in order to practice; however, state licenses are usually based on the results of the NBCOT Certification Examination. Note that a felony conviction may affect a graduate's ability to sit for the NBCOT certification examination or attain state licensure.
Students must complete 24 weeks of Level II fieldwork as well as an individual 14-week capstone experience within 12 months following the completion of the didactic portion of the program. The doctoral capstone experience must be started after completion of all coursework and Level II fieldwork as well as completion of preparatory activities defined in 2018 ACOTE OTD Standard D.1.3.