Cost of Attendance for the Occupational Therapy Doctorate
UTC media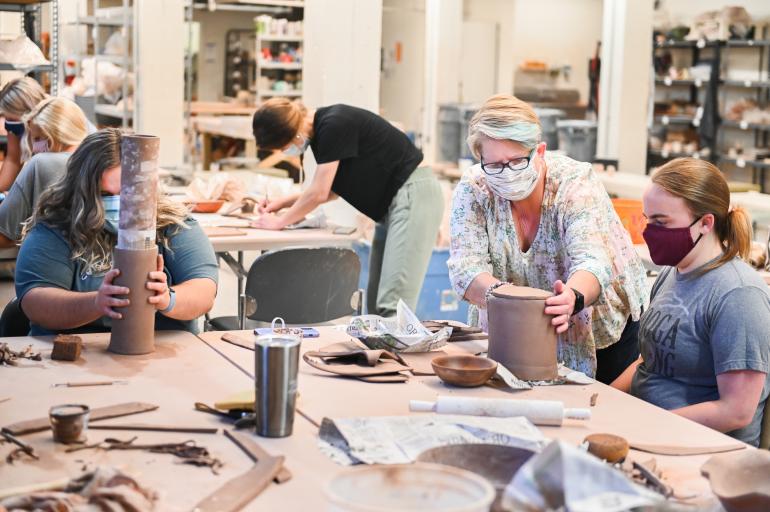 Graduate students are billed for a maximum of 9 hours each semester. Your tuition and fees are based on 9 hours although students in our program generally take closer to 18 hours a semester. The current number of hours per semester is listed below. Students in our program also pay a tuition differential of $59.00 per credit hour. Therefore, specific tuition and fees will vary by semester.
Based on the most recent rates, the following are the estimated tuition and fees for the full 8 semesters of the OTD program:
In state: $48,799 ($5,237 per semester x 8 semesters plus 117 credit hours x $59 per hour)
Regional Tuition discount: $64,927 ($7,253 per semester x 8 semesters plus 117 credit hours x $59 per hour)
Out of State:  $81,055 ($9,269 per semester x 8 semesters plus 117 credit hours x $59 per hour)
The estimated total cost for books over the eight semester program is $2,530.00. The cost of books will vary by semester, with the first semester being the most expensive. (Some books will be required for more than one course across multiple semesters.)   Books (details below), parking permits, and housing (including travel expenses for field work placements) are not factored into the above estimated tuition and fees.
A total estimated cost of attendance for graduate students can be found here.  
The university does not offer dedicated graduate housing. Housing and transportation costs will vary based on the individual's housing preferences and field work placements.
Fall I- 18 hours  
Spring I- 18 hours
Summer I- 15 hours
Fall II- 18 hours
Spring II- 15 hours
Summer II- 9 hours
Fall III- 12 hours
Spring III- 12 hours
Total hours- 117
---
By using the link to Tuition and Fee Information, the cost per semester may be calculated for the current semester. Be sure to select your residency status and scroll down to the graduate level status as well as the correct academic year. In addition, as noted, the OTD program charges a $59.00 per credit hour differential fee. Therefore, the total amount paid per semester depends on the number of credit hours taken. Information on the current semester fees, including parking is also available. 
Please note that it is difficult to establish residency for tuition purposes in Tennessee if you are not already a resident. Non-residents should make all decisions based on out of state tuition. Residents of specific Georgia and Alabama counties may qualify for regional tuition rates. Residents of specific southern states may qualify for in-state tuition through the Academic Common Market. For more information, click the links below. 
Regional tuition credit applies to students who are residents of Catoosa, Dade, Fannin, Murray, Walker and Whitfield counties in Georgia and Jackson County in Alabama. The Application for Regional Tuition Differential Rate form must be submitted for every semester of enrollment in order to maintain regional tuition differential rate.
The Academic Common Market (ACM) is a tuition-savings program for college students in 15 SREB (Southern Regional Education Board) states who want to pursue degrees not offered by their home state institutions. Students can enroll in out-of-state institutions that offer their degree program and pay the institution's in-state tuition rates. Residents of six participating states may be eligible for in-state tuition for the OTD. Pursuing approval is the applicant's responsibility. 
Textbooks
The cost of books will vary by semester. As many books are utilized over multiple semesters, the first year of the program will be the most expensive. An estimated total cost of required books for the program is $3,023.83.
To determine the required texts and cost for a course, you may enter the course numbers in the Find Course Materials tool on the UTC Bookstore website. 
Please note that this information is based on the academic year tuition and fees. Tuition rates may change, and the number of credit hours in a semester are subject to change in an upcoming academic year. All fees are subject to any changes approved by the Board of Trustees prior to the beginning of a term.
Accreditation:
The University of Tennessee at Chattanooga's entry-level occupational therapy doctoral degree program is accredited by the Accreditation Council for Occupational Therapy Education (ACOTE) of the American Occupational Therapy Association (AOTA).  
The AOTA office is located at 6116 Executive Boulevard, Suite 200, North Bethesda, MD 20852-4929.
ACOTE's telephone number c/o AOTA is (301) 652-AOTA and its Web address is https://acoteonline.org/ .
Graduates of the program will be eligible to sit for the national certification examination for the occupational therapist administered by the National Board for Certification in Occupational Therapy (NBCOT). After successful completion of this exam, the individual will be an Occupational Therapist, Registered (OTR). In addition, all states require licensure in order to practice; however, state licenses are usually based on the results of the NBCOT Certification Examination. Note that a felony conviction may affect a graduate's ability to sit for the NBCOT certification examination or attain state licensure. 
Students must complete 24 weeks of Level II fieldwork as well as an individual 14-week capstone experience within 12 months following the completion of the didactic portion of the program. The doctoral capstone experience must be started after completion of all coursework and Level II fieldwork as well as completion of preparatory activities defined in 2018 ACOTE OTD Standard D.1.3.