Occupational Therapy Doctorate Technical Standards
UTC media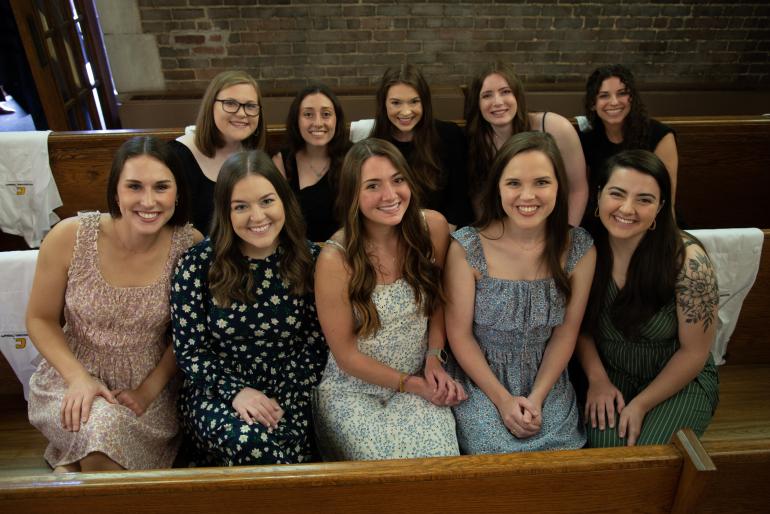 Description
OTD White Coat class of 2024 students
The purpose of the technical standards document is to identify basic functions required for successful completion of an occupational therapy program (didactic and fieldwork components). Applicants and students who are unable to complete these functions are encouraged to contact UTC's Disability Resource Center.
Upon successful completion of this program, an Occupational Therapy Doctorate signifies that the holder is eligible to sit for the National Board for Certification in Occupational Therapy (NBCOT) Examination and signifies that the holder is prepared for entry into the profession of occupational therapy. It follows that graduates must have knowledge and skills to function in a broad variety of clinical, community, or school based situations and to render a wide spectrum of occupational therapy services. Therefore, the following abilities and expectations must be met by all students admitted to the Occupational Therapy Program at The University of Tennessee at Chattanooga.
Problem Solving: The culminating activity in the preparation of an occupational therapist is clinical reasoning. The doctoral occupational therapy student is expected to develop advanced expertise and demonstrate research skills. Therefore, a candidate must be able to conduct research, to make correct observations, and have the skills of measurement, calculation, reasoning, analysis, and synthesis.
Judgment: The candidate will be expected to demonstrate judgment in classroom and research settings which shows an ability to make mature, sensitive, and effective decisions in the following areas: a) relationships with supervisors, peers, and patients/clients; b) professional behavior; and c) the effectiveness of intervention and research strategies. He or she must demonstrate an understanding of the rationale and justification for his or her performance.
Communication: a) Written communication: The candidate must be able to assimilate information from written sources (texts, journals, medical/school records, etc.). The candidate must be able to attain, comprehend, retain, and utilize new information presented in written formats. Candidates are required to use information from written sources and must be able to produce appropriate written documentation. b) Verbal and nonverbal communication: Candidates must be able to produce the spoken word and to elicit information from patients/clients, supervisors, and peers with skills in describing not only factual information, but the more subtle cues of mood, temperament, and social responses. Communication with patients/clients and all members of the intervention or academic team must be accurate, sensitive, effective, and efficient. Response time to emergencies/crisis situations, as well as more routine communication, must be appropriate to the situation or setting.
Sensorimotor: Candidates must have gross motor, fine motor, and equilibrium functions as well as a functional use of the senses of vision, hearing, and the tactile sense that will enable them to perform the career tasks which are the target of their career paths.
Behavioral and social attributes: Candidates are expected to exhibit professional behaviors and attitudes during their participation in classroom, clinical, and research experiences. This includes, but is not limited to, appropriate language, flexibility regarding change, and acceptance of responsibility for one's own conduct. Students are expected to exhibit a positive attitude toward patients/clients, peers, and supervisors.
---
Accreditation:
The University of Tennessee at Chattanooga's entry-level occupational therapy doctoral degree program is accredited by the Accreditation Council for Occupational Therapy Education (ACOTE) of the American Occupational Therapy Association (AOTA).
The AOTA office is located at 6116 Executive Boulevard, Suite 200, North Bethesda, MD 20852-4929.
ACOTE's telephone number c/o AOTA is (301) 652-AOTA and its Web address is https://acoteonline.org/ .
Graduates of the program will be eligible to sit for the national certification examination for the occupational therapist administered by the National Board for Certification in Occupational Therapy (NBCOT). After successful completion of this exam, the individual will be an Occupational Therapist, Registered (OTR). In addition, all states require licensure in order to practice; however, state licenses are usually based on the results of the NBCOT Certification Examination. Note that a felony conviction may affect a graduate's ability to sit for the NBCOT certification examination or attain state licensure.
Students must complete 24 weeks of Level II fieldwork as well as an individual 14-week capstone experience within 12 months following the completion of the didactic portion of the program. The doctoral capstone experience must be started after completion of all coursework and Level II fieldwork as well as completion of preparatory activities defined in 2018 ACOTE OTD Standard D.1.3.