Welcome to the Admissions Page for the UTC Occupational Therapy Program
UTC media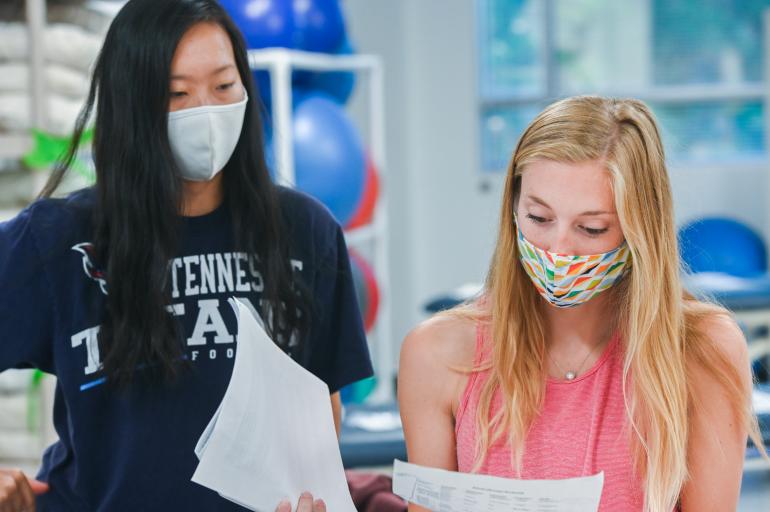 The application cycle for fall 2022 (class of 2025) is
now closed. The fall 2023 cycle will open in summer 2022.
The deadline is December 1.
All applicants must apply through OTCAS.

Program Admissions
Our program accepts up to 24 students per academic year. Due to the sequential nature of the curriculum, matriculation to the OTD degree program occurs FALL SEMESTER ONLY. We will begin to review applications in December for the following Fall admissions. The OTD program admits students for one admission cycle only. Applicants who request deferred admission must reapply and compete with the new applicant pool. For the most current admissions statistics, please see the applicant data tables listed below.
Admission Criteria:
The admissions committee considers the following requirements essential in determining a candidate's potential for success in the program. To be considered for acceptance into the OTD program, a candidate must:
Hold a Bachelor's degree from an accredited college or university with a minimum 3.0 undergraduate grade point average (GPA). Degrees in progress will be considered. Official college transcripts are required. Degrees from foreign institutions must be independently evaluated for equivalence to the U.S. baccalaureate, including determination of a U.S. converted GPA.
Applicants must complete a UTC Graduate School Application after notification of acceptance.
Submit the official results of the GRE revised General Test, which demonstrates a minimum combined score of 300. A minimum of 3.5 is required on the analytical writing measure. All three areas must be completed. GRE results are valid for five years from the date of the test. Applications in OTCAS must include official GRE scores to be considered complete; It is essential that the applicant determine the appropriate time to take the GRE so that the official results are received in a timely manner. Students may register for the GRE at the GRE website. The UTC OTCAS school code for the GRE is 1993.
Show completion of, or a plan for completing, the following prerequisites at the College level with a grade of C or better. Four of the six science prerequisites (marked with an *) must be completed at the time of application. (Grades/ credit must be reflected on transcripts sent to OTCAS) The remaining prerequisite courses must be completed prior to starting the program NOT prior to application.

General Biology I (4 semester hours with lab)*
General Biology II (4 semester hours with lab)*
General Chemistry (4 semester hours with lab)*
General Physics I (4 semester hours with lab)*- see specifics below
Human Anatomy/ A&P I (4 semester hours with lab)*
Human Physiology/ A&P II (4 semester hours with lab)*
Introduction to Psychology (3 semester hours)
Lifespan Human Development or Developmental Psychology (3 hours covering birth-death; 6 semester hours at UTC -see the checklist below for specifics; contact the program if you have questions.)
Abnormal Psychology (3 semester hours)
Statistics (3 semester hours)
Sociology or Anthropology (3 semester hours)
Medical Terminology Course (1 hour or more)

* - These courses must have been completed within 7 years of the program start date (fall semester or later) and must include a lab.
A minimum 3.0 combined GPA for all prerequisites as well as for the science prerequisites (marked with an *) is required.
Please note that all science courses must be appropriate for majors in that discipline. While a course may transfer as an equivalent for the purposes of an undergraduate degree, undergraduate science courses that are designated as courses for non-majors are not accepted as prerequisites for entry into the OTD program.
Equivalency Charts are available on the UTC Records page. Please contact the program coordinator Rebecca Littleton with questions regarding the appropriateness of courses if you have questions. You may also contact her for equivalency information for specific four-year schools.
We allow you repeat up to three courses where we take the second grade for the course. After the third repeated course, we include both course grades in the GPA calculations. We do not count Ws as a repeated course.
Online coursework for science classes and labs will be accepted. In-person courses and labs are strongly encouraged.
A combined Anatomy & Physiology I and II with labs (8 hours total) is acceptable.
The Physics requirement can be algebra/ trig based; it does not need to be calculus based. It must be part of the two semester sequence of Physics for science majors. Concepts of Physics or Applied Physics are not accepted. You cannot substitute a biomechanics or kinesiology class for Physics I.
Manually update and submit fall course grades and In Progress courses in OTCAS. Provide a copy of all updated transcripts to OTCAS by the Academic Update deadline. Instructions for OTCAS Academic Update can be found on the OTCAS web site.
Proof of first aid and CPR certification Admitted students must show proof of having previously completed a First Aid course. (Current certification is not necessary.) Entering students must be currently certified in America Heart Association BLS CPR with certification lasting until August of their first year in the program. Students will be re-certified at that time. (Proof of certification is not required at the time of application.)
We require 3 references, submitted to OTCAS, including one from an occupational therapist licensed in the US. OTCAS allows space for up to 5 references. We recommend you choose references carefully in order to meet the requirements of all programs to which you are applying. The UTC OTD program accepts additional references from licensed occupational therapists (US or international), COTAs, professors, advisors and other academic faculty/ staff, employers/ supervisors, other health care professionals, and representatives from organizations where you have observed or volunteered (non-profits, etc.). We do not accept references from teaching assistants, politicians, clergy, co-workers, friends and family members, or those designated as "other." If you have questions regarding the appropriateness of a reference, please contact the program coordinator Rebecca Littleton.
Official transcripts showing prerequisite completion will be required prior to program matriculation.
Observation Hours are not required. It is strongly recommended that you spend adequate time familiarizing yourself with Occupational Therapy as a profession. As those opportunities are limited right now, we suggest the Occupational Therapy Online Shadowing Experience. (The password is LucasQU) You do not need to provide evidence that you have completed the assignments. It is only to better familiarize yourself with occupational therapy as a profession.
Applicant Data
The following provides data for the entering classes over the last three years. This reflects students who matriculated into the program, including those who were initially wait-listed but received an offer at a later date due to an opening in the program. Students who declined an offer or chose to attend another program after accepting an offer from UTC are not included.
Applicant Data for Entering OTD Students- Classes of 2022-2024
UTC Table
| | Cumulative GPA | Prerequisite GPA | Science Prerequisite GPA | GRE V/Q Score | Analytical Writing Score |
| --- | --- | --- | --- | --- | --- |
| Average | 3.8 | 3.77 | 3.68 | 305.03 | 4.24 |
| Median | 3.85 | 3.83 | 3.76 | 305 | 4.0 |
| Max/Min | 4.0- 3.25 | 4.0-3.11 | 4.0-3.0 | 320-285 | 5.0-3.5 |
Criminal Background Checks
The OT Department requires criminal background checks and/or drug tests for all enrolled students in order to verify an individual's suitability to participate in experiential education rotations and to ensure patient safety.
Deposits
A graduate school application ($35.00 application fee) and a $500.00 deposit (both non-refundable) are required of accepted applicants. These should not be submitted unless specifically requested by the program. The $500.00 deposit is due 10 business days from the time the offer is made and is applied to the first semester's tuition. Applicants are strongly encouraged to visit the program in the summer or fall leading up to the application deadline. If an applicant waits until an offer is extended to schedule a visit, we cannot guarantee that we will be able to accommodate that request before the deposit deadline.
Current High School Students
Due to the volume of requests we are unable to to offer individual tours or meetings for high school students. Students are typically better served by meeting with an undergraduate advisor or by contacting the UTC pre-health advisor. Current high school students should visit this link for information on tours designed specifically for their needs.
Accreditation:
The University of Tennessee at Chattanooga's entry-level occupational therapy doctoral degree program is accredited by the Accreditation Council for Occupational Therapy Education (ACOTE) of the American Occupational Therapy Association (AOTA).
The AOTA office is located at 6116 Executive Boulevard, Suite 200, North Bethesda, MD 20852-4929.
ACOTE's telephone number c/o AOTA is (301) 652-AOTA and its Web address is https://www.aota.org/Education-Careers/Accreditation.aspx .
Graduates of the program will be eligible to sit for the national certification examination for the occupational therapist administered by the National Board for Certification in Occupational Therapy (NBCOT). After successful completion of this exam, the individual will be an Occupational Therapist, Registered (OTR). In addition, all states require licensure in order to practice; however, state licenses are usually based on the results of the NBCOT Certification Examination. Note that a felony conviction may affect a graduate's ability to sit for the NBCOT certification examination or attain state licensure.