Faculty Jazz Quintet 2018
UTC media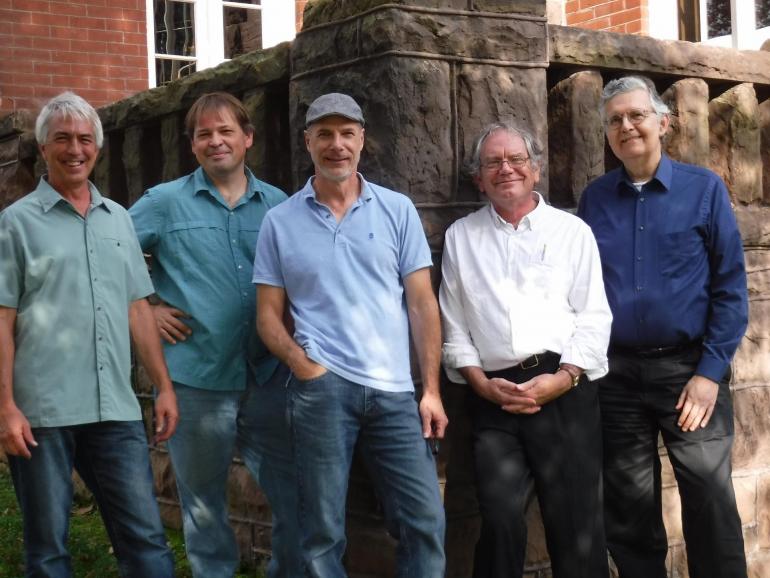 On Monday October 1, the UTC Faculty Jazz Quintet will present a concert at 7:30 p.m. in the Roland Hayes Concert Hall. The concert is free and the public is invited to attend. The UTC Faculty Jazz Quintet is: Clint Schmitt, saxophones; David Walters, piano; Eric Hanson, bass; Stephen Brannen, guitars; and Monte Coulter, drums.
The concert is free and open to the public.
---
Clint Schmitt holds faculty positions at the University of Tennessee at Chattanooga, Lee University, and Southern Adventist University where he teaches applied saxophone and woodwind methods classes. He holds the Bachelor of Arts in Music from Jacksonville State University and the Bachelor of Music in Saxophone Performance from The New England Conservatory of Music.
His resume includes performances with such prestigious organizations as the Boston Pops Orchestra, the Opera Company of Boston, the Pittsburgh Symphony, the Portland (Maine) Orchestra, the Peerless John Philip Sousa Band, WGBH-FM radio in Boston, WFMT-FM radio in Chicago, and the New England Conservatory Orchestra, as a concerto competition winner.
In addition to maintaining a full teaching schedule, Mr. Schmitt actively performs in the area in classical, jazz, and commercial settings. Performances here have included working with The Temptations, The Impressions, the musicals State Fair and West Side Story, and two concerto appearances with The Chattanooga Symphony and Opera. He has twice led the Big Band Fever! Concerts with the CSO.
Performances outside the Chattanooga area include appearances with the Alabama Symphony in both classical and jazz settings, guest solo performances at the Southeastern Band Conference, the Georgia Music Educator's Conference, and the Anniston Museum Recital Series, as well as several recital appearances at various Southeastern Universities and Colleges.
Mr. Schmitt is a contributing member to the Worldwide Concurrent Premiers and Commissioning Fund, which has commissioned works for saxophone by composers Gunther Schuller, John Harbison, Michael Colgrass, and Larry Bell.
Stephen Brannen joined the University of Tennessee-Chattanooga Music Department as an adjunct instructor in the Fall of 2015. He retired from the United States Air Force in June of that same year after serving twenty years as a guitarist in the band career field.
Originally a Music Theory and Composition major, Mr. Brannen received his Bachelor of Science in Recording Industry: Production and Technology from Middle Tennessee State University in 1999. He earned his Master of Arts in Music Education from Adams State University in 2015.
Stylistically, Mr. Brannen is fluent in jazz, rock, pop, country, classical guitar, and solo acoustic guitar. As an Air Force bandsman he performed all over the U.S. and across the globe in dozens of ensembles covering a wide variety of musical styles. Prior to his Air Force musical career, he was a freelance guitarist in Nashville, TN, where he performed at Opryland USA, the General Jackson Showboat, and a variety of other performance venues and recording studios.
David Walters currently serves on the piano faculties of The University of Tennessee at Chattanooga and the Cadek Conservatory of Music, where he teaches classical and jazz piano.
A highly versatile performer, Mr. Walters is as well-known in the field of jazz as he is for his extensive work in classical music. He has performed at universities throughout the area, including UTC, Bryan College, Southern Adventist University, Lee University, Chattanooga State, Covenant College, The University of the South, and Jacksonville State University. His performance resume includes many chamber music concerts with both UTC and Cadek faculty members, solo piano recitals, local and regional appearances with his jazz trio (the David Walters Trio, which includes bass player, Gordy Nichol, and drummer, Jo Whitaker), and numerous appearances throughout the area as a solo jazz pianist. He has performed at many public and private events, including the United States Governors Conference and an event for former President Gerald Ford.
Included in the jazz trio's many performances are three appearances at Chattanooga's prestigious Riverbend Festival, for which the group received rave notices. The Riverbend performances also featured well-known Chattanooga vocalist, Richarde. Currently, in addition to concert appearances and playing at private functions, the trio performs regularly at various venues throughout the area, both as an instrumental act and also with veteran Chattanooga vocalist, Kathy Tugman.
Mr. Walters has appeared on five jazz CDs. He was acknowledged for his outstanding work on the popular Southside Jazz Junction Christmas CD. Preparations are currently under way for several more CDs, including one with the trio and Ms. Tugman.
Included in his other jazz teaching pursuits, Mr. Walters, along with UTC faculty members Paul Vogler and Clint Schmitt, founded and developed the highly acclaimed Bessie Bus mobile music educational program. The group collaborated with the Bessie Smith Hall and the Chattanooga Parks and Recreation Department to provide a setting for children to learn about jazz, blues, and the fundamentals of music, and to actively participate in creating and performing music. The life and work of blues legend Bessie Smith were used as a focal point for the project, which lasted from 1996 to 1999. The program earned local, state, and national awards, including the prestigious Dorothy Mullen National Arts Award.
Mr. Walters received his Bachelor of Music and Master of Music degrees in piano performance from the University of Cincinnati College-Conservatory of Music, where he studied with Olga Conus, David Bar-Illan, and Richard Morris. Among his many performing awards, he was twice a national semi-finalist in the American Music Scholarship Association National Piano Competition, and he also won the Ohio Music Teachers Association State Piano Competition.
Eric Hanson has been a member of the Chattanooga Symphony since 1994. Prior to coming to Chattanooga Mr. Hanson served as Principal Bassist with the Huntsville Symphony and was an active musician in Milwaukee, Wisconsin, performing frequently with the Milwaukee Symphony. In addition to his duties with the Chattanooga Symphony Mr. Hanson frequently performs with other ensembles in the region including the Huntsville, Rome and Bryon Symphony Orchestras. As a teacher Mr. Hanson has students from beginner to college levels. Currently he is the Instructor of Double Bass at the University of Tennessee at Chattanooga, Instructor of Double Bass at the Cadek Conservatory in Chattanooga, Instructor of Low Strings at Berry College in Rome, Ga. and maintains a private teaching studio in the Chattanooga area. In the fall of 2010 Mr. Hanson began doctoral studies at the Shenandoah Conservatory where his research interest is contra bass stringed instruments during the time of Haydn and Mozart focusing on the five stringed violone.
Monte Coulter is the director of percussion studies at the University of Tennessee at Chattanooga. He received his BS degree in Music Education, and his MM degree from The University of Tennessee- Knoxville, and the Doctor of Musical Arts degree from the University of Memphis in 1994. He has served as Principal Percussionist/ Assistant Timpanist of the Chattanooga Symphony Orchestra, and has performed as a principal player in three of the four largest professional orchestras in Tennessee, as well as with the touring companies of Man of La Mancha (with Robert Goulet), Rich Little, The Electric Light Orchestra, The Moody Blues, Bernadette Peters, Shari Lewis, Al Jarreau, Art Garfunkel, Randy Newman, and others.
Dr. Coulter is an artist/clinician with Kori Marimbas and Xylophones, and is an exclusive artist for Bosphorus Cymbals. He lives in Harrison, Tennessee with his wife, dancer/choreographer Monica Titus Coulter, and son Monte IV.