UTC Symphony Orchestra - Nov. 12
UTC media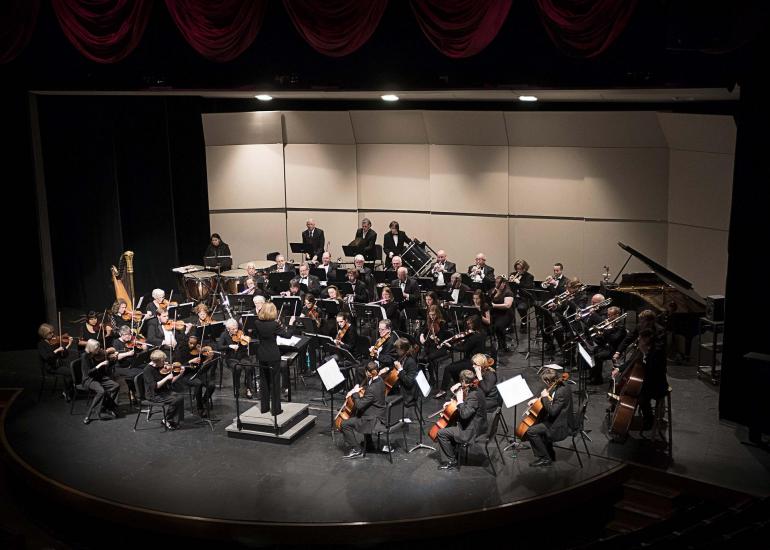 The UTC Department of Performing Arts Music Division will present the UTC Symphony Orchestra in a fall concert, "Tchaikovsky and More" on Sunday, November 12 gt 3:00 p.m. in the Roland Hayes Concert Hall in the UTC Fine Arts Building. This 65-member college/community orchestra includes university music majors and non-majors from UTC and Chattanooga State, UTC music faculty members, area music educators, and other talented amateur and professional musicians from the region.
The concert is free and includes Peter Tchaikovsky's Symphony No. 2, in which he deftly incorporated several Ukrainian folk tunes. Ukraine once was called "Little Russia", hence the symphony's nickname "The Little Russian". The work was very successful from its first performance because of Tchaikovsky's exciting development of the themes, and it won critical acclaim among Russia's nationalistic composers known as "The Five". Also on the program is the overture to Giuseppe Verdi's Nabucco, his first widely acclaimed opera and one that chronicles the exile of the Jews from their homeland by Babylonian King Nebuchadnezzar II. A hauntingly beautiful work entitled Longing for Your Return by Steven Amundson, Professor of Music Theory and Conducting and Conductor of Orchestras at St. Olaf College, provides a respite between these powerful works. The orchestra is conducted by Sandy Morris.
Sandy Morris Sandy Morris holds the Bachelor of Science in Music Education from Ball State University and two Master of Music degrees, in Music Education and Performance/Conducting, from the University of Tennessee at Chattanooga. In her career as a musician/ music educator in Chattanooga, she has conducted orchestras, bands, and choirs on the professional, community, and student levels. Sandy has done graduate work in conducting and string pedagogy at the University of Iowa, Orchestral Institute of America, and the University of Wisconsin at Madison, and she has attended conducting workshops sponsored by the League of American Orchestras, Conductors' Guild, and the Waterville Valley (NH) Music Center. Her conducting teachers have included Dr. Steven Bird, Dr. William Larue Jones, Kenneth Kiesler, and Dr. Marvin Rabin.
In addition to her position as Conductor of the UTC Symphony Orchestra, Sandy is Conductor of the Chattanooga Youth Philharmonic, Music Director for Good Shepherd Lutheran Church, Conductor of the Signal Mountain Playhouse Orchestra, and Assistant Conductor and flutist for the Chattanooga Community Orchestra and the Chattanooga Area Flute Society. She is also a past conductor of the Cadek Orchestra and Mid-South Concert Band and had a long career as an orchestra director for Hamilton County Schools; her most recent position was Director of Strings and Music Theory at Center for Creative Arts.
Sandy is active as a clinician, adjudicator, and clinic audition music composer and has been honored as an Outstanding Teacher by the Tennessee Governor's School for the Arts and by Who's Who Among American Teachers. She is a champion of new music and has been directly involved in the commissioning and premiering of several orchestral works. She is a free-lance flutist and keyboardist and is a member of National Association for Music Education, East Tennessee School Band and Orchestra Association, National Education Association, MacDowell Music Club, and Sigma Alpha Iota as well as former State Orchestra Chair and All-State Orchestra Chair for the Tennessee Music Educators Association.
WHAT: UTC Symphony Orchestra, "Tchaikovsky and More"
WHEN: Sunday, November 12, 2017, 3:00 PM
WHERE: Roland Hayes Concert Hall, Fine Arts Center (752 Vine Street, Chattanooga, TN 37403)
HOW MUCH: Admission is free
MORE INFORMATION: www.utc.edu/Music
EVENT CONTACT: Sandy Morris; [email protected], 423-425-5309.