At UTC the faculty and the academic administration share responsibility for the careful cultivation of the curriculum. As disciplines change over time, the faculty may propose new degree programs and courses and the University can offer its students expanded alternatives for study. Likewise, courses or even degrees may be eliminated or changed.
Faculty may submit proposals to change the curriculum which then must be considered by a department, a college, the Faculty Senate, and Academic Affairs before implementation. As needed, affected academic units are also included in the process.
UTC uses Curriculog to facilitate this process.
---
Accessing Curriculog
To engage with the curriculum development process, either as an author or an approver, you must first have an account on the system. To request an account please email [email protected]. Once you have an account, you can log in through the main UTC Curriculog website. The front page of that site should look like the image below.
UTC media

The system uses your UTC credentials to authenticate.
If you have not recently logged into a UTC service, clicking the "Login" link will redirect you to the sign-on page (see image at right) where you can enter your UTCID (e.g. abc123) and UTC password.
If you have recently logged into a UTC service (like Banner) then the system may not ask you for a username and password when you click the "Login" link on that UTC Curriculog website.
UTC media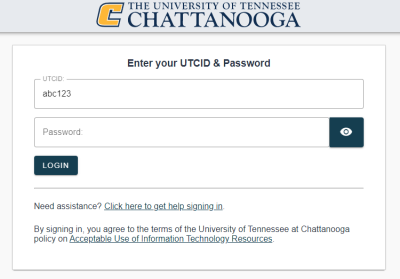 ---
Training
Training materials are available on the Faculty Tab in MyMocsNet.
If you have questions or need assistance after reviewing the training materials, please email

[email protected]

Committee Chairs who would like a brief overview presentation before your first meeting, please email

[email protected]
---
Assistance
If you are working with the Curriculog software, please reach out to [email protected] as you find you need help. Questions about the curriculum itself and the content of your proposals should be directed to your departmental colleagues and the Registrar Office.