This ESL Sneak Peek opportunity has already passed, but please watch for additional opportunities in the future!
Join the ESL Institute at UTC for a FREE online Sneak Peek course to find out what UTC's semester-long ESL classes are like.
ESL Sneak Peek participants will study for three days during one week with Yvonne Slobodenko, who holds an M.A. in TESOL and 15 years of experience teaching English learners from many countries. After completing her master's degree, Yvonne lived and worked abroad for 5 years, so she knows how challenging — and rewarding — learning a new language and culture can be.
During the first two days of class, Yvonne will guide you through a practice of essential English language skills. On the third day, you will get insider information from special guest speakers about what it is like to live and study in the USA. You will leave feeling inspired and empowered to begin — or continue — your English learning journey.
UTC media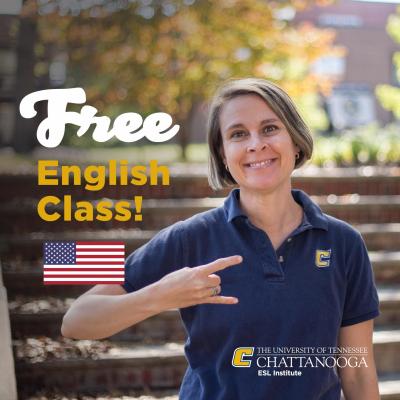 Frequently Asked Questions
How can I register for the course?

You may register by filling out the form here.

How much does the course cost?

It's free!

How long will the course last?

The course will last one week. Class will take place on Monday, Wednesday, and Friday.

How will the course be delivered?

We will meet for class on Zoom and use other online tools.

What time will class take place?

Class will take place from 9 a.m. to 10:30 a.m. on Chattanooga, Tennessee time (EST). For other time zones, see below:

| | |
| --- | --- |
| City | Class Time |
| Los Angeles | 6 to 7:30 a.m. |
| Mexico City | 8 to 9:30 a.m. |
| Sao Paulo | 9 to 10:30 a.m. |
| London | 2 to 3:30 p.m. |
| Berlin, Paris, and Rome | 3 to 4:30 p.m. |
| Kuwait City, Moscow, and Riyadh | 5 to 6:30 p.m. |
| Dubai | 6 to 7:30 p.m. |
| Kathmandu | 7 to 8:30 p.m. |
| Bangkok, Hanoi, Jakarta, and Phnom Phen | 9 to 10:30 p.m. |
| Beijing and Manila | 10 to 11:30 p.m. |
| Tokyo and Seoul | 11 to 12:30 p.m. |

How many levels will be available?

Two levels will be available: intermediate and advanced. You will be assigned to a level based on placement test results (see below).

How will I know which level to enroll in?

Once you have been selected for the course, we will send you information to take a placement test. You will be able to take the test after registering for the course, and we will let you know which level you place into.

Who will teach the course?

Yvonne Dunham Slobodenko, UTC's ESL coordinator, will teach. She has a master's degree in TESOL and has been teaching English as a Second Language for 15 years.

How many students are you accepting?

We will accept a maximum of 10 students into each level.

Do I need a visa to enroll?

This course is online, so you don't need a visa to enroll. We will be meeting on Zoom and using other online tools.
If you have a question about the Sneak Peek course that isn't answered here, email [email protected] for more information.