Juria is from Nagoya, Japan. She has spent a lot of time learning about different languages and cultures. Juria grew up speaking Japanese, but she has also studied Chinese and began learning English in kindergarten. Back home, she studies at Nagoya University of Foreign Studies.
Juria's language skills help her make personal connections. "I notice learning English is very enjoyable because I can communicate with other people all over the world," she says. "So that's why I continue studying English."
After researching English programs at American universities, Juria decided UTC was the right fit for her. It's not too big, she says, and it has "a comfortable atmosphere" of inclusivity. "I like the people," she says. "Students are very friendly, and every time I ask for help or something they definitely help me."
Although Juria studied English while growing up in Japan, those classes were different from the ones she attends now. "In Japan, until high school, we have mostly lecture style," she says. "So the teacher [is] teaching English in Japanese. They explain English in Japanese. And the students just listen and take notes."
Learn more about Juria

Juria isn't interested in giant lecture halls and distant professors. She prefers learning and practicing new skills in the more personal, discussion-based classes she takes at UTC. "I like that the class is very small," she says.

Immersing herself in English at UTC has been an effective learning strategy for Juria. "When I came here at first time, I couldn't understand English very well," she says. Her listening skills have improved since then, and she is a more confident speaker. "I think now, I am not afraid of making mistakes," she says. "I used to care about making mistakes and correct grammar, but now I can speak more natural."

Soon, Juria will return to Japan and complete her foreign studies degree there. She expects to use English in her classes, and she hopes to work in a field where her language skills will be an asset.

The UTC library is Juria's favorite part of campus. "It's very clean and comfortable, and the first floor is open 24 hours," she says. "I live in my dorm, so whenever I want to go, I can just go and study. And it has Starbucks next to the library."

When Juria isn't attending class, studying at the library, or hanging out in her dorm, you might find her at her favorite Chattanooga locale. "I love Frothy Monkey," she says. "I like coffee."
---
Hao is from Buon Ma Thuot, Vietnam. Back home, she graduated from Ho Chi Minh City University of Architecture with a bachelor's degree in graphic design.
After graduation, Hao decided that achieving her professional goals would require her to learn more English. "Knowing a second language, especially English, is very beneficial for your career and is appealing to future employers," she says.
Hao chose to study at UTC after hearing positive things about the ESL Institute. "My family told me it was the best school for learning English because of the intensive program and immersive American culture," she says.
Hao feels welcome here. "It was very easy to make new friends because of the friendly atmosphere," she says.
Her advice to other international students is to be active on campus and participate in events. "There are many opportunities to talk with American students and make friends while improving your English," she says. "You can learn a lot with friends rather than being at home."
Learn more about Hao

During her time in the U.S., Hao has encountered many cultural differences.

One is roadway norms. The main mode of transportation in Vietnam is the motorbike, and driving can be chaotic by American standards. "I think traffic in my country is [an] adventure for the first time," Hao says. "Traffic in my country — we have the traffic light, but we will not follow it."

Payment methods also differ in the U.S. and Vietnam. "I know in here many people use the credit and debit cards," Hao says. "You think it's so convenient and easy. You just swipe, insert, that's all." But for Vietnamese shoppers, cash is king. "They think it's convenient too," she says. "And with the old people, cash mean you can control and save your money. You know how much money you pay one day."

Bartering is rare in the U.S., but it is common in Vietnam's public markets. "They set the price so high," Hao says. "You can give them some compliment: 'Why you so beautiful today?' Maybe you will have more food."

By Vietnamese standards, Americans greet one another casually at family gatherings. "[In Vietnam], you go around the room and personally shake hands with everyone there and say hello to each relative," Hao says. "It is very rude if you don't, and it can be very exhausting doing so."

Although life is different in Chattanooga, it has become Hao's home — and she plans to stay. "I want to pursue a bachelor's in marketing in the U.S.," she says. "Hopefully at UTC."
---
I-Hung is from Tainan, Taiwan. He left his hometown with three goals: become a better swimmer, learn English and go to college. He knew the University of Tennessee at Chattanooga could help him achieve all three.
As a member of the UTC swim team, I-Hung spends a lot of time in the university's Aquatic and Recreation Center. "It's very good," he says. Many students love the ARC for its hot tub, lazy river, and 2-story water slide but I-Hung and his teammates prefer training in its racing lanes.
I-Hung competes against swimmers from universities throughout the South. After witnessing his performance in swim meets, an American university offered I-Hung an athletic scholarship. In the future, he will enroll there as an undergraduate student. For now, though, he is improving his English and preparing for the TOEFL exam as a student in the ESL Institute at UTC.
For I-Hung, studying English is about cultural exchange and academic opportunity.
Learn more about I-Hung

"I learn English because I like to listen [to] English music and watch movies," he says. "Also, I want to come here for swimming. If I want to go to college, my English should be good enough."

I-Hung has joined international and American students on field trips to famous American cities. In Nashville, he explored Broadway Street's historic country music district and toured a full-scale replica of the Greek Parthenon. "It was fun," he says. I-Hung also visited Atlanta. "We went to the Coca-Cola Museum," he says. "It's awesome."

I-Hung enjoys the communicative approach that his instructors take to language teaching. "They will give us opportunities to talk, to have communication with your classmates," he says.

I-Hung took English courses in his home country, but his classes at UTC are very different. "In Taiwan, when I was in high school, we just read the vocabulary and try to remember it," he says. "And the next day, we will have [a] test." It was difficult to remember new content this way, he says, and it wasn't very fun. "We just read the book and write the exercise — that's it."

I-Hung appreciates the variety of his instructors' educational styles. "They teach in different ways," he says, but they are always helpful. "They can answer you every question," he says. "They are really nice."

The ESL Institute at UTC maintains a low student-to-faculty ratio and small class sizes. I-Hung says this is a major reason he would recommend the program to other international students. "Sometimes we need more support," he says. "A smaller school can take care of every student."
---
Kaiwen is from Guilin, China, but he says Chattanooga is "sweet, sweet home" for his parents. They have lived here for 20 years, while Kaiwen grew up with his grandparents in China. This year, he also moved to the Scenic City.
Kaiwen's parents came to the U.S. for work, he says, but he is here to learn. "I come here to study English," he says. "Because to study English, I will make more international friends."
At UTC, Kaiwen has met students from many different countries. He enjoys spending time with other international students "because we can practice English together," he says.
Learn more about Kaiwen

He regularly attends events like International Tea Time, and he likes that the ESL Institute provides opportunities for field trips and volunteer work. "If I have some activity after my class, I will participate in it," he says.

Kaiwen is taking full advantage of his time at UTC. He tries to fully immerse himself in the English language and American culture. "I prefer to make some American friends," he says, "because Americans speak English better than international students." In addition to practicing his English with native speakers, Kaiwen enjoys attending football games at the McKenzie Arena.

Kaiwen appreciates his ESL instructors and the ways in which they help him learn. "My teacher Matthew Bryant [uses] humor," he says. "[He] make a funny way to help and to study English. He's a very nice man."

After completing his English studies at UTC, Kaiwen will return to China, where he is studying mathematics. He hopes to work in international business, ideally for a technology company. "In my opinion, if you speak English very flexible and very well, you will get a very well paid, very good job," he says. Speaking English helped his parents in their careers too, he says.

Kaiwen also hopes to use his English for travel. This semester, he will explore Nashville with international and American students. In the future, he hopes to visit other cities too. "I think it's a [good idea] to go to other cities, such as Los Angeles, New York City, Washington D.C., Atlanta, Miami, et cetera," he says. "Because in these other cities, you can learn about the custom of American English.

Kaiwen's favorite place in the city is Lookout Mountain, where he enjoys taking photos. "You can see all of the whole of Chattanooga on the Lookout Mountain," he says.
---
UTC media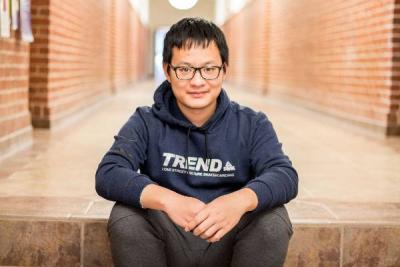 Huy is from Buon Ma Thuot, Vietnam. He is studying for the sake of his parents, who also live in Chattanooga but speak no English. "That's why I come [came] here and learn[ed] English," he says. "When my English improves good [well] enough, [I can] help them around the city and do many things."
For Huy, English is also useful for meeting new friends. "I would like to communicate with people and make good rapport," he says.
Two of Huy's cousins have previously studied at UTC, one as a traditional undergraduate student and another in the ESL Institute. They recommended that he enroll.
Back in Vietnam, where Huy lived 9,000 miles from Chattanooga, English didn't seem important. "When I was in school in my country, I didn't concentrate," he says. "I just didn't focus."
Now, learning the language is vital. "I rely on listening, speaking and writing," he says. "I came here, and [everyone is] speaking English. I need English to speak to them, to communicate."
Learn more about Huy

Huy enjoys his ESL classes. "My favorite's the reading, speaking, and listening," he says, though he admits that he doesn't love grammar. "Instructors help me learn. They're very friendly, and I think they're very good."

Huy also works hard outside of the classroom. "I think homework is very important," he says. "I think talking, listening good, but they're not enough to improve English."

The discussion-based classes that Huy attends here differ greatly from those he took in Vietnam. "In my home country… we just learned about grammar and how to do homework," he says. "We didn't speak — no speak."

Huy has artistic aspirations. "I want to become musician," he says. "Learning English [will] help me a lot." For now, though, he is focused on completing his studies, helping his parents, and adjusting to life in Chattanooga.

The best thing about this city, Huy says, is the cuisine. "American food. Hamburger. Traditional." He loves the milkshakes at Burger King.

People have been kind to Huy in the U.S. "I think Americans, they are more polite," he says. "They're willing to help you."

When Huy first arrived, speaking was difficult. "I reminisce last year when I came, I was too shy to talk," he says. "But I realize talking is the most effective way to learn languages."

Now, Huy encourages other language learners to talk as much as they can. "Don't be shy to talk, even your English being limited," he says. "Keep talking, and talking help you improve your English day by day. English so hard, but it possible to achieve. Go ahead and conquer it."
---
UTC media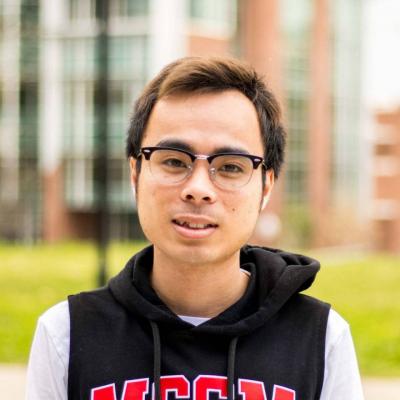 Yanet is from Havana, Cuba. She came to Chattanooga for "economic reasons," she says. "Better opportunities here, work conditions — everything in general is so better."
Yanet's courses at UTC include listening and speaking, reading and writing, and TOEFL preparation, "but I think that we have a little bit of everything in each class," she says. She especially enjoys discussing testing strategies in her TOEFL class. "The more you speak, the more you will better your communication skills," she says.
UTC supports ESL students well, Yanet says: "We have a lot of resources, a lot of tools that we can use to practice." Although she entered UTC with a strong English foundation, Yanet's speaking, reading, and grammatical skills improved. "I feel more confident," she says.
Yanet's favorite campus locale is the Aquatic and Recreation Center. The ARC features a hot tub, lazy river, and two-story water slide. "It's fun," Yanet says, but "the library is pretty good too."
Learn more about Yanet

Speaking English is important for Yanet's sense of community. "If I live here in the United States, now that's my language," she says. "It's not my maternal language, but now that's the language I have to speak — for better communication with people, with everybody."

Yanet studied English in college, where she earned a degree in information technology. The language was helpful in her informatics work. "Pretty much all the words are in English, and the programs are in English," she says. "You can find it also in another language, but the basic elements are in English."

Still, learning English is totally different here because Yanet must practice constantly outside of the classroom. "When I was in Cuba, I studied English — but when you go to the supermarket, you speak Spanish," she says.

Yanet studied IT in college "because it was the best career to choose," she says. "I wasn't sure what I wanted to do in my life, and I'm not sure now either — but I'm sure I don't want to do that. I enjoy it, but it's not for the rest of my life."

ESL students who pass the TOEFL may apply for admission to UTC. Yanet doesn't yet know her post-TOEFL plans, but she has considered pursuing a new degree: "Maybe something like accounting," she says. "Or finance, economics — something like that."

For now, Yanet is focused on her English studies. "Every time I hear the teachers, I try to always pay attention," she says. "They speak [at an] academic level, so I can learn a lot listening to them."
---
UTC media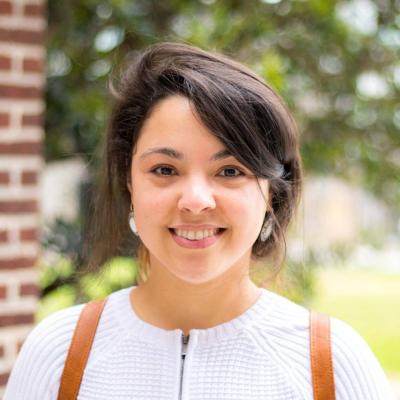 Mayuna is a student at J.F. Oberlin University in Tokyo, Japan.
In the spring of 2018, Mayuna studied at UTC with five other Oberlin students.
Mayuna hopes to work for an international environmental organization, and learning English is an investment in her future career. "I'm interested in environmental programs — so it's a worldwide program," she says. "I think English is a universal language, so if I search [for a] job, [it will be] easier to get a job."
Mayuna cares a lot about the environment. "Since I came here, [the] recycling program in America is so bad, I think," she says. "Japanese divide many things and recycle, so it's a better program, I think." She wants to help other countries develop recycling programs as strong as Japan's.
Global Outreach students like Mayuna take ESL classes, volunteer in the community, and attend special events. This semester, Mayuna volunteered in a charity thrift store; explored Nashville and Atlanta; and tried out paddle boarding, rock climbing and biking with UTC Outdoors.
Learn more about Mayuna

She also participated in cultural events on campus, such as the Colors of the World banquet, where she and her Oberlin peers dressed in traditional Japanese yukata. "I walked on stage — [I was] nervous," she says. Still, it was a rewarding experience. "Many people [are] interested in Japanese traditional costume, so they talk with us, and we could teach Japanese tradition."

When Mayuna first arrived in Chattanooga, English was a big challenge. "I don't understand what people say, and I can't answer their questions," she remembers. "But now I can understand context, and I can make easy questions."

Mayuna enjoys learning English with her classmates. "I think it's the most interesting point to study English in the United States," she says. Her classmates come from China, Vietnam, Germany, and Brazil. It's good to meet people from many other countries, she says, because "I can know their culture."

It has also been easy to make friends in her dorm, Stophel Apartments. Stophel is part of the Go Global Housing Community, which fosters cultural exchange between U.S. and international students. Mayuna's favorite part of dorm life? "To talk with them and eat delicious food. For free!" she says. "There are social parties. We can eat pizza, dessert with friends. So I can make friends in my dorm."

Mayuna's favorite places on campus are the library and the University Center. "The library is so big compared with my university in Japan," she says. "I can study English and relax. UC has many events for [the] Global Outreach program, and UC has many little shops." Her favorite spot off-campus? "Champy's Fried Chicken. I went there
with my friends for many times."
---
UTC media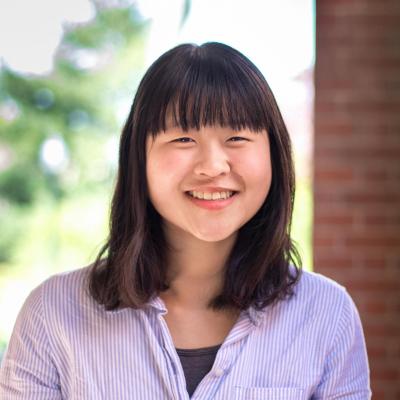 Hiep chose to come to UTC for several different reasons. "I chose UTC because I want to learn in college. I want to learn about the English language, and I think UTC is a good school. All of those are things I need."
Hiep spends a lot of time studying with his friends in the library. "I've been to the library several times," he says. "My teacher gives me homework and we also have an online listening program. If I have questions, my teacher helps me with the ones I don't understand. Jessica [my teacher] is awesome!"
Hiep has found the ESL program effective in helping him with his goals of learning English. "The ESL program helps me know better about language, writing, reading, and speaking. I can do practice tests in class and answer questions to improve."
When asked about what he likes about Chattanooga, Hiep is quick to mention the people of the city. "I like the people here. Everyone here is friendly. I like the teachers at UTC. I recommend everything, especially my teacher. I hope she can teach me in Level 3 also."
---
UTC media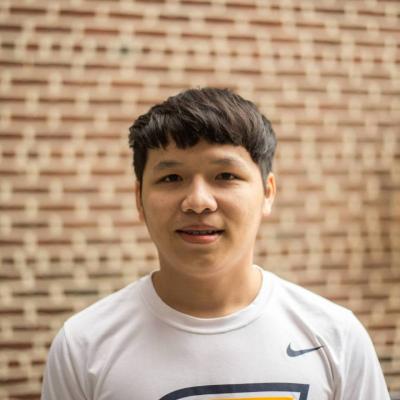 Xin's connection to UTC began in China. His mother was familiar with UTC because some of her friends' work at the University. "While in China, my mom told me UTC is a good university," Victor says. After living in Chattanooga for a year and studying at UTC, he can now verify his mother's claim.
Xin has really enjoyed taking advantages of learning opportunities outside of the classroom. "Workshops can teach us things like Photoshop from teachers, and we have the opportunity to talk to university and international students and other professors," Xin says. "There are also a lot of trips organized by UTC, like the Nashville trip and Atlanta trip." Xin sees the value in experiential opportunities like these workshops and trips as ways to improve his English in authentic environments.
In addition to his experience outside of the classroom, he also found his classes to be interesting and challenging. "All of the classes are English around me. I can practice my listening and speaking skills in class. Our classes are divided by four parts – reading, writing, speaking and listening. So, I can improve my English skills from different parts."
Learn more about Xin

When he isn't in class or on campus, Xin enjoys exploring Chattanooga and its surrounding areas. "The weather is similar to my hometown, and Chattanooga is beautiful. I love to go swimming around the Chickamauga Dam and barbecuing outside." He also likes participating in UTC's International Buddy Program – a program that connects international students with domestic buddies in an effort to promote cultural exchange and ease international students' transitions into a new country and new cultures. "My buddy is very kind. My first day, when I came to UTC, I felt shy because I didn't know anybody, and she talked to me willingly. She asked me some questions and helped me enter the university. She talked about this university's culture and took me to look around the university."

Xin has enjoyed his first semester as a student at UTC and plans to continue his studies here. He says his professors are another reason why he enjoys being a Moc. "Our professors are very nice and the classes are interesting. Sometimes we do games in class, and sometimes we have conversations. The professors give us a chance to talk to each other and express ourselves. They help us to know America more and adjust and fit in to our new surroundings."
---
UTC media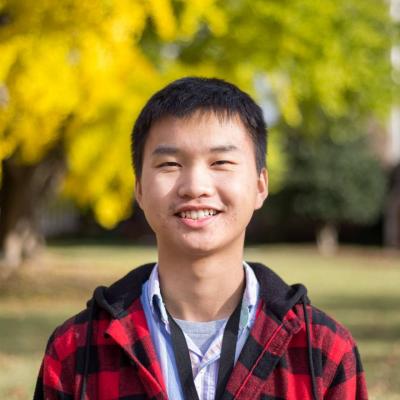 When Savonmony was still a high school student in Cambodia, she decided to study nursing in the United States.
However, she wasn't sure which school to choose until an advisor suggested UTC. "As I read about UTC, I felt like I would really like the environment," she says. "The ESL program seemed to have professional and trained professors. I looked at pictures of Chattanooga, and the environment seemed beautiful."
Mony decided to dig deeper. "While researching, I checked for more pictures of the school and liked what I saw," she says. "I looked at pictures of the University Center and the library and felt like this would be a good place for me." Reading about UTC's No. 1-ranked School of Nursing, she knew she'd found her university.
Before Mony enters the nursing program, she must improve her English. She enrolled in the ESL Institute to take language classes and a TOEFL prep course. "The TOEFL makes me feel a combination of excited and nervous," she says, but she is determined to work hard and earn a high score.
When Mony isn't studying, she stays involved on campus. UTC offers many opportunities for international students and their American peers. "I like going to events like International Tea Time and the Global Spotlights," she says. "Those help me improve my knowledge and give me a chance to practice my English."
Mony shares an apartment with two American students in the Go Global themed living community. "I like living on campus because of my American roommates," she says. "I can improve my English by talking with them every day. I also feel happy on campus. I have everything I need. There's a kitchen, and I can cook for myself. I can invite friends over to hang out."
Learn more about Sovanmony

There's a lot to do in Chattanooga, but it's easy to find quiet too. "I can walk peacefully around campus," Mony says. "Even if I want to study outside, I can study peacefully without noise or disruptions."

UTC was a great choice for Mony, and she says others should consider learning English here too. "It will help you for when you go to college because you get experience talking to many people from different countries," she says. "You will improve your knowledge by experiencing different cultures. There are many subjects to study, so you can know your strengths and weaknesses. You get to improve yourself."
---
UTC media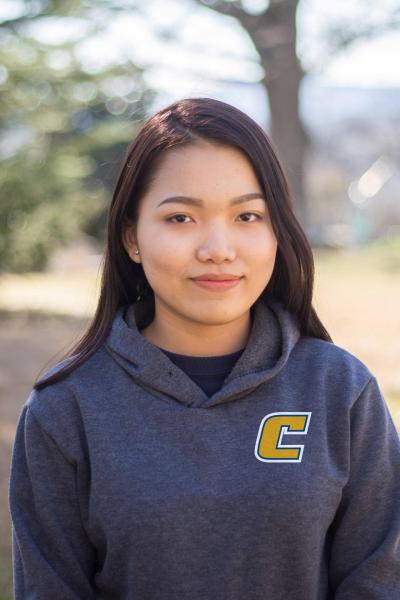 Ngan, originally from Vietnam, has lived in the United States for several years. She lived in Chicago for a few years and attended a university near there but moved to Chattanooga to be closer to family. Ngan has lived in Chattanooga for the past two years. She decided to attend UTC to further her dream of being a dental hygienist. "I need the to take the TOEFL to apply to dental hygienist programs, so I researched online for ESL programs. I saw that the ESL program at UTC was highly recommended by former students."
"I really feel like the ESL program is preparing me for the TOEFL because it goes further than just the basic skills. I took English classes at another college, and they did not go past the basics of grammar, writing, reading, and speaking," Ngan states. "I feel like UTC details higher writing that helps degree-seeking students."
When she is not in class, Ngan enjoys exploring Chattanooga and hanging out with friends and classmates. "Chattanooga isn't too cold in the winter, and it isn't too busy. I like hiking and seeing all of the trees. I lived in Chicago before. I felt rushed, and the weather was too cold for me. I feel like life is calmer in Chattanooga."
Learn more about Ngan

After spending a semester at UTC, Ngan recommends it to anyone thinking of studying in the ESL program. "I can recommend UTC because I like it. I feel more confident after taking the ESL program and feel that it improved my ESL skill a lot. My professor teaches me quick ways, tips, and tricks to figure out difficult concepts."
---
UTC media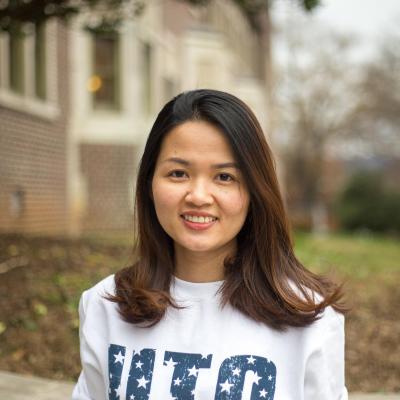 Thi came to the ESL program on the recommendation of a friend who had been a student in the program before. "I wanted to go back to school, and I was looking for something with an ESL program. I want my English to be better. I want to know how to write and read English really fluently."
Once she began the program, Thi took advantage of all the things the UTC campus has to offer. "I've been to the library several times. My teacher taught me how to read the book in class. When I go home, I read more. It makes my English better." She also likes to find quiet places on campus to read and study. "I go to the library just to study. It's really quiet and a good place to read a book or do homework."
Thi really enjoys school here, but it is not the only thing she occupies her time with. "The weather here is good, so I enjoy hiking. I also enjoy traveling around and outside of Chattanooga." Chattanooga's proximity to other popular locations like Nashville, Gatlinburg, and Atlanta make weekend trips easy and convenient to get away when school allows.
Learn more about Thi

Overall, Thi views her time at UTC as a very positive experience. "I like my program. I've enjoyed my time with my friends and my teacher, Jessica. I can recommend her because she is awesome with level 2 students!"
---
UTC media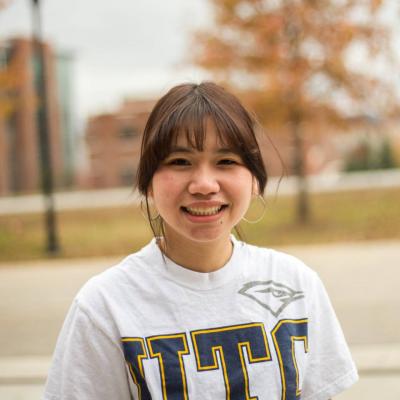 Yuka is a student from J.F. Oberlin University in Michada, a suburb of Tokyo, Japan. She is quite the movie buff, so much so that she decided to study film in hopes of one day creating movies of her own. The ESL Program at UTC is the current stop on the road to her dream of making movies, as she feels English is a necessity if she wants to make international films.
As an ESL student at UTC, she has taken advantage of the opportunities to learn skills outside of the classroom. "I have attended a lot of workshops," she says. "Film making workshops and cinematic photography. I already had some knowledge on these subjects, but this was my first time hearing it in English."
In addition to adding to her knowledge of cinematography, Yuka wants to do well on the TOEFL exam, so she can expand her opportunities even more. She uses several online platforms provided by the ESL Program to prepare. "This is my first time taking the TOEFL, so these things are very useful to me because they have practice tests and videos to teach grammar. Once you take a quiz, the program shows you how much time it took. Time is limited on the TOEFL, so it's good to know how much time I'm using."
Learn more about Yuka

When she is not in class or attending workshops, Yuka finds time to enjoy the small things offered in Chattanooga. It is often in small things where meaningful differences can be found. "I use Uber, and the drivers here are very extroverted. They like to do small talk. I enjoy this, and it gives me an opportunity to practice my English. I went to New York and the people were silent. It was very different than here." She has also found friends and activities through the International Buddy Program. "I really enjoy the program. I've been able to attend hiking trips and the Halloween party. This was my first Halloween, so it was a fun opportunity."

From workshops to small talk around town, Yuka has no doubt that her experience at UTC will leave an indelible impression on her. "I really like my classmates. None of us are from the same country, so it is many different people and different cultures. It's interesting to learn about different cultures and countries. I want to work here in the future as a film maker. This is my first time in the US, and this experience helps me imagine myself here in the future. America is a good environment for chasing your dream."
---
UTC media