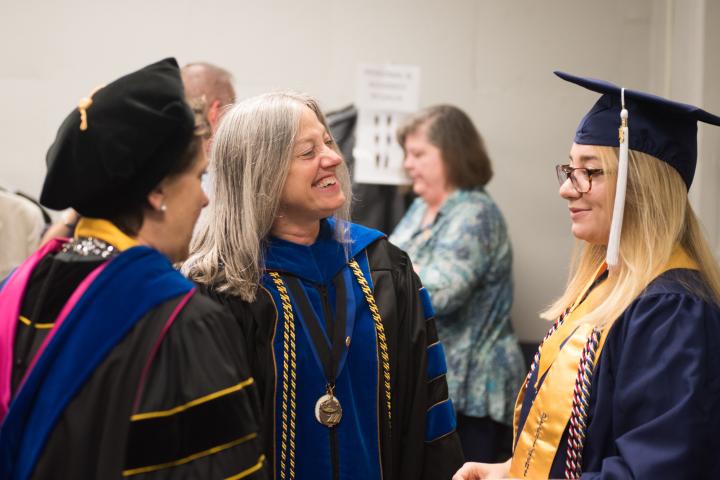 UTC Honors is a special place, and I don't just mean the Guerry Center. Some practitioners have called honors a "third place," something like a salon from the nineteenth-century or a coffeeshop today, a place that isn't properly work or home but something in between. It is definitely a place of community, and we take that pretty seriously.
Our mission is this: to provide a diverse, inclusive community of inquiry, opportunity, and support, dedicated to the development of scholarly excellence and social consciousness. Mission statements might seem old school to you, but they truly guide an organization's movement and possibilities. So, we do what we can to enable community-building in the UTC Honors College. We offer small classes where you can't hide in the back of the room or help getting to know each other (and that means your faculty member, too). We offer ways for you to travel and hang out together; we encourage you to support each other as you reach for that cool undergraduate research opportunity or exciting nationally competitive scholarship. We ask you to think hard about the kinds of power dynamics you encounter in different areas of campus, of Chattanooga, of your own life. We want you to always amplify the voices of those too often silenced, to remember that we are strongest when we see and celebrate the differences between us.
And we will do everything we can to help you find your place in honors. Will we get things wrong along the way? Absolutely. Do we want you to communicate that to us? Without question. That's why we have students working all over the Honors College— as Student Retreat Leaders, Student Assistant Directors, and Student Ambassadors, as well as teaching assistants in UHON 1000, members of our Honors Council, and members of our Honors Advisory Committee. We want—we need—to hear from you and we also need you to bring your excellent ideas to life. We will support you, guide you, and praise you along the way, but if there is anywhere on campus where student initiative is more valued and depended upon, I'd like to know about it!
So: welcome to UTC Honors! We hope it's all you imagine it to be and if it's not, we charge you to make it so. We are so very glad to have you here and look forward to seeing you make this place your own!
Linda Frost, Ph.D.
Dean, The UTC Honors College