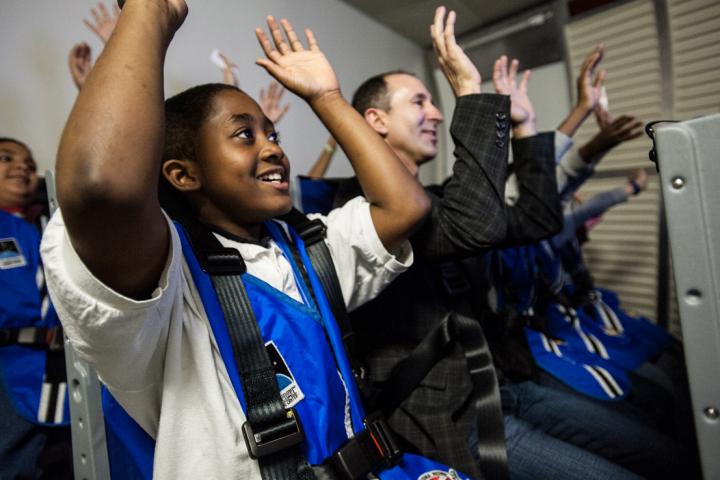 Simulated Missions
In-Person Simulated Space Missions
Early Education
Micronaut

Recommended Grade Levels: K-4th

In response to requests by early educators for a space education program that would be appropriate for their students, the UTC Challenger Learning Center developed the Micronaut Program. This program is a space-themed, content-rich experience for non or beginning readers in kindergarten through fourth grade.

MicroMars

Recommended Grade Levels: 3rd+
Maximum Number of Participants per Program: 36
Program Length: ~2 hours
Mission: The year is 2076 and for 40 years humans have been studying Mars while on its surface. A few support structures have been built on Mars, but the primary living habitat and mission control are not on Mars itself; they are located approximately 5,800 miles above Mars on a moon named Phobos. Our mission begins by boarding the Mars Transport Vehicle (MTV) that shuttles astronauts and scientists from the base on Phobos to the surface of Mars.

All crew members work together to support the goal of this mission: searching for evidence of water on Mars. To accomplish the goal, the MTV carries parts for a new remotely operated vehicle (ROV) that must be built and programed before today's crew touches down on Mars. To ensure this happens crew members will check the health of the crew and safety of the MTV, search for mission satellites, and outline geologic signs of water.
Middle Grades and Higher
Expedition Mars

Recommended Grade Levels: 6th+
Maximum Number of Participants per Program: 34
Program Length: ~2 hours
Mission: The year is 2076. A handful of facilities have been established on Mars, including a greenhouse, a mobile geological survey base, and a centralized research habitat. The primary human habitat is not on Mars, but on one of its moons, Phobos. A large shuttle regularly ferries astronauts and scientists between the base on Phobos and the surface of Mars. This shuttle, or Mars Transport Vehicle (MTV), carries parts to build a remotely operated vehicle (ROV) to continue the search for evidence of life and water. However, when crew members discover an imminent threat to their MTV and the Martian surface facilities, they must act quickly to save their stations, their research, and their lives.​

Lunar Quest

Recommended Grade Levels: 6th+
Maximum Number of Participants per Program: 34
Program Length: ~2 hours
Mission: In the not-too-distant future several permanent habitats on the Moon are home to astronauts and scientists conducting research. Human-operated vehicles and rovers search for resources critical to the expansion of lunar research. The new crew sent to help with the expansion faces a tough task and students will be challenged to make decisions that will impact the success of the mission. Teams will need to observe the Earth, sun, and beyond as they navigate to the moon and select sites for future lunar mining. Ultimately, the primary mission goal of keeping the crew safe will become a challenge as the teams will have to exercise their problem-solving, communication, and teamwork skills before they can call the mission a success.
Virtual Simulated Missions
Space Mission

These exciting space-themed missions are designed for students in grades 4-8 and reinforce the importance of teamwork and collaboration, even in a virtual environment.

Delivered to students in real-time by the Challenger Learning Center at Challenger STEM Learning Center at UTC, these experiences are perfect for remote, hybrid and socially distant classrooms.

One-hour engaging experiences delivered from start to finish by Center staff
Aligned to national education standards
No handouts or supplies needed
Program requires devices with internet connection along with audio and video (optional) capability.
Apple iPads are not compatible for these Missions.
Features small group and whole class activities

Classroom Adventures

From the moment the Adventure Commander delivers the briefing, the classroom turns into a real-world STEM workplace centered around the
student-driven, teacher-facilitated experience. Students research, answer questions and collaborate to find solutions to urgent challenges. Throughout the Adventure, students role-play STEM careers as they work individually, in small groups, and in whole group settings.

Each Adventure is aligned with Next Generation Science Standards and state standards.

Contact us for more information.
STEAM Learning Labs
These programs can be stand-alone or added to your group's program rotation. Based on grade-level, our STEAM learning labs are exciting multi-sensory opportunities to expand what your student's are learning in the classroom.
Ask about our STEAM Learning Labs during your program intake meeting!
Current STEAM Learning Labs

Kindergarten+
• Nano Satelite with Geofix
• Micro Rockets
• Micronauts in Orbit**
• Micronauts to the Moon**
• Space Fishing
• Planet Walk
• Stars and Constellations

3rd Grade +
• Galileo's Ramp
• Telescope Tech
• Moon Phases
• Trouble Ladder
• Stars Oragami
• Pop-Rockets**
• Nano Satelite with Googleplex 3D

6th Grade +
• Everything previously listed
• Clay Rockets
• Moon Maneuvers
• Mars Rover

* Timing can be tailored for longer needs
**Not suggested for programs outside of Micronaut
Other Programs Offered
Team Building

UTC First Year Experience
Be sure to scheule your FYE course as soon as possible to ensure your group has a spot!

Public Groups
We offer several Team Building opportunities for all groups that could benefit from time building the great team you already have!

Tours

Self-Guided Tours
The public is welcome to tour our facility during normal business hours. We have several one-of-a-kind artifacts that can only be found in our facility.

Group Tours
For a tour of our full facility and optional Executive presentation, please contact our Operations Coordinator, Tiffany Edwards.

Professional Development

We offer several opportunities for Professional Development hours. Depending the PD needs of your group this can be done in collaboration with Arts-Based Collaborative, a unit under the shared leadership of the Lyndhurst Chair of Excellence in Arts Education.

Speaking Engagements

Our staff welcomes opportunities to speak with your group about our Mission and the Mission of UTC. Contact us today for more information!
For more information about scheduling your program, call our main line 423-425-4126 or email us at [email protected]