Take Back the Night
Take Back the Night is an annual October event which brings awareness to gender-based violence. The event includes a march against gender-based violence and a candlelight vigil to honor survivors and those lost to violence.
Women's Leadership Academy
The Women's Leadership Academy (WLA), held in collaboration with the Office of the Dean of Students, is an annual program based in principles of intersectional leadership.
The training takes place off-campus each fall semester over two days. WLA participants hear from empowering female leaders on campus and in our community, identify their individual values that motivate them to make social change, collectively engage in formulating solutions to challenges presented, analyze American societal norms that have limited women's participation in leadership roles throughout the course of history, and enhance self-care techniques as a tool to further their growth in leadership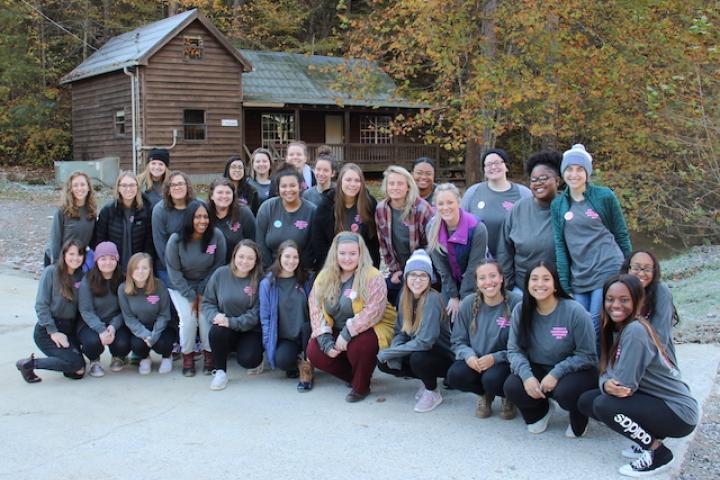 Sexual Assault Awareness Month
The Center for Women and Gender Equity along with other office on campus work to provide programs during the whole month of April to raise awareness for Sexual Assault Awareness Month.
Due to COVID-19 for April 2020 the Center has worked with the Center for Student Wellbeing to create a zine around the month and the resources.
Lavender Graduation
Lavender Graduation is an annual ceremony conducted on numerous college campuses to honor lesbian, gay, bisexual, transgender, queer and ally students and to acknowledge their achievements and contributions to the University.
The Lavender Graduation Ceremony was created by Ronni Sanlo, a Jewish Lesbian, who was denied the opportunity to attend the graduations of her biological children because of her sexual orientation. It was through this experience that she came to understand the pain felt by her students. Encouraged by the Dean of Students at the University of Michigan, Sanlo designed the first Lavender Graduation Ceremony in 1995.
That first ceremony took place at the University of Michigan with three graduates. By 2001, there were more than 45 Lavender Graduation ceremonies at colleges and universities nationwide.
Graduating students, including undergraduates and graduates, are invited to take part in the celebration.