Start Your Pharmacy Tech Career in Ten Weeks!
Prepare to Earn CPhT Certification That Leads to a Rewarding Job.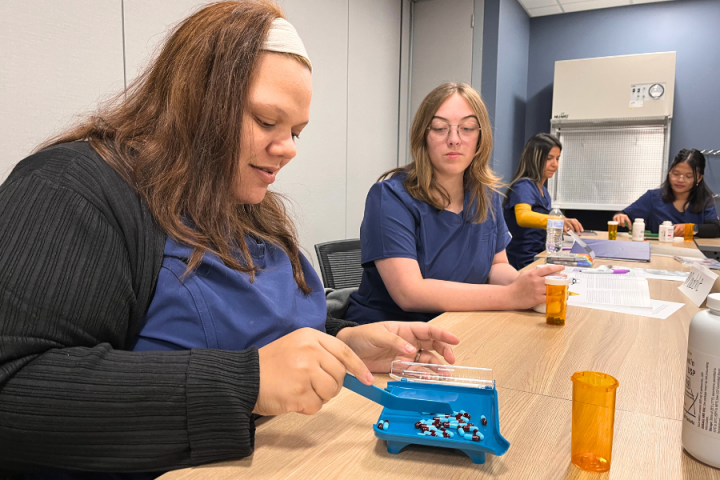 Get Certified and Find Employment Through Our Employer Partners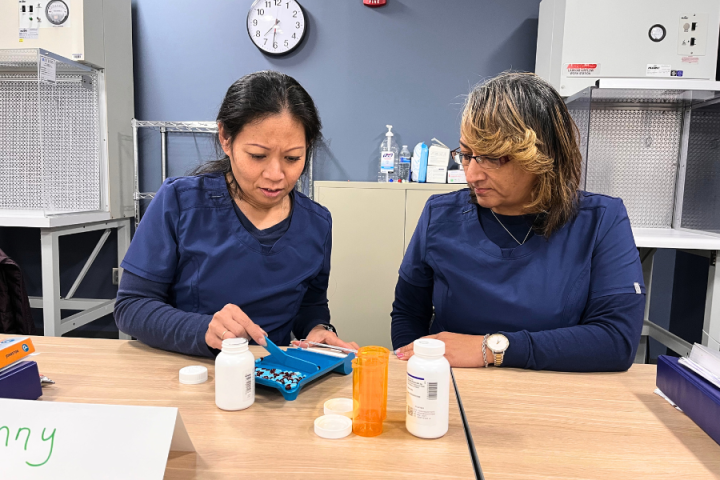 Help Patients Receive the Dedicated Care and Medicine They Need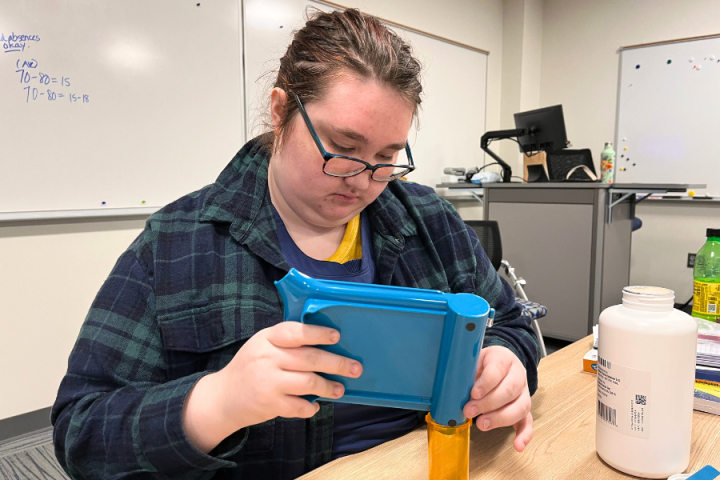 Start Your Healthcare Career Quickly
Academy at a Glance
Program Format:
Face-to-Face
Length
10 Weeks
Program Hours
66.5 hours + Optional Clinical Externship
Meeting Days and Times
Student Tuition
$1,750 includes course textbooks, certification exam fee and one set of navy scrubs.
FAFSA is not eligible for this course. Students do not need to be officially admitted to the university to enroll. Payment is due in full upon registering for the course.
Registration Deadline
January 29, 2024
Registration must be completed 2 weeks before the course begins.
Do You Still Have Questions?

Call Our Student Support Team at 423-425-4344 or email [email protected].
Make a Difference in Healthcare! Become a Certified Pharmacy Tech in 10 Weeks
In 10 weeks, you will learn the pharmacy tech skills needed to become a certified pharmacy technician and start your new career.
Pharmacy tech certification gives you access to more career opportunities and maximizes how much money you can earn.
UTC's Pharmacy Technician Academy combines in-depth classroom lectures with hands-on pharmacy tech training to ensure your career success.
What is a Pharmacy Technician?
Pharmacy technicians perform a variety of meaningful tasks. Their main goal is to help pharmacists supply the medicine patients need. Pharmacy techs spend most of their day on their feet. They are involved in the prescription process from beginning to end as they take inventory, package medications and answer patient questions. Pharmacy techs locate, dispense, pack and label prescriptions that are reviewed by a pharmacist before being distributed to patients. They also communicate with doctors to process insurance claims.
Why are Pharmacy Techs Valuable?
Pharmacy techs play an important part in making sure patients have healthier and happier lives and receive the dedicated care they need.
Pharmacy techs are team players who act as a middleman between patients and pharmacists. The most crucial part of pharmacy techs' jobs is to ensure the health and safety of their patients. Pharmacists are accountable for the safe distribution of prescriptions, but a pharmacy tech's attention to detail and careful packaging plays a significant role in the process.
The pharmacy tech position can serve as a stepping stone to other healthcare professions. For instance, pharmacy techs often become pharmacists.
Who Should Enroll?
UTC's Pharmacy Technician Academy is suited for any individual wanting to work in the healthcare field. If you enjoy serving others and interacting with patients, but are not interested in clinical work, becoming a pharmacy tech may be a great option for you.
Our fast-paced program requires dedication and attentiveness to see the full benefits.
Students who want or need patient care hours are strongly encouraged to enroll.
Do I Need Prior Work Experience?
You do not need any prior work experience to participate in CPE's Pharmacy Technician Academy. The pharmacy technician program is designed for all experience levels.
Are There Any Prerequisites?
There are no prerequisites or pharmacy tech experience requirements to enroll in the Pharmacy Technician Academy.
However, to participate in the optional externship, pharmacy technician students must be at least 18 years old and be willing to submit to a background check and drug screening as well as provide immunization records. Certification exams require pharmacy technician students to be at least 18 years old with at least a GED or high school diploma.
Which Pharmacy Tech Certification Will the Program Prepare Me For?
UTC prepares students for the Pharmacy Technician Certification Exam (PTCE) which is administered through the Pharmacy Technician Certification Board (PTCB). After passing the exam, the student becomes a CPhT (Certified Pharmacy Tech). The CPhT certification is nationally-recognized.
The pharmacy tech certification exam cost is included in the cost of the course.
How Long Does the Certification Exam Take?
The PTCE has 90 multiple choice questions with a two-hour time limit.
Do I Have to Renew my Certification?
Because of the rapid changes in the healthcare field, the PTCB requires certification renewal every two years. Certification renewal allows certified pharmacy techs to maintain their CPhT credentials.
I Want to Earn My Pharmacy Tech Certification! But Why Should I Prep With UTC?
UTC is one of the few pharmacy tech schools in Tennessee that is a Pharmacy Technician Certification Board (PTCB) Recognized Education Program. When you choose UTC for your education, you are choosing quality. Our program and course content align with the PTCB Certified Pharmacy Technician Exam.
With UTC, your pharmacy tech training lasts 10 weeks. Alternate pharmacy tech programs can take several months to complete!
UTC has a strong brand and is ranked among the top 10 of all colleges and universities in Tennessee.
The class size of 20 is small enough to allow individuals to receive the personalized attention they need from the instructor.
What Will I Learn?
Dosage calculations and conversions
Drug classifications and compounding
The "top 200 drugs"
Pharmacy-specific medical terminology
Skills to read and interpret prescriptions
Skills to identify drugs by generic and brand names
Sterile compounding and the handling of sterile products
Total parental nutrition (TPN)
Dispensing of prescriptions
Inventory control and billing and reimbursement
How Will I Benefit?
Earn a relevant and up-to-date education
Gain real-world and practical experience
Participate in externships to hone skills and knowledge
Access to job opportunities and employers
What is the Clinical Externship?
Pharmacy Technician Academy students have the option to participate in an externship at a local medical facility. Clinical externships allow students to interact with physicians, staff, pharmacists and patients to better understand pharmacy tech job responsibilities and gain extensive pharmacy tech training.
To be eligible for the optional clinical rotation, students must successfully complete the 66.5-hour program, submit to a thorough background check, drug screening and have up-to-date immunization records. You can view the full required documentation list here.
How Much Does a Pharmacy Tech Make?
The average pharmacy technician's salary in the United States is $33,918 annually or $17.31 per hour.
What Pharmacy Tech Jobs Are Available?
Popular job titles that a certified Pharmacy Technician can do include:
Pharmacy Technician
Compounding Pharmacy Technician
Inpatient Pharmacy Technician
Lead Pharmacy Technician
Pharmacy Aide
Pharmacy Associate
Pharmacy Sales Representative
Pharmacy Service Clerk
Pharmacy Buyer
Pharmacy Intake Coordinator
Patient Services Coordinator
There are even remote pharmacy tech jobs available, giving you the ability to work from home!
Where Can Pharmacy Techs Work?
Pharmacy techs work in a variety of settings including:
Hospitals
Retail Pharmacies
Independent Pharmacies
Compounding Pharmacies
Mail Service Pharmacies
Grocery Stores
Long-Term Care Facilities
Insurance Companies
Drug Wholesale Companies
What is the Difference Between a Pharmacy Tech and a Pharmacist?
Pharmacy tech and pharmacists are both skilled professionals that are vital for a pharmacy to run properly. However, pharmacist and pharmacy tech requirements are unique. Pharmacy techs are not able to perform various duties without the direct supervision of a pharmacist. These duties include dispensing medication without prescription verification, making judgment calls for drug substitutions or giving instructions for preparing prescriptions.
The pharmacist and pharmacy tech educational requirements also differ. Pharmacists earn a Doctor of Pharmacy (PharmD.) degree that requires a bachelor's degree and then an additional four years of schooling. Additionally, a residency program may be required for pharmacists. Pharmacy technicians typically need a high school diploma. Many states also require pharmacy techs to become certified through an accrediting body.
How Do I Go From Pharmacy Tech to Pharmacist?
Earn A Bachelor's Degree. During this time, many aspiring pharmacists will work as pharmacy technicians to earn patient care hours that will determine pharmacy school acceptance.
Take the Pharmacy College Admissions Test (PCAT)
Attend Pharmacy School
Pass Your State Board and Law Exams
Meet the Instructor
Toni Martin, CPhT
After spending 30-plus years working in nonprofit management, Toni Martin's career path took a unique turn that led her to become UTC's Pharmacy Technician Academy instructor. When Toni's nonprofit job was eliminated right before the COVID-19 pandemic, hiring in the nonprofit sector was at a standstill. With a need to be back in the workforce as soon as possible, Toni began to explore ways to obtain a healthcare credential and start an essential healthcare worker role. In the spring of 2020, Toni enrolled in UTC's Pharmacy Tech Academy, earned CPhT certification and began working as a Certified Pharmacy Technician at Access Family Pharmacy in only four months. Toni received a bachelor's degree in management economics from the State University of New York and brings decades of experience in training adults to the classroom. She also brings a fresh perspective to the course on how to navigate a brand new career. Now working full-time for CVS Pharmacy, Toni appreciates how well UTC prepared her for her pharmacy tech job—and plans to pay the preparation forward.