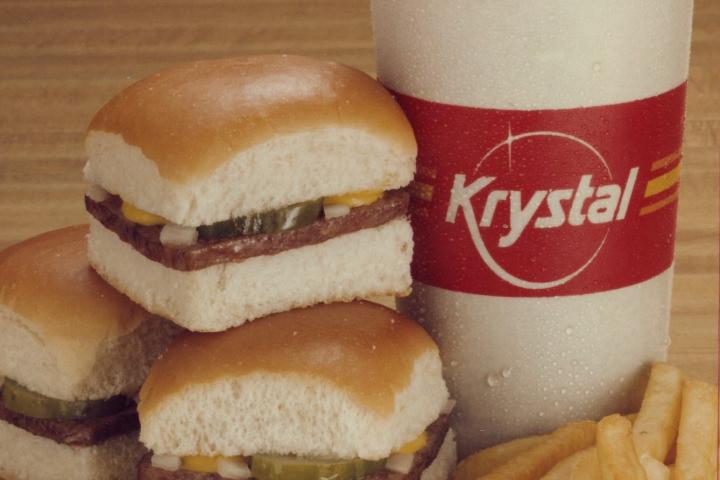 Home-Grown in Chattanooga: 90 Years of Krystal, 1932-2022 – Selections from the Krystal records and memorabilia collection
The first Krystal restaurant opened October 24, 1932, on the corner of Seventh and Cherry Streets here in Chattanooga. It's one of the oldest fast-food chains in the United States. In 2013, the Krystal company moved its headquarters outside Atlanta, Georgia. That same year, Krystal donated its records to UTC. Special Collections' newest exhibit features a sample of materials from this archival collection, showcasing Krystal's history and development from its Depression-era beginnings to the twenty-first century. Materials on display include employee handbooks, toys and merchandise, and covers from the company newsletter, The Krystal Gazer (also accessible in our Digital Collections).
Location: Andrew Roth Grand Reading Room, LIB 402
Dates: August 30, 2022 - December 9, 2022
Physical Exhibitions
Review our past displays.
Thirteen Decades of Back to School Traditions and Campus Growth
Location: George Connor Special Collections Reading Room, LIB 439
Dates: August 19, 2019 – December 16, 2019
Barry Moser Wood Engravings: Illustrated Art Editions and Portfolios from Special Collections
Location: Andrew Roth Grand Reading Room, LIB 402
Dates: August 19, 2019 – December 16, 2019
"We Demand an End to Racism!": The Civil Rights Movement in Chattanooga
Location: George Connor Special Collections Reading Room, LIB 439
Dates: February 1, 2019 – August 10, 2019
"A New Institution with a Running Start": Celebrating 50 Years of UTC
Location: Andrew Roth Grand Reading Room, LIB 402
Dates: January 7, 2019 – August 10, 2019
From Suffrage to Congress: Chattanooga Women at the Polls and in the House
Location: George Connor Special Collections Reading Room, LIB 439
Dates: August 1, 2018 – February 1, 2019
Training for The Great War: Chattanooga's Role
Locations: Andrew Roth Grand Reading Room, LIB 402
Dates: August 1, 2018 – January 7, 2018
Chattanooga's Sweet History
Locations: Andrew Roth Grand Reading Room, LIB 402, and George Connor Special Collections Reading Room, LIB 439
Dates: January 1, 2018 – August 1, 2018