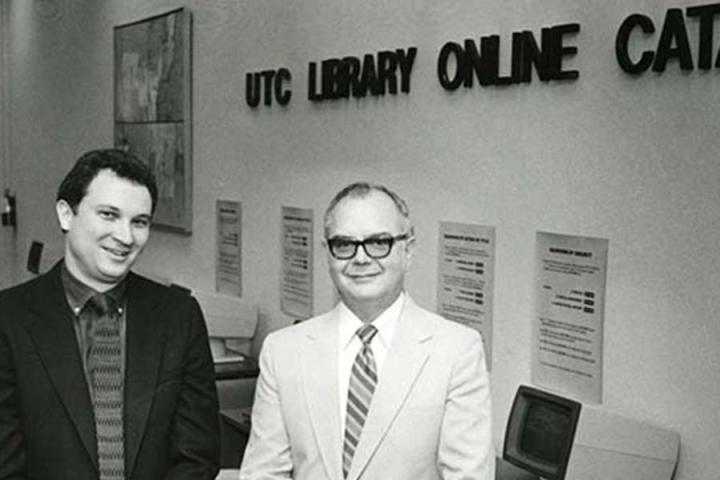 The Campus Library: Supporting Research and Scholarship Since 1886
Since 1886, there has been a library serving the University of Tennessee at Chattanooga campus and metropolitan area. As the campus has grown and changed over the years, so too has the library, responding to the needs of the university. Although many of the library resources available to current students, faculty, staff, and community members look different than those of years past, this exhibition celebrates the library's commitment to supporting information discovery and providing infrastructure for learning that have been a part of its mission from day one.
Location: Andrew Roth Grand Reading Room, LIB 402
Dates: January 6, 2020 - present
Physical Exhibitions
Review our past displays.
Thirteen Decades of Back to School Traditions and Campus Growth
Location: George Connor Special Collections Reading Room, LIB 439
Dates: August 19, 2019 – December 16, 2019
Barry Moser Wood Engravings: Illustrated Art Editions and Portfolios from Special Collections
Location: Andrew Roth Grand Reading Room, LIB 402
Dates: August 19, 2019 – December 16, 2019
"We Demand an End to Racism!": The Civil Rights Movement in Chattanooga
Location: George Connor Special Collections Reading Room, LIB 439
Dates: February 1, 2019 – August 10, 2019
"A New Institution with a Running Start": Celebrating 50 Years of UTC
Location: Andrew Roth Grand Reading Room, LIB 402
Dates: January 7, 2019 – August 10, 2019
From Suffrage to Congress: Chattanooga Women at the Polls and in the House
Location: George Connor Special Collections Reading Room, LIB 439
Dates: August 1, 2018 – February 1, 2019
Training for The Great War: Chattanooga's Role
Locations: Andrew Roth Grand Reading Room, LIB 402
Dates: August 1, 2018 – January 7, 2018
Chattanooga's Sweet History
Locations: Andrew Roth Grand Reading Room, LIB 402, and George Connor Special Collections Reading Room, LIB 439
Dates: January 1, 2018 – August 1, 2018