On the Cutting Edge:
Spotlighting Teaching Innovation at UTC
The Walker Center's "On the Cutting Edge" is an occasional essay series by UTC faculty spotlighting teaching innovation across the UTC campus. Interested faculty are encouraged to explore WCTL's Innovation Grants webpage and Experiential Learning Resources through ThinkAchieve: Beyond the Classroom for teaching innovation support.

Community-Based Experiential Projects:

Risky, tricky, but always worth it
UTC media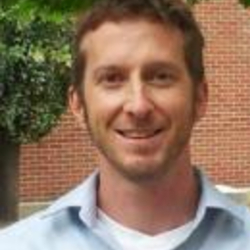 Today, we feature Dr. Andrew Bailey of the Department of Health and Human Performance, who received a WCTL HIP Grant and Experiential Learning Designation for his HHP 2020 Outdoor Leadership class, where students participated in the design and installation of outdoor educational elements for local public school children. Here, he writes about his approach to experiential learning and teaching innovation.
---
The Innovation: What motivated your teaching experiment and what specific practice did you bring to your class?
I guess my original motivator is a firm belief that students learn better by being involved in real-world projects that impact their community. When they are asked to help, and realize they can make a difference, they often surprise you with the results. This leads me to constantly update a rolling list of ideas for class projects, whenever I speak with potential community partners.
This specific project came about as a result of similar successful projects in the past which have helped accumulate the connections, resources, and tools to make it happen. I believe that spending time in the natural world is important for psycho-social, physical, emotional, and educational well-being; a belief supported by a ton of research. After explaining that to my college students, we worked with teachers and administrators at Red Bank Elementary to discuss ways that we could help their students spend more time outdoors, for learning and for play.
In the end, they needed renovated space, permanent activity options to address specific curricular needs, and a demonstration of how these activities are facilitated. So, we designed and renovated an overgrown area with trails, added some low ropes course elements to adjacent trees, and facilitated an "outdoor education day" where my students planned and led activities using that space, to show how TN state standards can be met in an outdoor environment.
---
Student Reaction: How did your students respond to the innovation? Were they open? Was there any resistance? What improvements did you notice in their learning?
Well, at first they seemed a bit lost, as if they'd really rather just write a paper about it. Starting a project from scratch and answering questions that the Professor doesn't already know a priori can seem overwhelming. They definitely became more excited after visiting the site and speaking with the community partners. Once we developed a more structured outline for the process, they could understand it better and they made much more progress. They never complained about the actual design/build process and I think they really enjoyed bringing their ideas to life.
The only reticence I observed was regarding the lack of a concrete rubric for every step, and the issue of required time outside of class. The latter is a real concern for them, as my students often work to put themselves through school. The former is learning in context. Forcing them to develop the process from scratch (including the rubric) provided them with a realistic notion of how professionals operate. Rarely is there a rubric-based threshold for every step on the job, as you are dealing with new problems that couldn't have been predicted.
This process required them to go beyond the common practice of answering every pre-determined question adequately, to understand what the real questions were, which ones were more important, and what the best options were for solving them. I can't say that every aspect of their projects was better than their research papers would have been, but I can guarantee that they will remember the project, and will understand the information gained in its full context, as well as how complicated the process can be to affect change in the community. Also, they loved working with the kids.
---
The Future: Will you continue using this innovation in the future? Are there any modifications that you will make?
Well, a lot of my innovations are one-off projects of opportunity. I may not do this exact project again, but I will certainly incorporate elements of it into future opportunities. I receive contacts about small projects like this from schools and organizations all the time, so we will continue to have an impact when we can. I will absolutely require projects that demand students to problem-solve, collaborate, and implement hard and soft skills. They can't be employed in the industry without a checklist of hands-on knowledge and experience, and they won't be effective in any industry if they can't address real needs by seeing the big picture and breaking it down into manageable parts.
I will say that community-based experiential projects can be risky, in that, you can't foresee the final product. Unlike a term paper with a thorough rubric, these projects can really go in any direction if some clear boundaries aren't established. Grading can also be tricky if they put a lot of effort in and didn't see a great outcome. It requires some understanding and flexibility, but it has always been worth it for me.
From all of the experiential projects I have undertaken, I'd say that taking the time to teach students the learning process is a key to success. I used to complain that they didn't know how to run a meeting, or create actionable steps toward a goal, or use available resources to design a project. Then, I realized that was my fault. I hadn't been teaching them the basics of seeing a problem, identifying the resources, and laying out possible solutions. Most of my assignments had required them only to search for an answer that was already out there, repackage it, and deliver it to me in a new format. The experiential learning process requires them to struggle more at first, and fail some throughout, but I think it enhances creativity and resilience.
---
Experiential Learning: What value do you see in experiential learning? Do you have any advice for a colleague who might be skeptical about such innovations?
I don't really understand what other kind of learning there is. That probably comes from years of digesting John Dewey, Paulo Freire, and the like, but it also rings true with my own life experience. Every year, I begin my Leadership class by asking students to briefly describe a powerful learning experience from their past. I've received any number of responses, from personal outdoor trips, to extra-curricular activities and sports teams, travel, playing with friends in the backyard, practicums and clinicals, etc.
In 10+ years of asking that question, I've never had a student mention a classroom experience. Like Dewey, I believe that interest is a prerequisite to deep learning. The best way to generate interest is to provide information in context. The best context is a real-world problem in need of a solution. What better way to prepare students for unknown problems than to teach them how to think on their own, how to fail and try again, from the relative safety of a college class?
Every time I design a new project, I worry about how to grade it, what will happen if it doesn't turn out perfectly, what happens if the students push back or just don't put in any effort. Then I remember the alternative. I've graded a lot of bad term papers over the years, and I accept my portion of responsibility for not being a better teacher. I've also put in some extra time fixing experiential projects that didn't turn out as well as I'd hoped. If I had to choose between the two, I'd take the real-world project every time. Yes, it takes a little more effort to set up, but the students walk away with an understanding of the learning process and how to address problems in context, and the community partner gains a relationship, some decent curriculum ideas, and a ropes course that'll last for 20 years.
A few words of advice:
Always under-promise and over-deliver to the community partners.
Use whatever unique expertise you've gained over the years to design the projects.
Always have a "dry-run" in class if the project is to be delivered in person by the students.
Building in-project revisions, and allowing improvements to the grade, facilitates learning and resilience through genuine feedback.
It gets easier with every project.