Prep for PMP Certification in 7 Weeks & Stand Out Among Your Peers!
Learn from an industry-leading instructor in a live-online format, and get ready to pass the PMP exam that will ultimately lead to career advancement.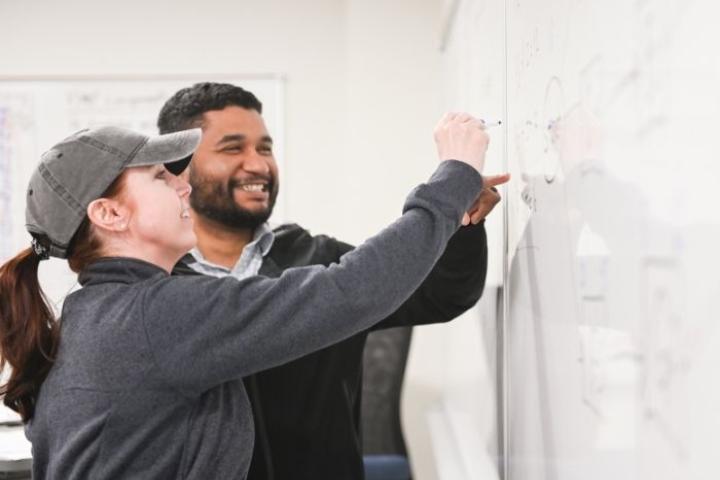 Increase Your Salary Potential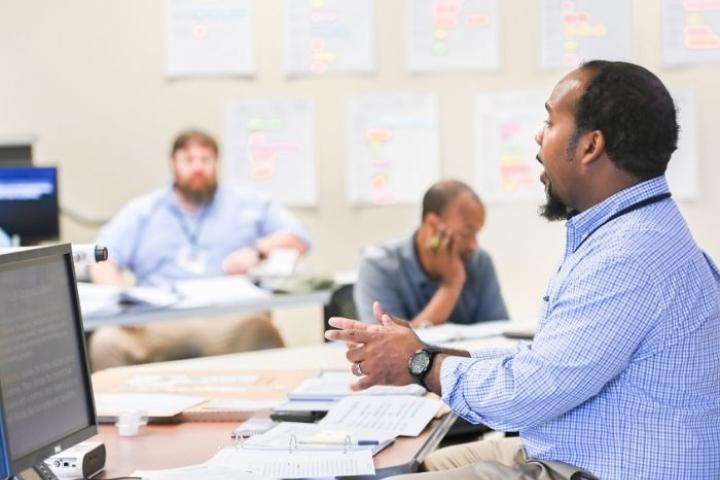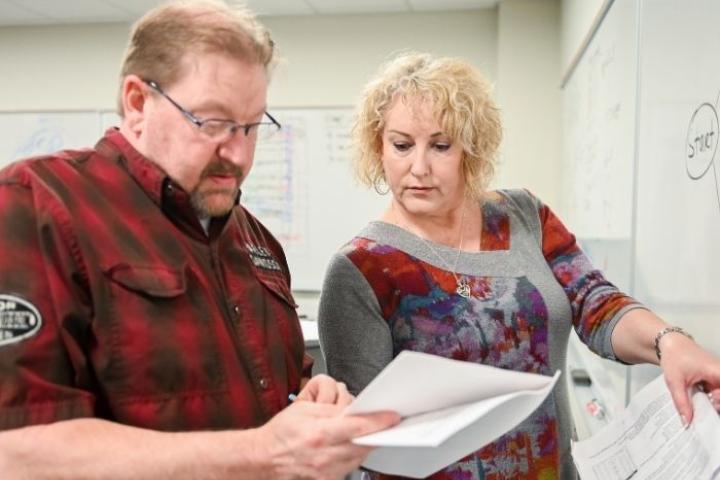 Gain Recognition on a Global Scale
Course at a Glance
Program Format:
Live-Online
Length:
Seven Weeks
Program Hours:
35 Contact Hours
CEUs:
3.50
Meeting Days and Times
Price:
$1,795 Standard Registration Fee
Discounts are available for Chattanooga PMI Members and UTC Alumni. Learn more about discounts and other financial aid options here →.
Registration Deadline
March 5, 2024
Registration must be completed 2 weeks before the course begins.
Do You Still Have Questions?

Schedule a call with our PMP program coordinator or email [email protected].
Become an In-Demand Project Management Leader With UTC!
Wondering how to get PMP certification? Prepare with UTC and immerse in project management principles dictacted by the Guide to Project Management Body of Knowledge (PMBOK®). A PMP course teaches you the project management skills, project management framework, and effective test-taking strategies you need for test day success.
Who Should Attend
The PMP Exam Prep Course is perfect for project managers, business analysts, team leads, managers, and individuals who desire the PMP® certification.
The PMP® requires a level of experience managing and directing projects.
Learn more about experience and education requirements →
What is PMP Certification?
The Project Management Professional (PMP®) is the world's leading project management certification. The globally-recognized Project Management Institute is the organization that issues PMP certification. Earning the PMP shows that you can use predictive, agile, and hybrid project management skills employers are looking for. PMP certification validates that you are highly skilled in:
People: Emphasizing the soft skills you need to effectively lead a project team in today's changing environment.
Process: Reinforcing the technical aspects of successfully managing projects.
Business Environment: Highlighting the connection between projects and organizational strategy.
How Do I Fill Out My PMP Application?
Your journey to becoming PMP-certified begins with the PMP application. You do not have to complete the application before enrolling in UTC's course. However, we encourage students to at least begin the application process before the start of class. UTC is available to help you with any application questions you may have.
The goal of the PMP application is to detail your experience and training to show you have got what it takes to become a PMP professional.
Application Steps:
Confirm your eligibility. Ensure you meet the experience and education prerequisites. →
Gather your information. Document your experience and training by gathering information about projects you have led including where you worked, your role and responsibilities, and the duration of your projects. You will also include training you have completed such as institutions attended, courses completed, and qualifying hours.
Dive into the application. You will need a pmi.org account to kick the process off. Have all the information you gathered in the previous step handy so you can sail through the application. If you need a break in the middle of the application, do not worry! You can save the application as you go.
Your application will be reviewed by PMI upon submission.
I Want This Certification! But Why Should I Prep With UTC?
The virtual model allows you to learn from anywhere!
Many project managers ask, "How long does it take to get PMP certification?" With UTC, your classroom prep lasts 7 weeks. While each individual differs in how much time they need to study after the course, the classroom training gives you adequate time to prepare as a group without dragging out the process for months!
UTC has a strong brand and is ranked among the top 10 of all colleges and universities in Tennessee.
The class size of 20 is small enough to allow individuals to receive the personalized attention they need from the instructor but large enough to network with a number of other professionals.
35 hours of project management training is required to sit for the PMP, which is exactly the amount of hours UTC's PMP training course is.
Other UTC Course Benefits
Access to hundreds of practice questions, multiple practice exams and flashcards to solidify your knowledge
Learn a formal, globally-recognized framework for managing projects
Network and build connections with other project management professionals
Develop confidence for test day through interactive classroom discussion and question review
Access to one-on-one PMP application guidance
What You Will Learn
The three domains and 35 tasks that are covered on the exam as well as the most common enablers (the work associated with tasks).
Strategies and tools to effectively manage stakeholders and risks
Best practices for engaging and supporting virtual teams
Emotional intelligence application to encourage productive team performance
Planning documentation and requirements needed for scope, quality, schedule, stakeholders, communications, and closing
External business conditions that impact scope and project delivery
Organizational change management to ensure project delivery
Project compliance management to avoid threats and potential consequences
Is PMP Certification Worth It?
YES! PMP certification benefits you and your organization.
The PMP adds value. CIO magazine ranked the PMP as the top project management certification in North America because it demonstrates you have the specific skills employers seek, dedication to excellence, and the capacity to perform at the highest levels.
The PMP delivers benefits. The median salary for PMP-certified professionals in North America is 25% higher than those without it.
The PMP proves you work smarter. It shows that you have the skills to drive business results and increase your organization's impact in the office and around the world.
How Much Money Can I Make With PMP Certification?
The Project Management Institute researched and found that the median salary for project professionals with PMP certification is 25% higher than those without the PMP designation.
A few common job titles and average salaries (based on averages in the United States) are:
PMP Exam Details
180 questions (175 scored and 5 unscored. Questions will be a combination of multiple-choice, multiple responses, matching, hot spot, and limited fill-in-the-blank. See prototype questions to learn more).
The allotted exam time is 230 minutes.
Computer-based testing (CBT) format administered by Pearson testing centers (paper-based testing is available under limited circumstances).
The exam is administered in English.
Exam content weighted by the five domains from the PMP® Examination Content Outline for January 2021 Exam Update:
People (42%)
Process (50%)
Business Environment (8%)
The exam eligibility period is one year from your exam application approval date. You may test three times in one year.
You will receive a printed copy of your exam results immediately after completing your CBT exam. This will include pass/fail status and a proficiency level by domain (Proficient, Moderately Proficient, Below Proficient).
For complete details regarding the PMP exam, please review the PMP® Handbook.
Do I Have to Renew My PMP Certification?
Yes! The PMI Continuing Certification Requirements (CCR) program is designed to help you earn Professional Development Units (PDUs) to maintain your certification status. You spend one-hour blocks of time learning, teaching others, or volunteering.
You can learn more about PDUs and the PMP certification renewal process on PMI's website.
Use Army Credentialing Assistance Funds
Army Soldiers have the opportunity to use Army Credentialing Assistance to pay for the class.
Eligible participants will receive the exam prep and all associated course materials.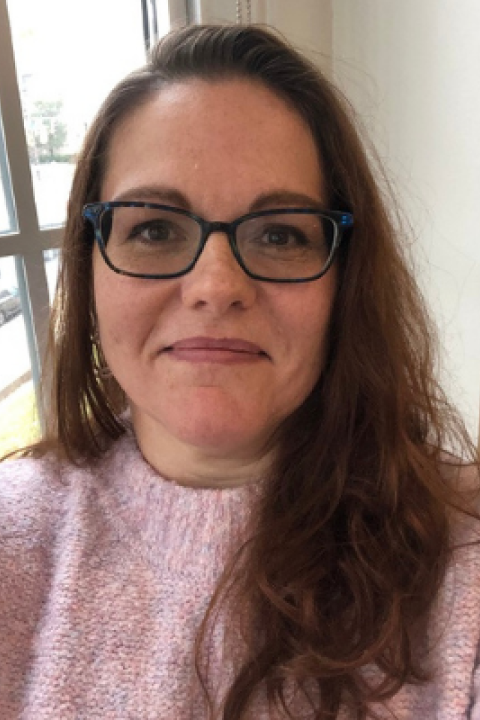 "I don't think I could have passed the test without taking UTC's PMP Exam Prep, and I highly recommend UTC's course to anyone!"
-Sandra Cordell, PMP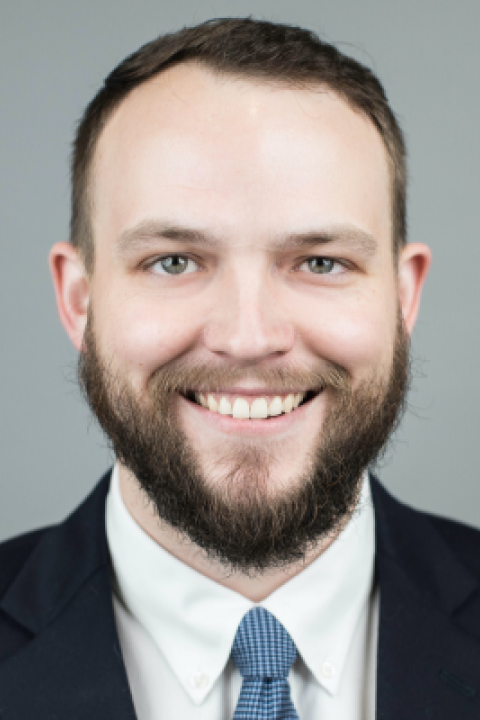 "Take UTC's PMP Exam Prep to prepare for the exam, but also do it for the great community of peers you have when the class is over."
-Tyler Yount, PMP
Not Sure Where to Start?
Schedule a call with our program coordinator, and they can guide you through the PMP application process, the course curriculum, and the course benefits.
PMP® Exam Prerequisites
PMP® Exam Details
Meet the Instructor
Wendi Short, PMP
Wendi Short is a certified Project Management Professional (PMP). She has held her PMP certificate since 2018 and has over 18 years of project management experience.
Wendi graduated from Embry-Riddle Aeronautical University with a bachelor's degree in aviation management and a master's degree (with distinction 4.0/4.0) in business management. Wendi has held roles as a project manager in the aviation, pharmaceutical, telehealth, IT, agriculture and business industries.
Wendi is currently employed as a senior project manager for Washington University School of Medicine, located in St. Louis, Mo., working in their information technology (IT) department. She handles projects such as large-scale application deployments, process improvements for the university and departmental moves as it relates to information technology.
Outside of her role at Washington University, Wendi has taught as an adjunct instructor at several colleges and universities. Wendi will be instructing both UTC's PMP Exam Prep Course and Project Management Fundamentals Workshop.