Clinical Medical Assistant
Academy at a Glance
Format:
Face-to-Face
Length:
18 Weeks
Program Hours
160.5 Hours + Optional Clinical Externship
Meeting Days and Times
Student Tuition
$2,995 includes course textbooks, CCMA certification exam fee, and one set of navy scrubs.
Registration Deadline
Registration must be complete 7 days prior to the course to receive scrubs.
Become a CCMA in 4 Months
UTC's Clinical Medical Assistant prepares you for the Certified Clinical Medical Assistant (CCMA) certification, helping launch your CMA career.
Upon completion of the course, you will know how to prepare patients for examination and treatment, conduct routine laboratory procedures, perform diagnostic testing and blood draws, and properly administer medications.
UTC's Clinical Medical Assistant Academy combines online and face-to-face instruction as well as a clinical externship to ensure you are successful.
About the Clinical Medical Assistant Profession
Clinical medical assistants perform a variety of tasks including assisting with the administration of medications and minor procedures, performing an EKG electrocardiogram, obtaining laboratory specimens for testing, educating patients, and other related tasks.
Job opportunities are prevalent with physician's offices, clinics, chiropractor's offices, hospitals, and outpatient facilities.
The clinical medical assistant profession is a great stepping-stone for individuals interested in pursuing nursing, physician assistant, or medical school.
Who Should Attend
Our Clinical Medical Assistant Academy is intended for students who want to prepare for an exciting, challenging, and rewarding career in healthcare.
Clinical Medical Assistant Academy students should have or be pursuing a high school diploma or GED.
In addition to facilitating entry-level clinical medical assisting related positions, this course is ideal for students interested in pursuing an LPN or RN program.
To be eligible for the optional clinical externship, students must successfully complete the 140-hour program, submit to a thorough background check, drug screening, and meet other requirements.
How to Enroll
To enroll, please see the registration portal and add the program to the shopping cart.
Students do not need to complete a FAFSA nor be officially admitted to the university.
There are no course prerequisites for this course.
Financial Aid
UTC Center for Professional Education offers the following financial aid opportunities:
Sallie Mae Smart Option Student Loan
Workforce Innovation & Opportunity Act (WIOA)
Learn more about financial aid opportunities →
Have Questions?
If you have questions about enrollment or financial aid, please schedule a time to speak to a program coordinator or contact the Center for Professional Education at 423-425-4344.
How You Will Benefit
Earn a relevant and up-to-date education
Gain real-world and practical experience
Participant in externships to hone skills and knowledge
Access to job opportunities and employers
About the Externship
Clinical Medical Academy students have the option to participate in an externship at a local medical facility. Clinical externships allow students to interact with physicians, staff, and patients to better understand job responsibilities and duties.
To be eligible for the optional clinical rotation, students must successfully complete the 140-hour program, submit to a thorough background check, drug screening, and have up-to-date immunization records.
About Certification
Students who complete the Clinical Medical Assistant Academy will be prepared to sit for the National Healthcareer Association (NHA) Certified Clinical Medical Assistant (CCMA) national certification examination. The certification exam is included in the cost of the course.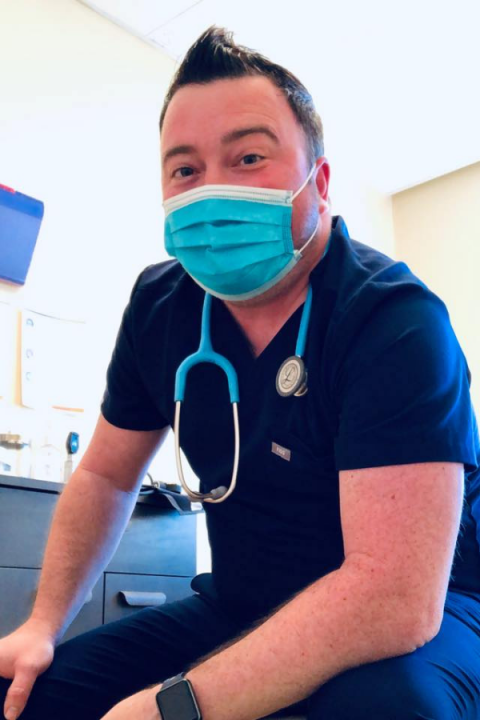 "I completed UTC's program, earned my NHA CCMA certification, and started working as a Clinical Medical Assistant at CHI Memorial."
Chris Donahue, Fall '19
"I enrolled in UTC's CMA course so I could gain patient hours for PA school. As a UTC student, it was convenient to have class on campus. I loved the instructor and course environment!"
Brooke Millspaugh, Spring '21
Meet the Instructor
Suzette Bowers
Suzette has over 20 years of experience working as a medical assistant in various areas, such as cryosurgery, PFT's, venipuncture, and more. After gaining experience on the field, she became the owner of ON Call Service in Colorado. The business provided temporary medical assistants to work in doctors' offices when their full-time assistants were unavailable. She began her work as an educator after becoming the lead instructor for Pima Medical Institute in Denver, where she developed curricula and served on the board. Having developed over 20+ courses in the fields of science, administration, and student success, she is now using her experience to develop curricula for UTC. Suzette loves teaching because she can not only instruct students, but mentor them as they grow in their profession. She also loves medical movies, Iced Guava Passionfruit from Starbucks, and observing teaching methods in foreign countries.
A lifelong learner herself, Suzette holds two bachelor's degrees, one being a Bachelor of Science in Natural Health from Clayton College and the other a Bachelor of Science in Professional Development from Grand Canyon University. Later, she earned a master's in education and an Educational Specialist degree from Walden University.