UTC Virtual International Undergraduate Research Internship (VIURI)
About the Program
The UTC Virtual International Undergraduate Research Internship (VIURI) experience was developed through a collaboration between the UTC Office of URaCE and Study Abroad with the aim of expanding hands-on, international learning experiences for UTC undergraduate students. Students who participate in this program will build career and research skills and cultivate international business networks. Students selected to participate in this program may be eligible to apply for an Office of Study Abroad scholarship to offset a portion of the program costs. Students majoring in political science, sociology, history, environmental science, health, gender studies, international studies, and business are strongly encouraged to apply. Students interested in issues related to women's rights, education, social change, conservation and the environment, public health, and international relations, and those interested in post-graduate education are strongly encouraged to apply.
UTC media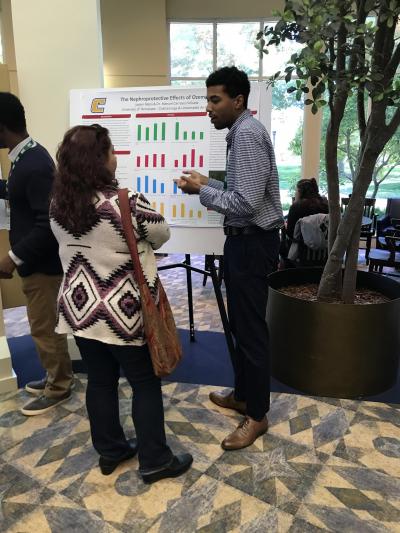 Information about UTC Internship Partner School for International Training (SIT)
SIT Study Abroad Virtual Internships 
SIT offers programs focused on critical global issues.
Internship Foci: Women's Rights & Resilience in Conflict Situations; Education & Social Change Organizations; Environment, Conservation & Ecosystems; Environment, Development & Sustainability; Public Health in the Tropics; Finance or Social Entrepreneurship; Sexuality, Gender & Non-Government Organizations; Diplomacy, Conflict Resolution & International Relations; Development & Gender
7-week internship
5 credits (included in program fee)
Program Details
Program participants complete a virtual international internship, which incorporates research skills into the work experience and coursework. The research component is determined by several factors including the internship site (see below), site supervisor, and the student's research interests. Regardless of the site location, all internships focus on learning and applying research skills to the work experience. Students have the option of completing a mini research project under the direction of the site director, or simply focusing on sharpening research skills. In addition, students currently involved in an UR project on campus may design the internship experiences around current research goals. For more information about the research component, please contact the Office for URaCE.
Eligibility
Student Applicants must:
Be current, degree seeking undergraduate students in good academic standing.
Must have a minimum GPA of 2.5.
Successfully complete all application steps listed below.
Application Process
Before You Apply:
Make certain you meet the eligibility requirements listed above.
Review the site descriptions on the SIT website carefully to learn about the nature of the internship experience, research component, and intern responsibilities.
APPLICATION PROCESS
Review the internship options (see below) and select a site.
Submit the Office for URaCE pre-application interest form. To be considered for a summer virtual internship position, you must submit the pre-application form by Mon. Feb. 15, 2021.
Meet with the UTC Study Abroad research internship program coordinator to discuss the application process, funding opportunities, and program responsibilities.  Once you submit the pre-application you will be contacted to schedule a meeting.
Complete the program interview with UTC internship directors.
Submit the UTC Office of Study Abroad virtual abroad application. NOTE: Students selected to participate in the program will receive the SA application link via e-mail once steps 1-4 above have been completed.
Note: Students selected to participate in this program must complete the Office for URaCE pre-internship training (to be completed virtually before the internship commences).
Participant Responsibilities
During the Internship
Follow UTC policies and code of conduct.
Follow SIT Study Abroad policies and code of conduct.
Successfully fulfill all responsibilities and requirements of the internship experience.
At the Conclusion of the Internship
Submit post-experience materials to the Office for URaCE.
Present research internship findings at RD 2022.
Complete Office of Study Abroad Post-Study Abroad Scholarship Requirements.
Summer 2021 Site Locations:
Cameroon: Virtual Internship in Women's Rights & Resilience in Conflict Situations
Chile: Virtual Internship in Education & Social Change Organizations
Ecuador: Virtual Internship in Environment, Conservation, and Ecosystems
India: Virtual Internship in Environment, Development & Sustainability
Kenya: Virtual Internship in Public Health in the Tropics
Malaysia: Virtual Internship in Finance or Social Entrepreneurship
Netherlands: Virtual Internship in Sexuality, Gender & Non-Government Organizations
South Africa: Virtual Internship in Diplomacy, Conflict Resolution, and International Relations
Vietnam: Virtual Internship in Development & Gender
UTC media