The University of Tennessee at Chattanooga Library's scholarly communications services covers scholarly communications issues, awareness and adoption of affordable course materials, and open publishing at UTC. Scholarly communications services include providing information, training, and consultations about copyright, Fair Use, open licensing, Data Management, Author Rights, Open Publishing, and more. Contact Scholarly Communications Librarian Rachel Fleming at [email protected] for inquiries.
Scholarly Communications is an umbrella term that refers to the processes and issues related to publicly sharing scholarly research. Included under the term are researcher's ownership and control of their research findings (author rights), economics and business models of scholarly publishers, measuring the impact of scholarship, the open access movement in scholarly journals and open scholarship, and more. Also included on this page are affiliated items, such as managing your scholarly identity online.
If you don't find the information you're looking for on this page or would like additional assistance with an inquiry, please contact us for assistance.
The Scholarly Publishing Cycle
UTC media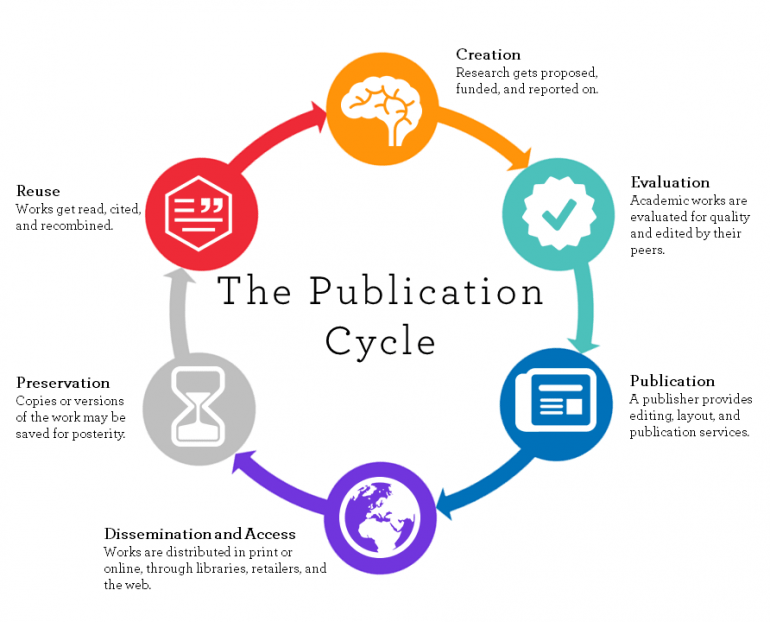 Scholarly Communications
In 2003, ACRL defined scholarly communication as "the system through which research and other scholarly writings are created, evaluated for quality, disseminated to the scholarly community, and preserved for future use. The system includes both formal means of communication, such as publication in peer-reviewed journals, and informal channels, such as electronic listservs." Scholarly communication is frequently defined or depicted as a lifecycle documenting the steps involved in the creation, publication, dissemination and discovery of a piece of scholarly research.
Throughout the scholarly communications cycle, there are many actors and stakeholders at each stage. Invested parties include researchers themselves, funders, peer reviewers, publishers, and consumers of research. The Library is an active participant in the scholarly communications cycle; not only by providing access to research and scholarship, but also by supporting each step of the process.
Creation

Creation

The UTC Library provides all types of research assistance from online tutorials, workshops, and one-on-one consultations. All are available to students, faculty, and staff.

The Office of Research and Sponsored Programs provides support to faculty and staff in seeking funding support for research programs.

The Office for Undergraduate Research and Creative Endeavor provides support for undergraduate research, both for undergraduate students interested in opportunities, and for faculty interested in engaging with undergraduates on research projects.

The Office of Research Integrity oversees administration of the Institutional Review Board and the Institutional Animal Care and Use Committee, and provides training on both of these processes.

The University of Tennessee provides EndNote Citation Software at no cost to students, staff, and faculty. Use EndNote to manage your research sources and easily format citations for submission. The Library provides training and support for the use of EndNote.

UTC uses Digital Measures Activity Insight to track faculty accomplishments, including research and publication.

Evaluation

Evaluation

Evaluating Publishers and Publications

When considering where to submit an article or monograph, researchers should carefully assess the potential venues for publication. The library provides tools and guidance to access the quality and impact of publishers and publications. Together with input from your departmental colleagues and mentors, these can help you evaluate potential publishers.

InCites Journal Citation Reports uses citation data from leading research journals indexed in Web of Science to evaluate and compare scholarly journals.

UlrichsWeb provides comprehensive data on publications including where titles are indexed, whether they are refereed, and more.

Journal matching tools use the title and abstract of your paper and compare them to existing publications and suggest appropriate matches. These services are not an evaluation of the journals they suggest, but a computer's best guess at where your article might fit based on previous publications.

What are "Predatory" Publishers?

There have always been unscrupulous publishers who do not follow acceptable standards of scholarly publishing, and provide little to no peer review or editorial services. With the explosion of online publishing and increasing use of pre-publication Article Processing Charges (APCs), "predatory publishers" has become a common term to identify publishers of low quality, but often high charges. These low quality publishers are becoming more sophisticated, often targeting less established researchers.

Attempts to conclusively identify what makes a publisher "predatory" are difficult, as many traditional publishers display many of the same traits as "predatory" publishers, including quickly progressing through peer review and receiving different tiers of service depending on what you pay. Predatory publishers exploit a scholarly publishing system that increasingly focuses on pay-to-publish models. They may claim to have higher academic standards than they do, and aggressively solicit submissions. They may also list people on their editorial board who are not affiliated with the publisher, outline a peer review process that does not exist, or claim to be indexed in databases that they do not actually appear in. If you are invited to submit to journals or to become an editorial board member, critically evaluate the publisher's legitimacy.

Reputable publishers follow the Committee on Publication Ethics (COPE) Principles of Transparency and Best Practice in Scholarly Publishing, and are often members of industry associations. If you're unsure of the quality of a publisher, use the Think-Check-Submit checklist, or this more comprehensive Journal Evaluation Rubric from Loyola Marymount University.

Refereeing and Peer Review

Peer review is an important part of the scholarly publication process. Both journals and reviewers have a responsibility to ensure the integrity of the process. COPE offers ethical guidelines for peer reviewers, as well as a flowchart outlining what to consider when you are asked to peer review a manuscript. Remember that all of your contributions to the scholarly publishing cycle can be tracked in Digital Measures.

One major aspect of the movement for Open Science movement is one towards Open Peer Review, which aims to adapt peer review models to align with the aims of open science including more transparency as greater participation in the review process. Post-publication review is also tracked by Retraction Watch in the Retraction Watch Database.

Publication

Publication

Traditional Publishing

The "traditional" scholarly publishing model developed along with the modern western University system of scholarship. Society and commercial publishers help to disseminate the work of researchers to their peers and the general public. In the traditional model of publishing, scholars produce research and evaluate the research of others. Publishers manage evaluation and editorial workflows and publish and distribute works, which libraries at the institutions where scholars are employed pay for through purchases, subscriptions and licenses. As research and scholarship has expanded in scope and complexity, academic and scholarly publishing has proliferated in volume and cost. The costs of scholarly journals have increased dramatically since the 1980s, creating a barrier between researchers and the scholarship they need to complete their work at most colleges and universities in the United States as well as globally.

Open Access Publishing and Open Scholarship

The availability and accessibility of new technologies offers an opportunity to re-form the scholarly communications landscape. Open Access publishing aims to create a research system where scholarly works are immediately and freely available online to researchers. Open Access publishing and open scholarship comes in a number of forms:

Open Access Repositories are central, disciplinary, or institutional repositories which make content freely available. PubMed Central, arXiv, and UTC Scholar are examples.
Open Access Journals provide immediate open access to all of their articles, and "Hybrid" journals provide some open access articles along with other articles which are only available to subscribers.
"Gold OA" refers to publication of an article in an open-access journal or a hybrid journal.
"Green OA" refers to an article published in a traditional journal which is also archived by the author in an open access repository.

Open Access scholarship provides many benefits:

Open Access makes research available to the public, and researchers across the country and the world.
Open Access works have a greater impact than traditionally published works; they are read and cited more frequently.
When publishing Open Access, researchers retain their copyright and have more control over their works.
Funding agencies, both public and private, increasingly require Open Access publication of the research they sponsor. The SHERPA/Juliet database includes funders' conditions for open access publishing, and you can use SHERPA FACT to check if those OA policies can be achieved with a particular journal.

Is Open Access Scholarship Reputable?

Just as there is a wide range of quality among traditionally published works, Open Access scholarship and Open Access journals vary in quality. Reputable Open Access publishers follow the industry guidelines established by the Committee on Publication Ethics, and can be found in the following membership lists or directories:

Use the Think-Check-Submit checklist, or this more comprehensive Journal Evaluation Rubric.

Costs of Publication

Whether traditional or open access, there are costs associated with creating and publishing scholarly works. Society memberships, foundations, and philanthropy are some methods of supporting publications. In the traditional publishing model, costs are generally recovered through a "reader-pays" model where individual or institutional subscription fees are charged. Although most Open Access Journals do not charge authors to publish, many prominent OA publishers require that authors pay an Article Processing Charge (APC) to cover the costs associated with publication. Even in traditional publishing, there have long been publishing fees such as page fees for long articles or supplemental information and author fees for color figures or additional figures. Fees assessed to authors can be paid from research accounts, research grants, department or college funds, scholarly societies, or other sources.

Article Publishing Charges

In partnership with the Office of Research and Sponsored Programs, the UTC Library offers an Open Publishing Support Fund which covers article processing charges for eligible peer-reviewed, open access journals. Funds are available on a first-come, first-served basis, with a maximum award of $2500 per request.

University of Tennessee APC Discount Agreements:

Taylor and Francis: a 10% discount on APCs for articles for which University of Tennessee faculty and staff are corresponding authors.
SpringerOpen and BioMed Central: a 15% discount on APCS for articles for which University of Tennessee faculty and staff.
 Cambridge University Press: a full APC waiver for articles in gold and hybrid journals for which University of Tennessee faculty and staff are corresponding authors.

Open Access Publishing at UTC

UTC Scholar provides open access to the University of Tennessee at Chattanooga's research, creative works, and publications. In addition to Undergraduate Honors Theses, Masters Theses, and Doctoral Dissertations, UTC Scholar hosts journals, conference proceedings, research paper series, open data, and open access books. If you have questions about creating a new project using UTC Scholar contact us at [email protected].

Dissemination and Access

Dissemination and Access

Author Rights

Scholars are often a little surprised to hear that:

A copyright comes into existence the moment a copyrightable work is created - no registration is necessary for a copyright to exist,

The copyright usually automatically belongs to the creator (or creators) of the work, and

Status as an employee for an organization, working on commission, and collaborative creation with others, as well as funding sources for the work, can change and affect copyright ownership.

In addition to copyright law, University policy (or employer policy, more broadly) may affect ownership in works that are created as part of someone's job duties. The University of Tennessee Statement of Policy on Patents, Copyrights, and Other Intellectual Property defines the ownership of material produced by University employees. Further clarification of the policy is available on the Walker Center for Teaching and Learning's Intellectual Property page, and from the UT Research Foundation.

The policy states "The University does not assert any rights to inventions not involving the substantial use of funds or facilities administered by the University and not a part of the employee's University duties." and "The University of Tennessee recognizes and reaffirms the traditional academic freedom of its faculty to engage in scholarly activity and to publish freely without restriction. In keeping with this philosophy, the University will not construe the payment of salary from unrestricted funds, nor the provision of office or library facilities, as constituting substantial use of University facilities or funds … except for those situations where the funds were paid specifically to support the development of an invention(s) and/or creation(s)."

It is important for creators to understand the rights they have to the works they create, and how to manage those rights when making decisions about how to distribute and use those works throughout their career.

Asserting Your Copyright

You do not need to register your copyright or even place a copyright notice on the work to enjoy the protection of the copyright law. Materials are copyrighted as soon as they are created.

It is a good idea to put a copyright notice on your work. A simple statement will let others know that the work is covered by copyright and that YOU hold the rights. The customary form is the word "copyright", the year, and the name of the creator.

Copyright 2001 by Prof. Ima Mentor

You can establish the strongest legal claim by paying a nominal fee and registering your copyrighted materials with the US Copyright Office. Forms for registering copyright may be downloaded from the US Copyright Office website.

The Creative Commons organization offers a variety of licensing options for creators who would like to retain some copyright protection but still allow others to use and build upon their work.

Maintaining Your Rights

When you create scholarly works, you control the copyright of those works. When publishing your scholarly work, you might be asked to transfer some or all of your copyrights to the publisher. Understand that when publishers present author agreements or contracts that include transfer of copyrights, you are not required to sign these agreements as-is. You can negotiate with publishers about which rights you are willing to transfer. Your copyright includes the unrestricted right to copy, distribute, or repurpose your own work and the ability to give others permission to do so. Transferring your copyright to a publisher can mean losing the right to distribute your own work to colleagues and collaborators, or incorporating it into future publications.

Open Access publishing is your best bet to maintain complete control of your copyright. Most open access publishers only ask for a non-exclusive distribution license to your work, you maintain all of your copyrights including the right to distribute your work or license the distribution of your work.

If open access publishing is not possible, you can use the SHERPA/RoMEO database to look up the common permissions included in publisher agreements.

SPARC offers a page of practical guidance when submitting journal articles, and an author addendum template which you can use to modify your copyright transfer agreements with publishers.

If you are the author of a book which has fallen out of print or is not doing well commercially, you may have the ability to reacquire the copyright to your material and the right to share the work more freely. Learn more about rights reversion from the Authors Alliance.

For any assistance in understanding your rights as a creator and interpreting publisher license agreements, contact us at [email protected].

Exercising Your Rights

Increase the availability and impact of your scholarly works by posting open access versions as allowed in your publishing agreements. If you are unsure of the rights you have to self-archive versions of your published works, check the SHERPA/RoMEO database for the common rights granted. Use OpenDOAR, the Directory of Open Access Repositories, to locate an appropriate disciplinary repository where you can submit your work. If you have Open Educational Resources you would like to distribute through UTC Scholar, contact us at [email protected].

Preservation

Preservation

Publications hosted by and materials deposited in UTC Scholar ensure that the research community has long-term access to the data and that best practices in digital preservation will safeguard the files. For more information about digital preservation in UTC Scholar, visit our Data Management page.

The library community is invested in the preservation of research, both digitally and in print. Collaborative projects such as PORTICO and LOCKSS have the goal of preserving digital works, projects like HathiTrust work to improve access and promote preservation of scholarly materials in digital and print. Universities across the country participate in shared print repositories and cooperative retention projects.

(Re)Use

(Re)Use

Measuring the reach and impact of scholarly works is an important part of assessing scholars, scholarship, and scholarly journals. Better understanding how each metric operates will allow you to contextualize the use, re-use, and influence of your work. Citations are analyzed on many levels, including journals, articles, and individuals. Explore metrics in depth at the Metrics Toolkit.

Researchers can support the use of their scholarship, and measure their total impact by maintaining a unified author identity that disambiguates and collates their publications, grants, and other works.

Journal Metrics

Each of these metrics are figured differently and use a different basis for items published and citations counted. You should not compare across statistics, and contextualize the measures using benchmarking in your discipline or subdiscipline.

InCites Journal Citation Reports reports the Journal Impact Factor, a measure of the annual average number of citations to recent articles published in a given journal. Citation data is drawn from Web of Science.

CiteScore metrics from Scopus is a competitor to the Journal Impact Factor, using three years of citation data from Scopus.

Google Scholar metrics rank publications based on five years of data from websites that follow Google's inclusion guidelines, providing an h-index and an h-median.

Article and Author Metrics

Increasingly, article and author metrics are being used in addition to journal metrics to paint a more detailed picture of the total reach of an author's work and the combined output of a research group or university.

Citation counts form the core of article and author metrics. Citation counts can be found on individual articles in Web of Science, Scopus, Google Scholar, and many other databases. Note that these citation counts may draw from different data and report back different results.

The NIH offers iCite, a suite of bibliometrics based on articles in PubMed. Google Scholar produces an h-index and an i10-index for authors, measuring the volume of impactful work.

Alt-metrics offer additional ways to measure the impact of individual works. Alt-metrics were developed in response to journal-level metrics to include the increasing ways that research can be shared in a networked environment. In addition to citation counts, alt-metrics measure use through views, downloads, and social bookmarks as well as social media mentions and shares. Alt-metrics tools from altmetric.com and PlumX can be found associated with individual articles in several databases. Download statistics are often available from the journal hosting platform.

Maintaining your Scholarly Identity Online

Managing your online identity can help improve the visibility and impact of your work. Ensuring that your articles are identified to you and not someone with whom you share the same or part of a name allows others to associate only the works on which you are an author.

ORCiD is a unique persistent digital identifier that is associated with you, and can follow you across institutions. ORCiDs are used in many journal publications and grant proposals (among other uses), and integrate with other systems to uniquely identify your contributions to scholarship.

We recommend you use ORCiD as a personal identifier, but it can be helpful to also monitor other author pages. Other author identifiers include Web of Science ResearcherID, Scopus Author Profile, Google Scholar profile, and any other social platforms you may use, such as ResearchGate or Academia.edu.

UTC uses Digital Measures Activity Insight to track faculty accomplishments, including research and publication. Digital Measures can import information exported from ORCiD or other author profiles in BibTex format.
This web site presents information about copyright law. The UTC Library make every effort to assure the accuracy of this information but does not offer it as counsel or legal advice. Consult an attorney for advice concerning your specific situation.
Material on this page was adapted from the University of Minnesota Copyright Services website and the Association of College and Research Libraries Scholarly Communication Toolkit website under Creative Commons Attribution-NonCommercial Licenses; material was also adapted from the University of Winnipeg's Research and Scholarship Support website and The University of Tennessee at Knoxville Scholars' Collaborative Scholarly Publishing Toolkit under Creative Commons Attribution Licenses.