Nurse Practitioner Post-Master's Certificate
UTC media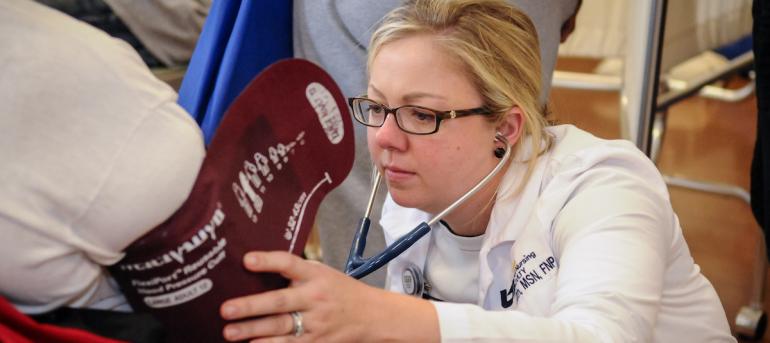 The Family Nurse Practitioner (FNP) and Acute Care Adult Gerontology Nurse Practitioner(ACAG) programs are transitioning from the Masters in Nursing (MSN) to the Doctor of Nurse Practice (DNP) degree offering.  
The August 1 deadline was the final opportunity to enroll in UTC's post-master's offering. For more information, contact [email protected]
---
The School of Nursing offers a post-master's (MSN) certificate in Acute Care Nurse Practitioner Adult Gerontology (ACNP-AG) and in Family Nurse Practitioner Lifespan (FNP). Upon completing the post-master's requirements, the graduate will be eligible to take one of the national certification exams offered by the American Academy of Nurse Practitioners (AANP) or the American Nurses Credentialing Center (ANCC).
---
Admission Requirements
Applicants must meet all entry criteria for admission to the MSN program except for the MAT or GRE requirement.  Post Master's Certificate students in either specialty would typically be required to take the concentration courses in their desired specialty along with health promotion, advanced pathophysiology, advanced health assessment and advanced pharmacology.  However, some Post Master's Certificate students may require more or less coursework depending upon courses taken.
Deadline
The deadline for application to the post-master's Family Nurse Practitioner certificate program was August 1, 2021 with classes beginning the following January.
---
Expenses
Standard graduate fees and tuition apply. There is $100/credit hour tuition differential for any nursing course taken in addition to the cost of books and supplies.
Follow NP on Social Media