Combining course sections in Canvas is called Cross-listing. Cross-listing may be helpful for instructors who teach multiple sections of the same course same modality and want to combine the enrollments/sections into one course in Canvas.
Cross-List requests must be submitted no later than two business days before the start of the semester, and should be done before you make changes to any course content (specifically any graded assignments). Please note: cross-lists cannot be done after classes have started.
---
It is recommended that only courses of the same modality be cross-listed.
---
Canvas Cross-Listing Process:
Teachers in Canvas choose one of their course sites to serve as a "Parent" course.
The 'Parent' course will contain enrollments from all Cross-Listed or "Child" courses.

Once the courses are cross-listed, teachers and students will only see the 'Parent' course on their Canvas Dashboard​.
Because of this, you need to choose which of your courses to be cross-listed will become the 'parent' course. Once your courses are cross-listed, students will see the name of the parent course (e.g. SP19.ENGL.1010.20001) on their Canvas dashboard, and in their list of courses. Inform your students of this change. Canvas allows both instructors and students to create a 'nickname' for courses. Instructions for creating a course nickname can be found HERE.

After you cross-list:
Teachers and Students will only see the "Parent" course on their Canvas Dashboard.
Students who registered in your cross-listed course will automatically appear in the 'Parent' course.
UTC media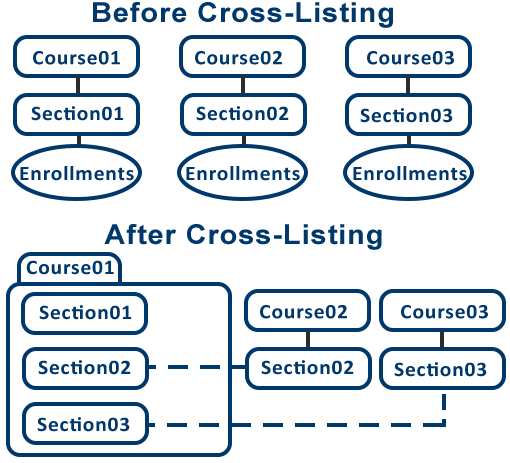 If you would like to cross-list your courses, please access and complete the Canvas cross-listing form by clicking the button below.