Supply Chain Lunch and Learns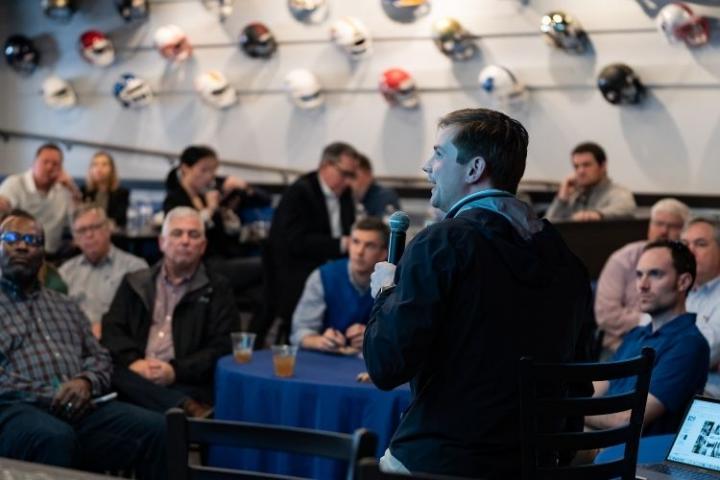 Collaborate and Share Ideas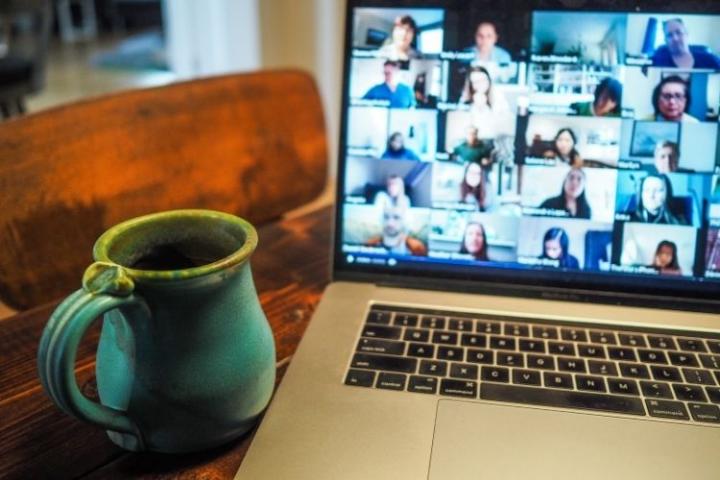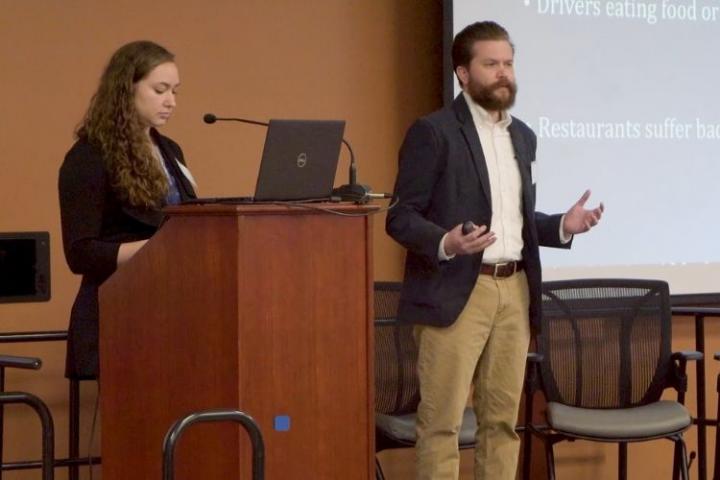 Learn Industry Best Practices
Upcoming Virtual Session
Supply Chain Network Design: A Look at the Collaboration Between TVA and Ford to Develop New Networks in West Tennessee
January 14, 2022 | 12:00 p.m. - 12:30 p.m. | Free
Ford Motor Company's investment to build electric pick-up trucks in West Tennessee has created a need to develop new supply chain networks for both the vehicles and the batteries that power them. Chris Berryman, who is a target market specialist for TVA Economic Development, will talk about the collaborative partnerships that were established with TVA to support this new supply chain network development as well as how TVA will continue to support the project in the future.
Agenda:
11:50 a.m. - 12:00 p.m. | Networking
12:00 p.m. - 12:30 p.m. | Presentation
Presenter:
Chris Berryman, Target Market Specialist, Tennessee Valley Authority Economic Development
Chris Berryman is a target market specialist for TVA Economic Development. His primary role is to actively recruit companies in transportation-related industries, including automotive OEMs and suppliers, to locate and expand in TVA's seven-state region. Chris is a member of various state economic development councils and automotive manufacturing associations. He is a graduate of the University of Tennessee, where he earned two bachelor's degrees in biology and the other in natural resource management as well as a master's degree in environmental policy and economics. He is also a graduate of the National Development Council, earning certification as an economic development finance professional. Chris resides in Nashville, Tennessee.
2021 Past Presentations
January 22, 2021: SCM Big Six for 2021

The Six Biggest Challenges and Opportunities in 2021

Dr. Glenn Richey, Chair of Auburn University's Department of Supply Chain Management, will join us to discuss what he calls his SCM Big Six for 2021. Drawing from his deep understanding of unplanned disruptions, network complexity, growth of technology, and importance of international partnerships; Dr. Richey will speak openly about the six biggest challenges/opportunities he believes should be on every managers' mind in 2021 and beyond. Following a quick rundown of the Big Six, Dr. Richey will open the floor for questions about the future in this interactive lunch and learn.

Presenter Details:

Robert "Glenn" Richey, Jr., Ph.D.

Glenn Richey is Harbert Eminent Scholar in supply chain management, chair of the department of Supply Chain Management, and research director in the Center for Supply Chain Innovation at Auburn University. His role is to help advance supply chain management research and outreach in the Harbert College of Business at Auburn University and beyond. Richey engages in industry-based research and enjoys building research and student relationships between academia and practice. In addition to his formal education, Richey has an executive certificate in international business from the University of South Carolina. Prior to entering academia, Richey worked for 10 years in managerial positions across several functional areas including procurement, sales, retail consulting, finishing/manufacturing, warehousing, and logistics/supply chain operations for two companies: Scott Paper Co. and Genuine Parts Company's S.P. Richards Division.

February 12, 2021: Where We Are and Where We Are Going

Where We Are and Where We Are Going

David Caines, CEO of Kenco Logistics, will be joining UTC to discuss key influence in the supply chain. In our conversation with David, he'll provide an industry update utilizing data points from the Logistics Management Index. He will also share his insights on the following:

Freight: Capacity limitations and driver shortages Warehousing: The impact that e-commerce is having on capacity and pricing Transportation: Volatility in the market Labor: Where are the opportunities, challenges, and cost E-commerce: Affecting every sector and evolving every day

David Caines, CSCP
COO & President of Kenco Group

David Caines is COO of Kenco Group, a leading provider of distribution, transportation and supply chain intelligence solutions. He is responsible for the strategic direction of the company as well as its operating and financial performance.

Caines joined Kenco in 2002 with responsibility for the Cummins account in Memphis, TN. Since then he has held positions of increasing responsibility within the organization. He is currently responsible for all of Kenco's operating contracts, which encompass over 100 facilities, 4,500 employees, and 30 million square feet of warehouse space. Caines is a Six Sigma Black Belt and has been trained in Lean engineering. His key initiatives include the development of new solutions, direct ongoing strategic planning initiatives, assist with the installation of Kenco's operating system, and oversee the stewardship of the company's culture.

His education includes a Bachelor's degree in Business Administration and Accounting from Covenant College; and a Master's degree in Business Administration from Duke University in Durham, NC. David is a member of CSCMP, WERC and the UT Executive Supply Chain Forum. He also serves on the boards of various educational and nonprofit institutions, including the University of Tennessee's Global Supply Chain Institute; Covenant College; See Rock City, Inc.; and Chattanooga Preparatory School.

March 12, 2021: Autonomous Trucks and AI: What's Driving the Future of the Trucking Industry?

Matt McClelland, Innovation Strategist for Covenant Logistics, will be joining Chris Barnes and UTC to discuss Autonomous Trucking and how this technology is revolutionizing the transportation industry. In our conversation with Matt, he'll provide us with insights on how this new technology is currently being deployed and where the industry is heading. A few topics you won't want to miss:

Why is Over-The-Road (OTR) trucking conducive to AI and what are the limitations? What impact is the evolving technology having on supply chains? Who are some of the key industry players in this space? What jobs are being created by this new technology and are there any challenges filling them? Where would someone begin if they wanted to get more connected to this exciting new field?

Presenter Details:

Matt McLelland
Innovation Strategist, Covenant Logistics

Matt McLelland currently serves as an innovation strategist at Covenant Logistics. Prior to his role at Covenant, McLelland pioneered innovations in logistics and transportation services at Kenco Group. Previously, McLelland worked as director of technology for the Maclellan Foundation and Generous Giving, and four years with PeopleSoft, a leading software provider of Enterprise Resource Planning.

McLelland received his Bachelors of Business Administration in Management Information Systems from the University of Georgia.

April 9, 2021: Supply Chain Leadership: The Do's and Don'ts of Effectively Managing Change

The adage, "the only thing constant is change" has been on full display, lately. If there is one thing that we've all learned in the last year, change is a constant consideration for an organization. But how is it managed? Better, yet, how is it managed successfully? Join us for our April Supply Chain Lunch and Learn, when we will hear from two leaders, who have the responsibility for influencing change in their manufacturing operations and supply chain processes. Facilitated by Chris Barnes, Gene Pledger (Supply Chain Director, DEF Equipment Sales) and Enrique Vizoso (COO, Brown Industries) will share successful change management strategies that have positive outcomes and big impacts on organizational performance. They will also share some words of wisdom on how to avoid costly change management mishaps.

Presenters:

Gene Pledger, CSCP

Director, DEF Equipment Sales

Enrique Vizoso

COO, Brown Industries, Inc.

May 14, 2021: TDOT Discussion of Freight Planning in Tennessee

Chattanooga has been a transportation hub since the mid-19th Century. Back then, it was railroads. Today, we are accustomed to seeing 18-wheelers moving through our city by the hundreds each day. The trucking industry is undergoing even more changes that will make freight mobility different in the future. With advances in autonomous trucking, alternative fuels, and infrastructure needs, the Tennessee Department of Transportation is looking at ways to address the new needs of the transportation industry.

Presenter:

Amy Kosanovic

Tennessee Department of Transportation

Amy Kosanovic is a Freight Planning Supervisor in TDOT's Freight & Logistics Division. Amy manages all facets of freight planning for the division, including updates to the Multimodal Freight Plan, the State Rail Plan, and prioritization of freight projects. Amy's unit also oversees the Short Line Rail Rehabilitation Grant program and Rail Connectivity Grant program.

June 11, 2021: Value Stream Mapping and Other Lean Tools for the Supply Chain Enterprise

When conducting a value stream mapping exercise, the process can be an eye-opening and painful experience. Why? Because you will likely learn that your metrics from department to department do not mesh. Production has different metrics than sales. Marketing analyzes data differently from shipping. When you go through a Value Stream Mapping exercise, you will find that most have not heard the directives from leadership: shorten the time between order and customer delivery, reduce cost, and maximize return.

In this session, we will discuss the journey of Lean thinking from a leading expert, Mark Baker, former Executive Director of the Shingo Institute at Utah State University. He will share a bit of his history and some of this favorite Lean Tools.

Presenter:

Mark Baker

University of Tennessee, Knoxville

Mark Baker is a lean transformation and quality expert with over 35 years of experience. He has guided organizations around the world through their Lean journey. Industries Baker has served include steel, glass automotive, medical device, hospitals and healthcare, and financial services. Baker's transformative engagements range from the CEO and the Board Room down to the operational floor. His past roles include Executive Director of the Shingo Institute, Global Vice President of Quality and Enterprise Excellence at Saint-Bobain, and a mechanical engineer at Honda Motor Company.

August 13, 2021: Global Challenges Require Global Solutions: How Volkswagen Is Managing the Semi-Conductor (Microchip) Shortage

If you have studied supply chain, you will have undoubtedly heard the key concepts of production planning, supplier relationship management, and supply chain visibility. Effectively managing these key elements has allowed Volkswagen to more precisely manage the challenges created by the global semi-conductor challenge. During our August Lunch & Learn, we will learn how decision-making and inventory allocation are being heavily influenced to meet customer demand on a global scale.

Presenter:

Marty Ross

Senior Manager of Purchasing Strategy, Volkswagen of America, Inc.

Marty Ross joined Volkswagen in 2012 and served in roles such as Manager and Senior Manager of North America Purchasing before starting his current role, Senior Manager of Purchasing Strategy. Ross is responsible for leading the organization on strategic topics such as trade compliance, reducing CO2 in the supply chain, and driving sustainable cost performance in the region. Prior to joining Volkswagen, Ross spent 10 years at Honda Motor Company, where he held several positions in Procurement (including New Projects Manager for Honda's light-truck development). Ross holds a bachelor's degree in aviation management from Auburn University and a master's degree in business administration from Florida State University.

September 12, 2021: Supply Chain Talent: What Does the Industry Need, and What Do Employees Want?

Each year, we focus one Supply Chain Lunch and Learn session on the state of employment in the supply chain space. This year, we are looking at the supply chain job market and getting a glimpse into the current and future state of the profession. The demand for supply chain talent has never been higher, and the output from educational institutions has never been better. What is driving recruitment and retention practices? What do organizations need to do to be competitive?

Presenter:

Dr. Brian Gibson

Gibson serves as the Wilson Family Professor and executive director of the Center for Supply Chain Innovation at Auburn University. Prior to joining the Auburn faculty in 1999, he held the position of associate professor and director of Southern Center for Logistics and Intermodal Transportation at Georgia Southern University. His academic experience is complemented by eight years of retail distribution management experience.

Gibson teaches supply chain management courses in Auburn's undergraduate, graduate, and executive MBA programs. He is the developer of innovative distance learning programs for which he received the Council of Supply Chain Management Professionals' 2009 Teaching Innovations Award. He is also the recipient of numerous teaching, research, and service awards.

October 8, 2021: Supplier Relationship Management: Your Guide to a Healthy, Happy Manufacturing Life

Join us in October as Mike Deng, Senior Manager with Deloitte Consulting, discusses the ins and outs of the digital supply chain transformation, the impact that the pandemic has had on supplier relationships, and strategies to improve supplier relationships when they go south. Mike will delve into the things that you can do to improve your sourcing strategy as well as how to tell if your supplier relationship isn't as good as it ought to be. He will also include findings from Deloitte's 2021 Chief Purchasing Officer Survey.

Presenter:

Mike Deng

Mike Deng is a Digital Supply Chain thought-leader from Deloitte Consulting with extensive global strategy and operation consulting experience for Global Fortunate 500 companies specialized in supply chain strategy, digital supply network transformation, strategic sourcing, and cloud procurement. Mike has 15 years of global project experience leading large digital supply chain and procurement transformation programs to achieve outstanding, tangible top-line and bottom-line results. Mike is also an active contributor to the ASCM SCOR model and leads the development of the next generation digital supply networks model—Digital Capabilities Model (DCM).

November 12, 2021: Economic Development: How Vision, Strategy, and Partnerships Are the Recipe for Success

In November, we will learn how Hamilton County is embracing a possible economic growth opportunity through the purchase of the McDonald Farm site in North Hamilton County. If finalized, this purchase has the potential to create new jobs, expand the supply chain industry, and alleviate supply chain congestion. Join us as Russell Moorehead shares information about why this expansion is needed and why it would be valuable to the Chattanooga region. He will also share his thoughts on how the approach used by Hamilton County and its economic development partners created the strategy needed for this type of economic growth.

Presenter:

Russell Moorehead, VP Chattanooga Office, Croy Engineering, LLC.

Russell Moorehead is a UTK graduate who holds a bachelor's degree in Civil Engineering. He has worked in both public and private sector roles in which he supported economic development opportunities in our region. Russell opened Croy Engineering's Chattanooga office in 2019 and is currently assisting Hamilton County with site consideration of the McDonald Farm.
About CPE's Supply Chain Lunch and Learns
CPE and the Chattanooga Regional Manufacturing Association partnered together in 2018 to host the monthly Supply Chain Lunch and Learn Series. Our goal is to provide a space for Chattanooga's supply chain and logistics community to come together and learn. Our goal is to provide engaging and information sessions that add value to organizations.
If you have a topic idea or would like to present, please contact John Freeze at [email protected]. We are always looking for presentations that are timely and relevant to the industry.