Start Your Phlebotomy Career in 11 Weeks!
Prepare to Earn CPT Certification That Leads to an In-Demand Job.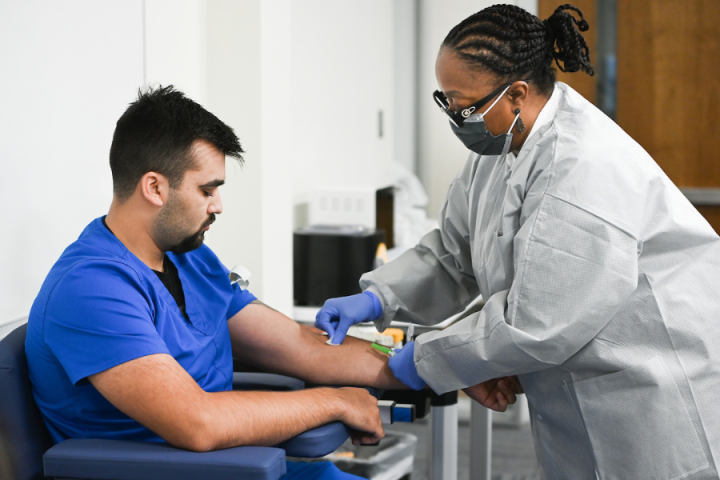 Get Certified and Find Employment Through Our Employer Partners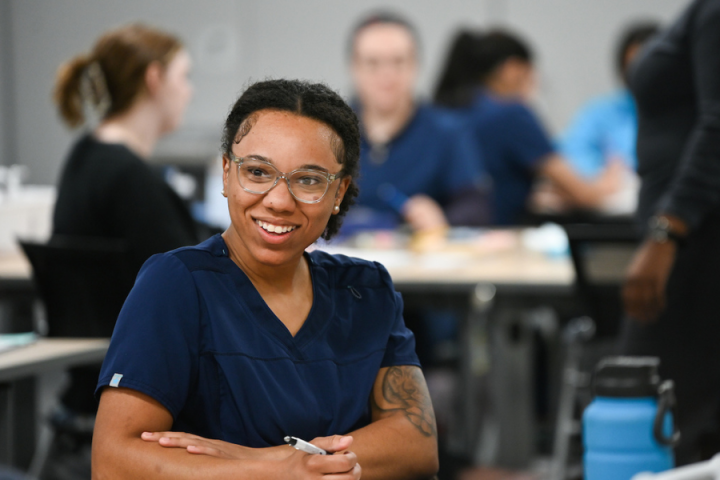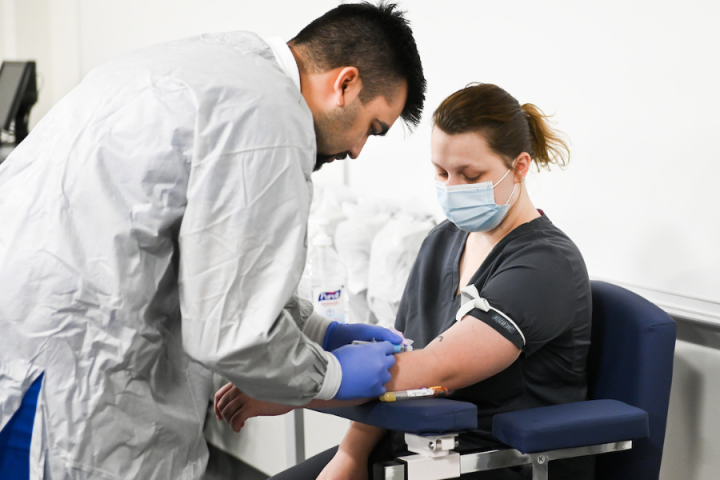 98% Certification Pass Rate for 2021
Becoming CPT-certified can often be expensive, time-consuming and exhausting. At UTC, we have developed an affordable Phlebotomy Tech certification program that will prepare you for a job in as little as 11 weeks!
Next Steps:
1. Enroll in Our Phlebotomy Tech Academy
2. Pass Your CPT Exam and Earn That Sweet Certification
Do you still have questions?
Academy at a Glance
Program Format:
Face-to-Face
Length
11 Weeks
Program Hours
80 hours + Optional Clinical Externship
Meeting Days and Times
Student Tuition
$2,395 includes course textbooks, CPT certification exam fee and one set of navy scrubs.
FAFSA is not eligible for this course. Students do not need to be officially admitted to the university to enroll. Payment is due in full upon registering for the course.
Registration Deadline
September 7, 2022
Registration must be complete five days prior to the course start date to receive scrubs.
Become a Certified Phlebotomy Tech in 11 Weeks
In eleven weeks, you will learn the phlebotomy skills needed to pass the Certified Phlebotomy Technician (CPT) exam and start your new career.
Phlebotomy technician certification gives you access to more phlebotomy career opportunities and maximizes how much you can earn.
UTC's Phlebotomy Technician Academy combines in-depth classroom lectures with hands-on phlebotomy training to ensure your career success.
What is a Phlebotomy Technician?
Phlebotomy technicians are vital members of the clinical laboratory team. Their main function is to obtain patients' blood specimens for testing purposes. Other common phlebotomy technician job duties include explaining procedures to patients, bandaging blood draw sites, monitoring patients and sterilizing tools.
Phlebotomy technicians are employed throughout the healthcare system. Employment opportunities can be found in hospitals, medical group practices, public health facilities, veteran hospitals and insurance carriers.
Who Should Enroll?
UTC's Phlebotomy Technician Academy is suited for any individual wanting to enter the healthcare field. Our fast-paced program requires dedication and attentiveness in order to see the full benefits.
Students who want or need patient care hours are strongly encouraged to enroll.
Do I Need Prior Work Experience?
You do not need any prior work experience to participate in CPE's Phlebotomy Technician Academy. The phlebotomy technician program is designed for all experience levels.
Are There Any Prerequisites?
There are no prerequisites to enroll in the Phlebotomy Technician Academy.
However, to participate in the optional externship, phlebotomy technician students must be at least 18 years old and be willing to submit to a background check and drug screening as well as provide immunization records. Certification exams require phlebotomy technician students to be at least 18 years old with at least a GED or high school diploma.
Which Phlebotomy Technician Certification Will the Program Prepare Me For?
Students who complete our phlebotomy tech program will be prepared to sit for the National Healthcareer Association (NHA) Phlebotomy Technician Certification (CPT) exam. Certification is valuable as 93% of employers require or encourage phlebotomy technician certification.
The phlebotomy tech certification exam fee is $117 and is included in the cost of the course.
Some phlebotomy tech certification exams do require a certain level of experience, but the CPT does not require prior experience.
Exam preference is dependent on the employer. That being said, the CPT is one of the most nationally-recognized certifications in the phlebotomy technician field.
The CPT exam has 120 multiple-choice questions with a two-hour time limit. Individuals can apply for and learn more about the CPT exam through NHA's website.
I Want to Earn My Phlebotomy Tech Certification! But Why Should I Prep With UTC?
With UTC, your phlebotomy technician training lasts 11 weeks. Alternate phlebotomy technician programs can take up to two years!
UTC has a strong brand and is ranked among the top 10 of all colleges and universities in Tennessee.
The class size of 20 is small enough to allow individuals to receive the personalized attention they need from the instructor.
What Will I Learn?
Process and procedures for collecting blood specimens for laboratory analysis
All aspects of blood collection and related procedures
The order of draw
Universal precautions
Phlebotomy skills to perform venipunctures completely and safely
Terminology and related anatomy and physiology
How Will I Benefit?
Gain practical, hands-on experience
Participate in an optional externship to hone skills and knowledge
Access to job opportunities and employers
Earn a reputable phlebotomy tech certificate from UTC within 11 weeks
What Is the Clinical Externship?
Students have the option to participate in an externship at a local medical facility. Clinical externships allow students to interact with physicians, staff and patients to better understand phlebotomy technician job responsibilities and gain extensive phlebotomy technician training.
To be eligible for the optional clinical rotation, students must successfully complete the 80-hour program, submit to a thorough background check and drug screening and have up-to-date immunization records. You can view the full required documentation list here.
How Much Money Can I Make with CPT Certification?
The average phlebotomy technician's salary in Tennessee is $31,312 annually or $16.64 per hour. In Georgia, the average phlebotomy technician's salary is $31,262 annually or $16.61 per hour.
What Phlebotomy Technician Jobs Are Available?
Popular job titles that a CPT-certified Phlebotomy Technician is capable of doing include:
Phlebotomy Technician
Phlebotomist
Donor Care Specialist
Patient Care Technician
Donor Support Technician
Laboratory Technician Assistant
Donor Center Technician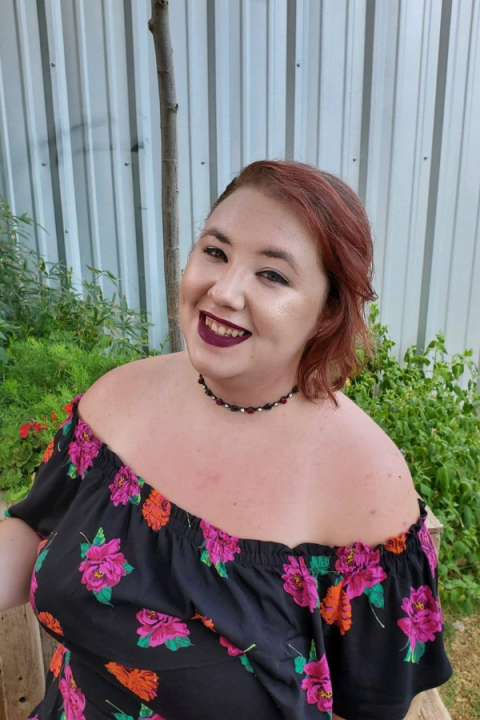 "UTC has an awesome phlebotomy tech program! I really enjoyed the course, and the things I learned in the program have been helpful in my current role."
Jessica Lowrance, CPT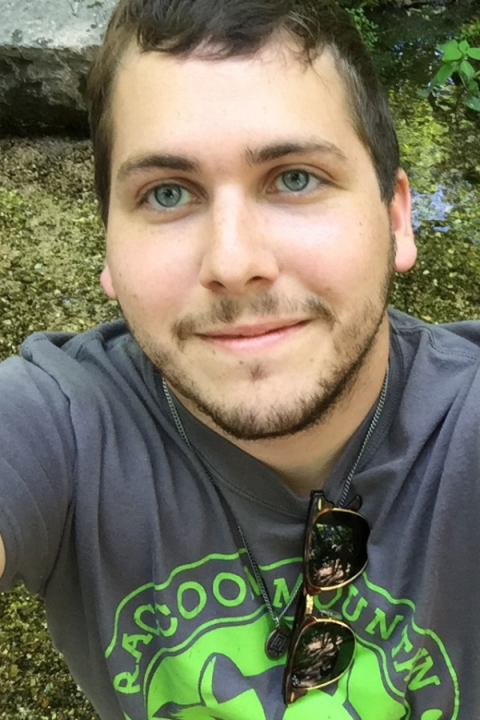 "As a phlebotomy tech, you are able to learn about the people you are helping and make a difference in their healthcare experience. UTC's course helped me gain the confidence to change careers and become a phlebotomy tech. Participating in the program was an awesome experience!"
David Krueger, CPT
Meet the Instructor
Angela Fraley
Angela has over 20 years of experience working as a phlebotomist and lab assistant. In 2004, she received her CMA certification from the Georgia Medical Institute. Later, she received an associate's degree in interdisciplinary studies from Georgia Piedmont Technical College. Angela is passionate about the skillset of phlebotomy and has a love for service. She has been employed by companies such as Kaiser Permanente, Quest Diagnostics, LabCorp and Erlanger Health Systems through which she has advanced her skillset to a level of excellence. She also has gained teaching experience as an Adjunct Phlebotomy Instructor for Atlanta Technical College. She is excited to share her knowledge of phlebotomy with those who attend UTC's Phlebotomy Tech Academy!