CompTIA A+ Training Boot Camp
Advance Your Career Quickly by Prepping for CompTIA A+ Certification
Gain the skills and credentials needed to break into the high-demand field of information technology.
Prepare for the CompTIA A+ Certification Exam
Take your career to the next level with CompTIA's A+ certification, the top credential for associate-level information technology (IT) professionals. The 100% online course will prepare you for CompTIA A+ certifications 220-1001 and 220-1002. You will learn how to install and configure operating systems, expand IT security, troubleshoot software and other common operational procedures.
Job Outlook for CompTIA A+ Certified IT Professionals
Did you know that earning the CompTIA A+ certification can lead to career advancement, personal improvement, skills enhancement and higher salaries? The A+ certification is a key benchmark for employers looking for the best and brightest technicians available. According to PayScale.com, certified IT and computer support specialists with the A+ certification can earn around $56,000 per year on average. The U.S. Bureau of Labor Statistics also lists "Computer Support Specialist" among its most promising career areas, expecting 10% growth in job opportunities over the coming decade.
Choose Your Course
We offer two types of online training options designed to help you earn your CompTIA A+ certification: self-paced, online courses and live, immersive boot camps. Find out which learning format works best for you.
UTC media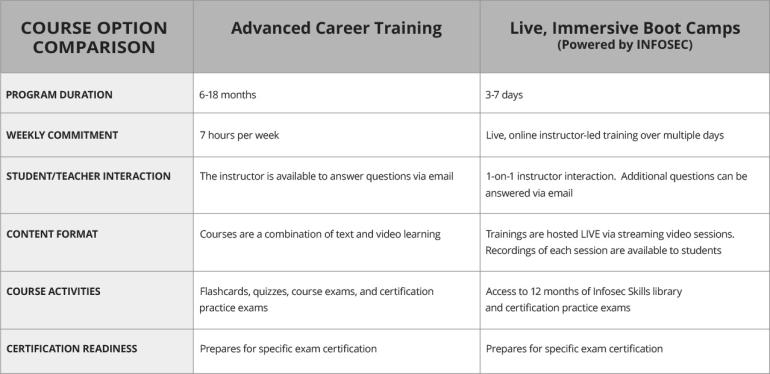 Online CompTIA A+ Self-Paced Training Course
If you prefer a flexible learning format, the go-at-your-own pace model can be a great option. The course consists of a structured outline to guide you through comprehensive, thorough training. Although not taught live, you can interact and correspond with a subject matter expert instructor and participate in a chat room of students taking the course at the same time as you.
Benefits of Self-Paced A+ Training
Train when you want: Choose your start date and your training schedule, whether daily on your lunch break or cramming all weekend long. For further motivation, you can join a study group or connect with others preparing for the exam.
Build an individual training plan: Avoid wasting time learning what you already know and getting tied to a group. Here, you can spend more time focused on the areas you need to learn most.
Prepare at your own pace: With on-demand training, you can take your time preparing for the A+. You will have six months to complete the estimated 290 course hours.
CompTIA A+ Live, Online Boot Camp
Don't be afraid, beginners! This entry-level boot camp provides the most comprehensive approach to earning your CompTIA A+ certification.
This CompTIA A+ Boot Camp is an accelerated training that provides five days of in-depth instruction from an expert instructor. It is designed to teach you the skills required to become a successful computer technician. This training focuses on teaching basic software and hardware knowledge, like installation and configuration, to help you acheive one of the industry's most influential certifications. You will learn a wide range of entry-level computer technician skills and leave fully prepared to pass your A+ certification exam.
Benefits of a Live A+ Boot Camp
Live, expert instruction: If you are new to IT and security, you will likely have a lot of questions. A live instructor may be able to get you over that initial hurdle much quicker than studying on your own.
All-in-one package: This boot camp provides everything you need for success: instruction, exam vouchers, books, practice exams, hands-on labs and 90-day access to all boot camp video replays and materials.
Prepare to pass the A+ certification exam: The course includes the voucher to sit for the exam and prepares you with unlimited practice exam attempts.
UTC media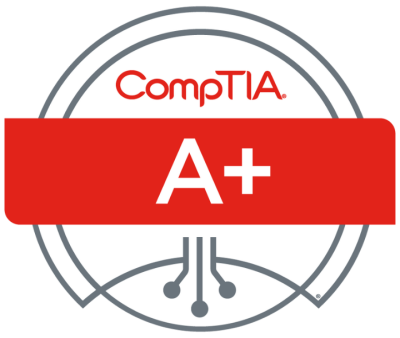 CompTIA A+ FAQs
Why should I get CompTIA A+ certified?

The CompTIA A+ certification addresses performance-based topics and questions that prove you can think on your feet and solve systems, software and network problems in real time. The A+ certification demonstrates you have experience with key technologies and, resultingly, provides a leg up over candidates who do not have it.

Why does CompTIA A+ certification matter for IT support specialists?

As the most respected associate-level IT certification in the industry, CompTIA A+ certification verifies that you have passed a standard that is supported by companies like Intel, Dell and HP. The broad, foundational skills it covers and its introductory focus make it the most popular certification among entry-level IT jobs today, and it is an important building block for more advanced IT roles.

What do IT/computer support specialists do?

Support specialists install and support hardware including computers, accessories, mobile devices and network equipment. They also monitor, maintain and troubleshoot hardware, networks, operating systems and applications.

Which job titles is the CompTIA A+ certification associated with?

Every organization creates its own job titles. CompTIA A+ certified professionals could work as service desk analysts, technical support specialists, desktop support administrators, help desk technicians or system support specialists. A+ validates your skills across the core network and endpoint technologies that are required by today's digital work-from-anywhere environment.