Robert Noyce Teacher Scholarship
The UTC Robert Noyce Teacher Scholarship Program is sponsored by the National Science Foundation, and seeks to encourage talented students in STEM (Science, Technology, Engineering, and Mathematics) disciplines (Biology, Chemistry, Computer Science, Engineering, Geology, Mathematics, and Physics) to pursue careers in high school teaching.
UTC media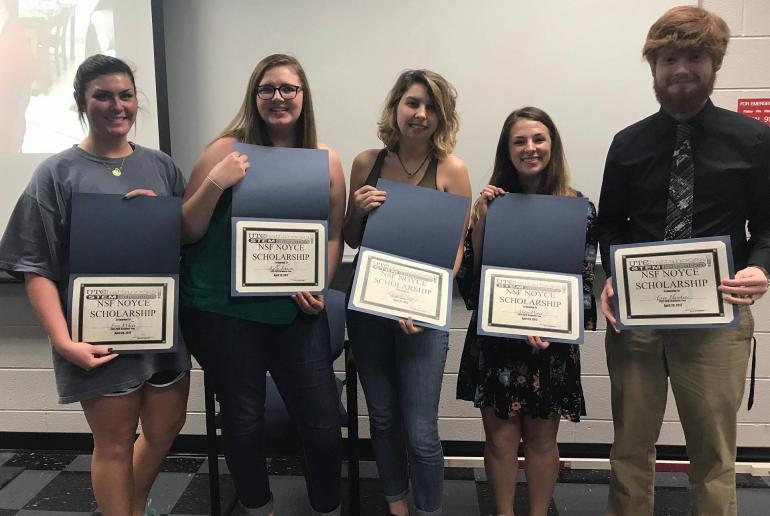 What does the scholarship offer?
A one year scholarship of at least $10,000 for students that prepare to teach high school in Biology, Chemistry, Earth & Space sciences, Physics or Mathematics
At least 6 scholars are selected each academic year
What are the student responsibilities?
Noyce scholars agree to teach in a "high needs" school district for two years for each year that they accept the scholarship. The middle or secondary school can be anywhere in the U.S., and graduates have eight years to complete this requirement.
School districts can be identified as high needs based on multiple criteria. In practice, many school districts and schools are "high needs." Click here to search a school to see if it is high needs.
What should interested current STEM Education students do?
What should interested non-STEM Education students do?
---
Note: An individual cannot be supported with funding from both a U.S. Department of Education (USDoEd) Teach Grant and the Robert Noyce Teacher Scholarship program. Each program, the Noyce program and the Teach Grant program, is intended to increase the number of well-prepared certified individuals teaching in high-need school districts (for Noyce) and in schools serving low-income students (for TEACH grant). If a student received support from both, then the intention to increase the number of certified teachers would fall short of what the separate programs might generate. Moreover, an individual receiving scholarship or stipend support through the NSF Robert Noyce Teacher Scholarship program may receive a maximum of the cost of attendance; therefore, if Noyce is providing for this, then with the addition of support from the Teach Grant, Noyce recipients would then be receiving more than the cost of attendance. In addition, as there is a service requirement associated with both the Noyce program and the Teach Grant, it would not appear to be reasonable for the same person to receive both, as they could not meet their service requirement for each program concurrently. Finally, the length of the service requirement for the two programs differs, with Noyce providing a greater funding level for each year and expecting 2 years of service for each year of scholarship or stipend support (completed within 8 years from graduation date), while the TEACH grant requires 4 years of service (also within 8 years). These commitments could not be served concurrently.