Eighth Annual Constitution Day Lecture Series
(Link to watch Gary Gregg's Constitution Day speech)
Wednesday, September 19th, 2018
UTC media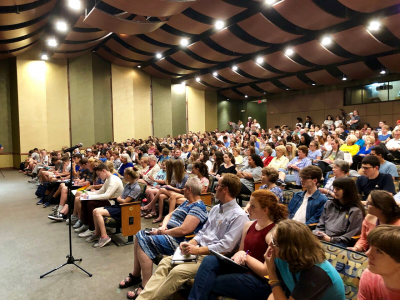 On September 19th, 2018, Gary L. Gregg, the Mitch McConnell Chair in Leadership and Director of the McConnell Center at the University of Louisville, spoke to an audience of approximately 300 people. Gregg's topic for the 8th annual UTC Constitution Day public lecture was "Patriot Sage: Why We Need George Washington Today." In 2018, the Constitution Day address was renamed "Dr. Richard Gruetzemacher Constitution Day Lecture Series."
UTC media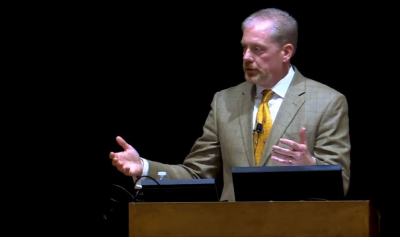 Professor Gregg addressing the crowd.
UTC media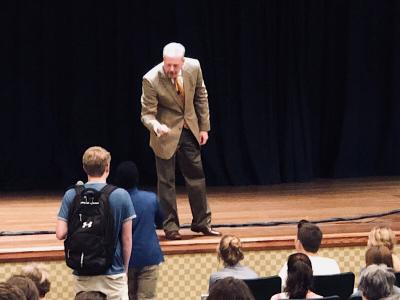 Professor Gregg led a robust, 20-minute Q&A session after concluding his remarks.
"Patriot Sage: Why We Need George Washington Today"
UTC media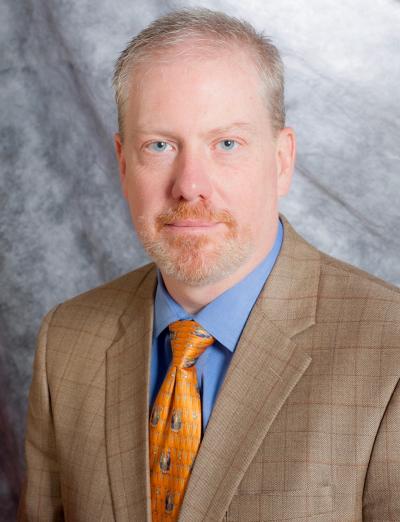 Gary L. Gregg
The Mitch McConnell Chair in Leadership at the University of Louisville and Director of the McConnell Center
By almost unanimous consent, George Washington was known as the greatest man of his age. He defeated an empire and pulled together a nation. He saved the Republic from a military coup, presided over the Constitutional Convention and became our first president. We might recall the outlines of his great career and a few anecdotes of his accomplishments, but few today remember the core lessons that helped George Washington win a war and bring together a disparate people into one nation. Washington's life and career offer vital lessons for our own age of challenge and division. – Gary Gregg
In 2004, the U.S. Congress passed bipartisan legislation authorizing September 17th, the date in 1787 that delegates to the Philadelphia Constitutional Convention signed the U.S. Constitution, as an official holiday. In 2005, the U.S. Department of Education authorized that any educational institution receiving federal funds should host educational activities during the week of the Constitution's birthday.
Past UTC Constitution Day lectures have featured nationally and internationally known scholars and teachers Josiah Bunting, James Ceaser, Bradley Birzer, Michael Federici, Wilfred McClay, Richard Gamble, and David Bobb. The general public, the UTC community, and educators and students from a variety of schools and colleges in the region are cordially invited to attend. A brief biography of Gary Gregg is included below.
Gary L. Gregg, Ph.D., holds the Mitch McConnell Chair in Leadership at the University of Louisville and is Director of the McConnell Center. He is the author or editor of ten books including The Presidential Republic: Executive Representation and Deliberative Democracy, Patriot Sage: George Washington and the American Political Tradition (with Matthew Spalding) and Securing Democracy: Why We Have an Electoral College. He has also published two novels for young adults under the series title The Remnant Chronicles: The Sporran and The Iona Conspiracy. He has appeared on numerous national and international television programs, radio programs, and in periodicals including The New York Times. Among his most recent accomplishments was pioneering a new Strategic Broadening Seminar for the United States Army. Each year he serves as Lead Faculty and Director for this innovative thirty-day immersion program for mid-career officers and later career NCOs.
For other information about the event, including reserved seating for groups and individuals, please contact Jeffrey Melnik, [email protected], 423-425-2118 or Calli Bianchi, [email protected], 423-425-5603.
* In 2018, the lecture series title was changed to honor the life of Dr. Richard Gruetzemacher and his love of history and civic education. For further information about the Richard Gruetzemacher Constitution Day Lecture Fund, please visit:
https://new.utc.edu/health-education-and-professional-studies/center-for-reflective-citizenship/rgfund