Frequently Asked Questions
UTC media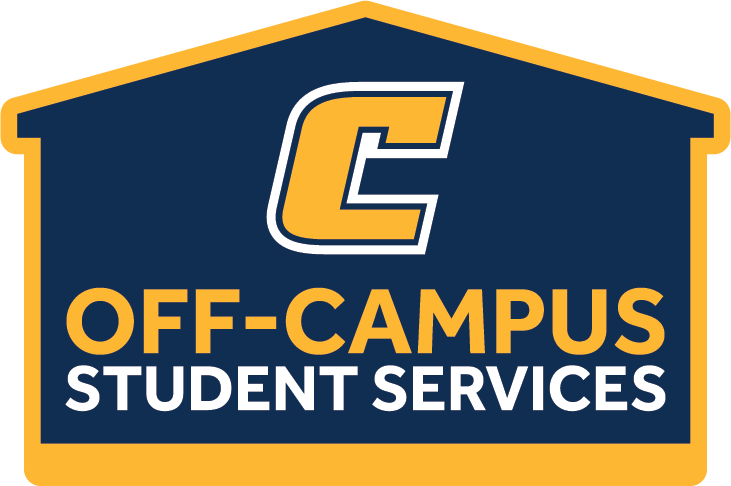 Frequently Asked Questions
When should I start looking?

You should start looking whenever you begin thinking about moving off-campus! Generally, we recommend at least one academic year, but no later then one semester before you plan to move.

Remember...

You will need to pay a security deposit, and sometimes first and/or last months rent, to hold most spaces. The space you want may go to someone else if you are not prepared with these funds.

Most leases are for one (1) calendar year (although some properties may make special arrangements for college students). Plan for how you will pay for all living expenses in advance.

Should I rent a furnished or unfurnished space?

Your decision! Things to consider:

If you choose a furnished property...

You may have to keep furniture in the space you do not want.

You will be responsible for making sure the furniture does not get damaged.

If you choose an unfurnished property...

You will need to borrow, purchase, or rent any furniture you wish to use.

You will need to move the furniture into your space at the beginning of your lease and out of your space at the end of your lease.

You may need to rent a storage space for your furniture if there is a gap in your lease.

In addition to rent, what other costs should I plan for?

As you determine what you can afford, keep in mind the other expenses you will be responsible for. These include:

Utilities (electric, water, sewer, trash, internet, etc.)
Generally speaking, many properties do not include utilities as part of your rent. However, properties that focus on college students may provide some or all of your utilizes as part of your rent.

Renters insurance

Living Expenses

Food (Will you cook at home and purchase groceries? Will you eat on-campus and purchase a meal plan?)

Toiletries

Household goods

Clothing

Cell phone

Tuition and Fees

Textbooks

Parking

For tips on money management, budgeting, and more, visit the UTC Financial Wellness Center at utc.edu/financial-wellness.

How do I choose a property?

Choosing a property is largely based on your preferences. Some things to consider:

Read property and landlord reviews thoroughly.

Do other people recommend the property?

Does the property manager upkeep the property and make repairs quickly?

Visit the property at different times throughout the week.

Is the property secure?

Do you feel safe?

Is there parking available?

How far is the property from campus?

Do you own a car?

Will you bike or walk to campus?

Do you need to be near the CARTA bus line?

Does the property have the amenities that you need?

What is the length of lease?

What utilities, if any, are included in the rent?

Is there a washer and dryer available (Is there a laundry facility onsite? Is there a washer and dryer within the apartment? Are there hookups available for machines that you will need to purchase)?

Are pets allowed?

Is there fitness equipment?

Is there a pool, hot tub, or other leisure amenities?

Do I need to visit the property in-person before I sign a lease?

It is highly recommend that you visit the property, in-person, prior to signing a lease. While it is not required, without seeing it in-person you have no way to ensure that all of your expectations are met. If possible, walk the property and ensure things like hardware, faucets, thermostats, and smoke detectors are working properly. Make sure doors and windows open and shut easily, and can be locked (secured). Take pictures and video of the entire space that you have control over before you move in to ensure you are not held responsible (charged) for things that are broken, damaged, or otherwise non-functioning at the end of your lease.

My question wasn't answered!

We're sorry your question wasn't answered. We are constantly adding more information and answering more questions! Send us an e-mail at [email protected] and we'll get your question answered as soon as possible!