Master of Public Administration
Welcome
The UTC Department of Political Science and Public Service offers the Master of Public Administration (MPA) degree, providing graduate-level training for students interested in pursuing careers in public service. We also offer a Graduate Certificate in Nonprofit Management for professionals moving into management roles in nonprofit organizations.
---
Our mission
The quickest way to learn about the UTC MPA program is to read our mission statement. It guides all of our decisions about our program—what/how/whom/why we teach, the kind of scholarship we pursue, and how we collaborate with public service institutions. Our mission statement:
The UTC MPA program promotes the public good by preparing students to be effective leaders, managers, and analysts in public and nonprofit agencies. The program emphasizes:
developing early- and mid-career students' proficiency in core management and analytic skills that apply to a broad range of public and nonprofit employment settings;

training students to apply theory and evidence to practice;

cultivating students' commitment to technical competence, professional ethics, and the public interest;

engaging students in active learning;

preparing students to participate effectively and responsively as members of diverse decision-making groups and in service to diverse constituencies; and

serving our region by providing options for focused study of local government management and nonprofit management.
Accreditation
The UTC MPA program is the only NASPAA-accredited program in east Tennessee. NASPAA is the recognized global accrediting agency for MPA programs. Accreditation requires meeting high standards of public service education recognized across the public administration profession.
UTC media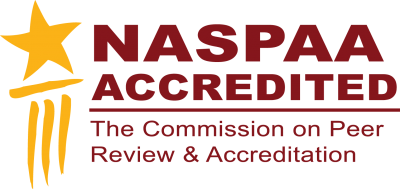 Learn more
Please explore the menu links to learn about our MPA curriculum, the graduate certificate in nonprofit management, admissions processes and other information for prospective students, our faculty and staff, and our alumni. You can also read the UTC MPA fact sheet, which is updated annually and has details about the program's enrollment, learning outcomes, alumni employment, and more, all in one place.
Contact us
We are happy to talk to prospective students and others who might be interested in collaborating with us. Please email us at [email protected] or call 423-425-4281.