Carl Springer: Cicero in Heaven
UTC media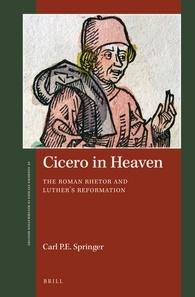 By: Carl Springer
Carl Springer's Cicero in Heaven: The Roman Rhetor and Luther's Reformation was published in November 2017. This book traces the historical outlines of Cicero's rhetorical legacy, paying special attention to the momentous impact that he had on Luther, his colleagues at the University of Wittenberg, and later Lutherans. While the revival of interest in Cicero's rhetoric is more often associated with the Renaissance than with the Reformation, it would be a mistake to overlook the important role that Luther and other reformers played in securing Cicero's place in the curricula of schools in modern Europe (and America). Luther's attitude towards Cicero was complex, and the final chapter of the book discusses negative reactions to Cicero in the Reformation and the centuries that followed.
*Other recent publications by Dr. Carl Springer include:
"Of Triumphs and Triumphalism: Etymological and Poetological Considerations," Logia: A Journal of Lutheran Theology 26.1 (2017): 5-13.
"To Forget Latin: Reflections on the Fading of a European Sign." In the proceedings of the 40th Annual European Studies Conference at the University of Nebraska at Omaha, October, 2015: http://www.unomaha.edu/ college-of-arts-and-sciences/ european-studies-conference/ esc-proceedings/index.php
Review of Vincenzo Merolle, Mommsen and Cicero: Vindiciae Ciceronianae, with a section on Ciceronianism, Newtonianism and Eighteenth-Century Cosmology (Berlin: Logos Verlag Berlin, 2015). Published in Classical Journal-Online, 2016.05.01.
Review of Peter von Moos, Heiden im Himmel? Geschichte einer Aporie zwischen Mittelalter und früher Neuzeit (Heidelberg: Winter, 2014), in Renaissance Quarterly 68 (2015):1438-39.