Restaurants Offer Student Discounts - Be Sure to Take Your ID!
Most nationwide chains leave the decision about whether or not to offer student discounts up to individual franchise owners. While participation is more prevalent in college towns, many merchants find student discounts beneficial to business. Though none of these can be guaranteed, here are some common discounts reported by students throughout the country. To be sure the discount is offered, call and ask your local store.
Mongolian Grill
Some locations offer a Student Night, where college and high school students with valid IDs receive on bowl of stir fry for $9.99. This offer is typically limited to one night per week.
Chipotle
Receive a free drink from Chipotle with purchase and a valid student ID.
Qdoba
Free drink with a Qdoba purchase and a valid student ID.
Subway
Get 10% off your total Subway purchase with a valid student ID.
McDonald's
10% off your total McDonald's purchase with a valid student ID.
Buffalo Wild Wings
10% off your total Buffalo Wild Wings purchase with a valid student ID.
Dairy Queen
The official Dairy Queen site encourages franchise owners to offer a discount. The most common seems to be 10% off total purchase with a valid student ID.
Cooking Classes will be back in the fall. See you then!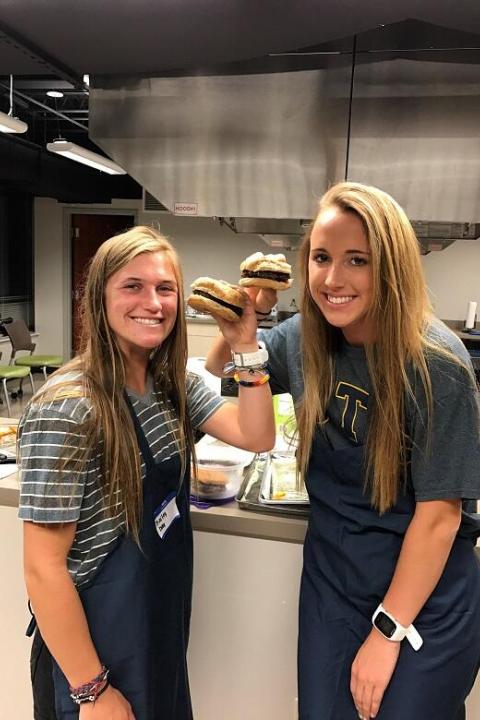 Friends Who Cook Together...
When friends want to learn to cook, we are happy to help. When is dinner ladies?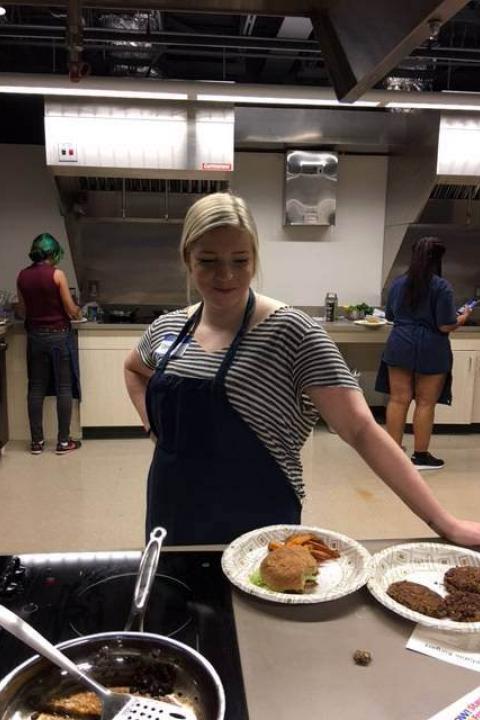 Hands-On Cooking Class
Students prepared Black Bean Burgers and Sweet Potato Fries for our 2nd Hands-On Cooking Class.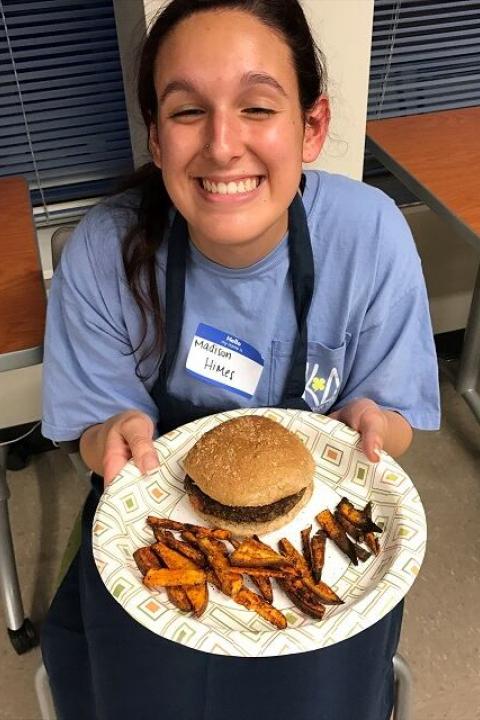 Madison Himes
When students are as happy as Madison about their first cooking class results, it makes us happy.
Smart Eats
Your first semester in college is an exciting time, when you will find yourself attending classes, studying, and making new friends. If you decide to live on campus in your freshman year, you might struggle in maintaining a healthy eating routine. This web page is designed to help you establish a healthy eating routine to maintain and get to your ideal body weight. A healthy diet provides many benefits such as preventing you from feeling tired as well as helping you to maintain your energy and prevent chronic diseases such as high blood pressure and diabetes. You may save some money because you will spend less money on 'junk food' such as sweetened beverages which can contribute to weight gain. College is a time when people begin to reinforce their eating habits. If you gain weight during this period of your life, it is generally an indicator that weight gain will continue after graduation (Gores, 2008). Below are some smart eats recipes. Just click on the image and the recipe will pop up!