Disability Ambassador Training
UTC media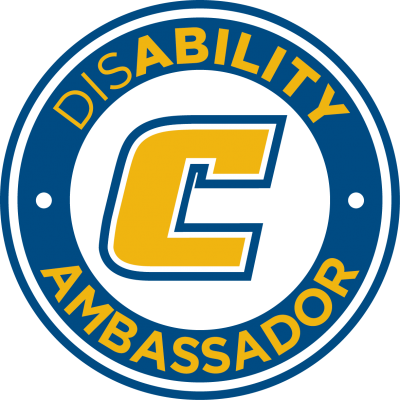 Creating a network of advocates at UTC.
The campus-wide program identifies to students, staff, faculty and visitors, the professionals on our campus who understand some of the issues facing people with disabilities, and are aware of the various resources available at UTC.
Each three-hour training session provides a foundational knowledge needed to be an educated advocate for people with disabilities.
For more information, call us at 423-425-4006 or email at [email protected]
Sign up for a Training Session →
---
UTC Table
| Our Esteemed Disability Ambassadors | | |
| --- | --- | --- |
| Karen Adsit | Academic Affairs | |
| Sarah Alsobrooks | Civil & Chemical Engineering | |
| Daniel Auber | Housing and Residence Life | |
| Mo Baptiste | Student Affairs | |
| Laura Bass | Center for Academic Support and Advisement | |
| Jean Betters | Housing & Residence Life | |
| Erin Brown | Registrar | |
| Amy Campbell | Graduate School | |
| Jackie Churchill | Counseling Center | |
| Bonny Clark | Graduate School | |
| Donna Cooper | Career Development Center and Leadership Development | |
| Gail Dawson | Management | |
| Peen deGuzman | Communications | |
| Laneeta Derrick | Office of the Dean of Students | |
| Jason DeSain | Mocs One Center | |
| Jena Doolittle | Center for Academic Support and Advisement | |
| Aubrey Duman | Office of the Dean of Students | |
| Emelia Dunston | Office of the Dean of Students | |
| Jennifer Ellis | School of Education | |
| Tammi Franklin | Auxiliary Services | |
| Diana Fryar | Registrar | |
| Brett Fuchs | Office of the Dean of Students | |
| Faith Garner | Safety & Risk Management | |
| Mary-Elizabeth Goodman | Disability Resource Center | |
| Melissa Greene | Office of the Dean of Students | |
| Daniel Grzesik | Career Development Center and Leadership Development | |
| Ryan Hall | Housing & Residence Life | |
| Erica Hausler | Office of the Dean of Students | |
| Tricia Henderson | Center for Student Wellbeing | |
| Jennifer Henkle | Office of the Dean of Students | |
| Jim Hicks | Office of the Dean of Students | |
| Shewanee Howard-Baptiste | Health and Human Performance | |
| Andrew James | Mechanical Engineering | |
| Carmen Jimenez | Modern & Classical Languages & Literature | |
| Lyndsey Johnson | Career Development Center and Leadership Development | |
| Nicole Jones | Center for Academic Support and Advisement & Student Success | |
| Pat Kelley | Art | |
| Kate Kempling | School of Nursing | |
| Melissa Laseter | Student Support Services | |
| Cetera Lawson | Counseling Center | |
| Tara Mathis | Office of the Dean of Students/Multicultural Center | |
| Clair McCullough | Computer Science | |
| Zachary McGee | Campus Recreation | |
| Aisha McGriff | Walker Center for Teaching and Learning | |
| Janice Michaels | Human Resources | |
| Kristin Nalley | Theatre | |
| Linda Orth | Registrar | |
| Robin Pearlstein | School of Nursing | |
| Angela Prince | School of Education | |
| Greg Reinhardt | Campus Recreation | |
| Melita Rector | Office of the Dean of Students | |
| Jackie Strand | Human Resources | |
| Sharon Thomas | Admissions | |
| Shawn Trivette | Social, Cultural, and Justice Studies | |
| Christi Wann | Finance | |
| Marjorie Whiteside | College of Business | |