Get Admitted in a Moc Minute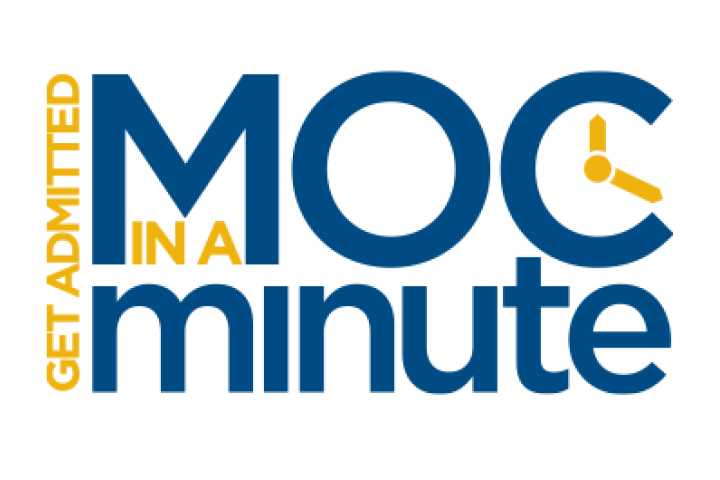 NO WONDERING! NO WAITING! KNOW IN A MOC MINUTE!
When our Power C Tour comes to your town, students who bring all their application materials* along will be admitted in a Moc Minute!
In order to speed up your admissions decision, we are cutting out the "middle man" from your admissions process. You can bring your documents straight to our staff during the Power C Tour and we will give you an on-the-spot admissions decision.* This is your LAST CHANCE IN 2021 to earn a free application fee waiver!
What to do before attending Moc Minute
1. Apply to UTC for Fall 2022
In order to complete your admission at Moc Minute, you will need to have first applied to UTC. Apply for Fall 2022 as a Beginning Freshman. When you reach the end, click the gold "Submit Application" button. You can close your browser when you see the page asking for your credit card information. The application fee is waived for those attending Moc Minute.
2. Sign up for an appointment time.
Moc Minute requires a reservation and, in order to participate, you'll need an appointment time. Sign up ASAP because days and times are limited!
3. Ask your guidance counselor for your transcript, test score and/or academic recommendation
When you come to Moc Minute, we'll need to complete your admission file with your transcript & ACT/SAT scores (traditional admission) or your transcript & recommendation (test optional admission). You'll need to bring this information with you in a sealed envelope or have your counselor email this information to [email protected] no later than a day before your Moc Minute appointment.
4. Don't be late!
Each appointment time lasts 30 minutes. During this time we'll process your application, give you an admission decision and answer any additional questions about enrolling at UTC.
* All prospective students must meet stated admissions requirements in order to be accepted during this event: 2.85 GPA & 18 ACT/960 SAT or 2.5 GPA & 21 ACT/1060 SAT (traditional admission) | 3.0 GPA or higher with an academic recommendation (test optional admission)
FAQ
Do I really need an appointment to attend?
Yes, you do! In order to make this process as quick (less than 30 minutes) and safe as possible, we have moved to an appointment based system. Appointment times happen every 30 minutes and are limited to 3 student participants within that 30 minutes.
I've already applied and paid my application fee, can I still attend this event and be admitted?
Yes! You can sign up for a time slot and bring the documents necessary to complete your file to the event and we will admit you! Unfortunately, we cannot refund application fees that have already been paid.
I want to apply as test optional, can I still attend?
Yes! Test optional students are welcome to attend. You'll need to bring your transcript (in a sealed envelope from your high school) along with an academic recommendation. If we received your academic recommendation online, we will process it at the event.
My school will not release my transcript to me. Is there any other way to get it to you for the event?
Yes! Your school can email the transcript (also test scores and recommendations) to [email protected]
I've already been accepted, can I still attend this event?
While we would never stop you from attending, there's no real reason to attend if you've already been accepted.
I've already submitted my application fee, is it possible to have it refunded?
Unfortunately, no. Due to UT Fiscal Policy, we cannot refund application fees.
---
Dates and Locations
Nashville
November 9-11
3-7 p.m. CENTRAL
November 9
Courtyard Brentwood
103 E Park Dr
Brentwood, TN 37027
Nov 10 - 11th
Hilton Airport
2200 Elm Hill Pike
Nashville, TN 37214
Memphis
November 16-18
3-7 p.m. CENTRAL
Hilton Garden Inn Memphis/Wolfchase
7955 Ikea Way
Cordova, TN 38016
Knoxville
November 22-23
3-7 p.m. EASTERN
Hilton Downtown
501 W Church Ave
Knoxville, TN 37902