What better way to celebrate how much you love UTC than along with everyone else who loves UTC! Here are all the special events and activities planned for I Love UTC Week 2022. So, whether you are a student, a faculty member, a staff member, an alum or you just love UTC, there's something for everyone!
UTC media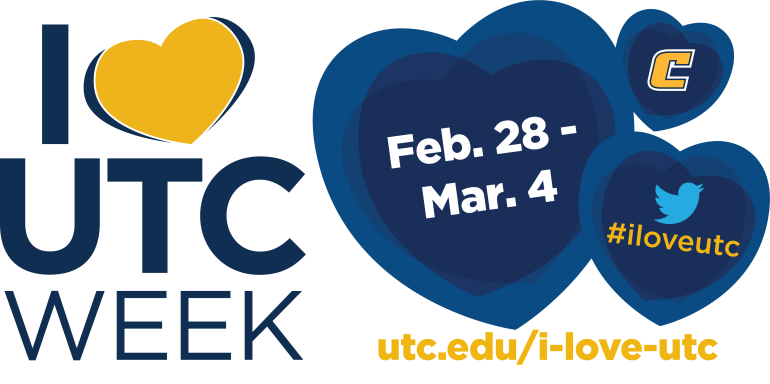 Throughout the week
I Love UTC Week buttons available in the Library
Star Party
Time: 6-8pm
Location: UTC's Clarence T. Jones Observatory
Sponsor: Chemistry and Physics
Look through the largest telescope in the area! Learn about constellations in the planetarium! Meet science students and UTC faculty!
Directions: The best way to find the observatory is to enter "Brainerd United Methodist Church" in your navigational software. Park behind the church and go up the road next to the cemetery. If you try to find it using the street address, you will only become confused.
This event is weather-dependent and may be postpone in the case of inclement weather. Watch UTC announcements for updates.
Hey Day
Time: 10am-1pm
Location: Throughout campus
Sponsor: Mocs in the City and Division of Diversity and Engagement
Spreading campus cheer with every "Hey!" – students, faculty, and staff can pick up a shirt to wear on campus that day and so they can say "Hey!" to each other
I Love UTC Selfie Station
Time: 11am-1:30pm
Location: UC Lobby
Sponsor: Student Advancement Council
Faculty, staff, and students are encouraged to stop by and show their UTC pride by posting a photo on social media using the hashtag #ILoveUTC. All participants will receive a heart-shaped I Love UTC button to wear all week!
Kick-off Cookout
Time: 11am-2pm
Location: Crossroads
Sponsor: Aramark
International Tea Time
Time: 3:15-4:15pm
Location: Lupton Hall 1st Floor Lobby
Sponsor: Center for Global Education
Blue & Gold Memorial
Time: 6:00pm
Location: Patten Chapel
Sponsor: Chancellor's Office
Annual Scholarship Luncheon
Time: 12-1pm
Location: UC Tennessee Room
Sponsor: Development & Alumni Affairs
By invitation only
International Film Festival
Time: 5pm festival start; 6:45pm film viewing
Location: Lupton Hall 1st Floor Lobby
Sponsor: Center for Global Education, Student and Family Engagement, and MCLL
The film Parasite will be screened with an introduction from study abroad alumna Anna Yarbro who recently returned from a year and half of studying in South Korea
CECS BBQ Truck
Time: 11:30am-1:30pm
Location: Lot 15
Sponsor: College of Engineering and Computer Science
Chatter Box will be on-site serving up tacos while supplies last. The first 100 College of Engineering and Computer Science students will receive a free taco. All other campus community members are welcome to attend and purchase food.
UTC Trivia
Time: 3pm
Location: Student Support Services Office (Barr Building)
Sponsor: Student Support Services and Student Success Programs