UTC media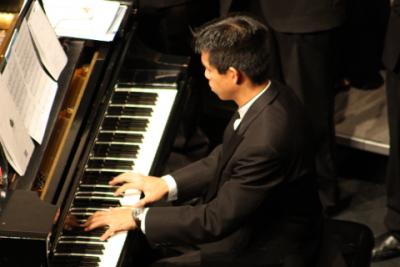 Instructors
Lynn Worcester Jones, Keyboard Area Coordinator
Jenny Parker, piano
David Walters, piano
Janet Sump, class piano
With the instructors' global experience, knowledge, and passion, UTC Piano Area is one of the best places for young pianists to develop their potential and fulfill their career dreams. Piano students receive comprehensive training in a real-world context. In addition to weekly lessons with their private instructors, piano students participate in large ensembles as accompanists and in small chamber groups as collaborative artists.
Advanced students are called upon with frequency to perform at local venues and university functions. The University of Tennessee at Chattanooga Department of Performing Arts Music Division brings together outstanding artists from international backgrounds and scholars of varied academic interests. An accredited member of National Association of Schools of Music since 1933, the Music Division has had a long tradition of exceptional concert pianists and pedagogues on its faculty.
---
Important facts
The Piano Area boasts of its low student-teacher ratio. All classes are taught in small groups, and students can easily find their own identity and musical personality in this friendly yet challenging environment.
Because of the Piano Area's size, piano students have frequent opportunities to participate in master classes with world-renowned musicians. These have included Van Cliburn gold medalist Jon Nakamatsu, the Eroica Trio, and the Ahn Trio, the Juilliard Quartet, among others.
---
Degree programs
To suit the various needs of our students, the Music Division offers several degrees in piano.
The Bachelor of Music in Piano Performance degree offers conservatory-style training, along with an emphasis on pedagogy and literature, and participation in chamber ensembles.
The Bachelor of Arts degree provides broader humanistic instruction and prepares students for diverse career choices.
The Bachelor of Music in Vocal Music Education degree prepares students for K-12 vocal and general music teaching.
The Master of Music degrees in Piano Performance and Collaborative Piano are the culmination of the musical training at UTC.
---
Professional Opportunities
Professional opportunities after UTC are infinite. Our alumni are a constant presence in local classrooms, reaching out to the next generation of musicians through music education and appreciation courses. Graduates from the performance program have gone on to pursue doctoral degrees and attained teaching positions at prestigious colleges and universities. The competitiveness and professional readiness of the graduate piano students are the result of the rigorous degree requirements, and UTC Piano Area has produced some of the finest artist and teachers.
---
Performance venues
The Music Division offers performance opportunities for students in three concert venues. These include the 500-seat Roland Hayes Concert Hall, the 200-seat Cadek Recital Hall, and historic Patten Chapel. Roland Hayes Concert Hall houses two 9-foot Steinway grand pianos, and Cadek Recital Hall is equipped with a 7-foot and a 9-foot Steinway grand piano. Patten Chapel houses a 9-foot Yamaha Grand. Our newest piano is the $112,000 9-foot Steinway in the Roland Hayes Concert Hall.
---
Other Opportunities
At UTC, pianists have the option of participating as student members in professional organizations such as Music Teachers National Association and the Nationals Association for Music Education. The Collegiate Chapters are supervised by faculty members, and activities have included community projects, fundraising performances, outreach concerts, workshops, student recitals, and guest presentations, to name a few.
---
Join the program
Regardless of the chosen major, all students with piano skills are welcome to audition for a Piano Performance Grant.